A document file is composed of the text, tables and different images. You can easily copy out the text from the PDF file using the hand tool in any PDF editor. If you want to extract one image, you can simply copy the image and paste it in an image editing program such as Paint in Windows. However, if you have a large PDF files, extracting images will become much difficult, you can't go to every slide and copy all the images one by one. No worries. Here comes PDFelement to make it easier.
PDFelement provides a great option to extract all images from one PDF file by using one or two clicks. So, you will not even have to look at the whole PDF files and all the images will be saved in a separate folder on your computer. Moreover, another advantage of using PDFelement is that the quality of the images in the PDF file will not be ruined.
PDFelement isn't mere an application to get image from pdf, it is a complete solution to fulfill the daily dose of PDF editing. The best feature in PDFelement is the OCR which will extract the text from an image in the PDF file and will let you edit the text. PDFelement is also a complete converter to convert PDF files to Word, Excel, PowerPoint or other file formats.
---
2 Steps to Copy Image from PDF
Here's the step by step guide on how you can extract pictures from PDF files using PDFelement.
Step 1. Load Your PDF to the Program
Launch PDFelement on your computer and click on the "Open File" button on the Home window. Then select the file from which you want to get the images. Once the PDF file is opened, you can either extract one image or can extract all the images from the PDF file.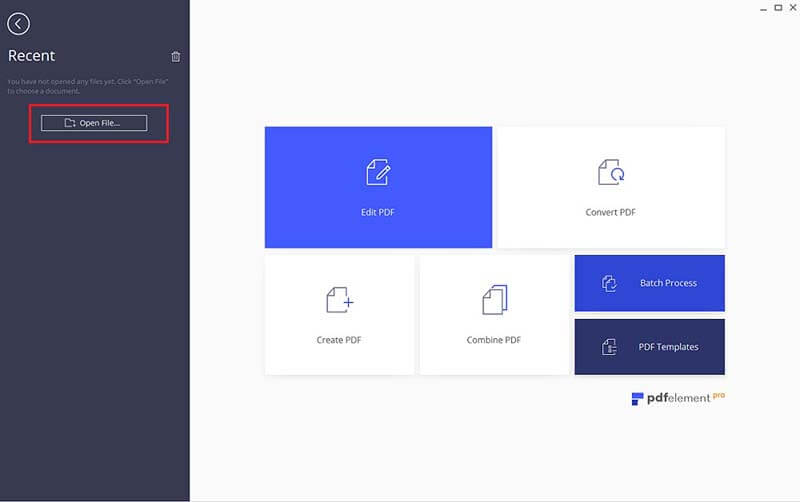 Step 2. Take Image from PDF on Windows
Go to the "Home" tab and click the "To Others" and then "Convert to Image" button. In the pop-up window, choose an output format you prefer. Then click on the "settings" button. Then click on "Extract all images in the PDF". After selecting the appropriate option, click on "OK". Finally click "Save" to strip images from PDF.