One look at a PDF file and most people will give up at doing any modifications on it. This is simply because they believe PDF files cannot be edited. The truth however astounds many; that PDF files can be edited as any other document. It is also true that PDF format is a safer way of storing data as it deters unauthorized people from gaining easy access to the documents. So what happens to a user who wants to draw on PDF file? Does it mean that they do not have a solution to the problem? This article will give you step by step instructions with PDFelement on how to go about it without breaking a sweat.
PDFelement is the tool you are looking for. With many features that enable PDF file editing easy and enjoyable, you are guaranteed to have your document intact despite the modifications you may have carried out on it. It gives you many editing options like cutting, pasting, copying, adding, removing texts, images and pages. Using the OCR feature, you can even turn a scanned document into a PDF format that can be edited in a few short steps.
If you wish to create or convert a PDF document, PDFelement will help you easily change format between PDF and other types of files without losing original layouts and formatting. The forms feature on this application enables you to create, edit and fill forms with ease and efficiency.
---
How to Draw on a PDF Document
Step 1. Open PDF with PDFelement
Open PDFelement. Then click the "Open File" button at the bottom left window to upload the file you want to draw on.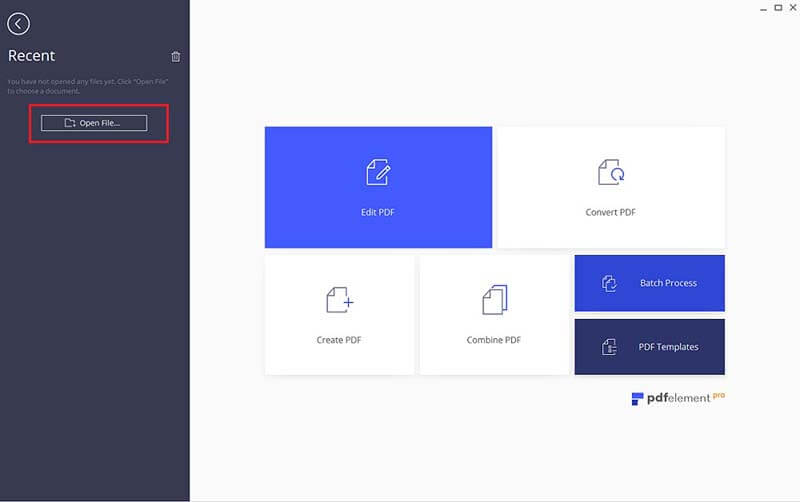 Step 2. Draw over PDF
Click on the "Comment" tab on the top menu. Once you click "Comment", you will find drawing icons like eraser, pencil, rectangle, connected lines, cloud et cetera. Among the drawing icons, click on the one you want to use to draw. For instance the "Pencil" and move your mouse to the area you wish to draw on. You can use the Eraser to erase any errors that may occur. Once you are satisfied with your work, you can now save your work.