How to Use Google Docs OCR and its Alternative
Having trouble in working with scanned PDF files and how to convert scanned PDF files to text-editable files in a timely manner? If you are encountering this problem, you can find two effective solutions here. We will first discuss how to use Google Docs OCR to accomplish the task and then I will introduce you a better solution.
Turn Scanned PDF to Text in Google Docs OCR Alternative
PDFelement integrates PDF creation, editing, annotation, conversion into one package. Its OCR feature can easily recognize text in your scanned documents and make the files into editable text. The OCR feature supports a wide range of languages such as English, Korean, German, Romanian, Italian, Portuguese, Spanish and more.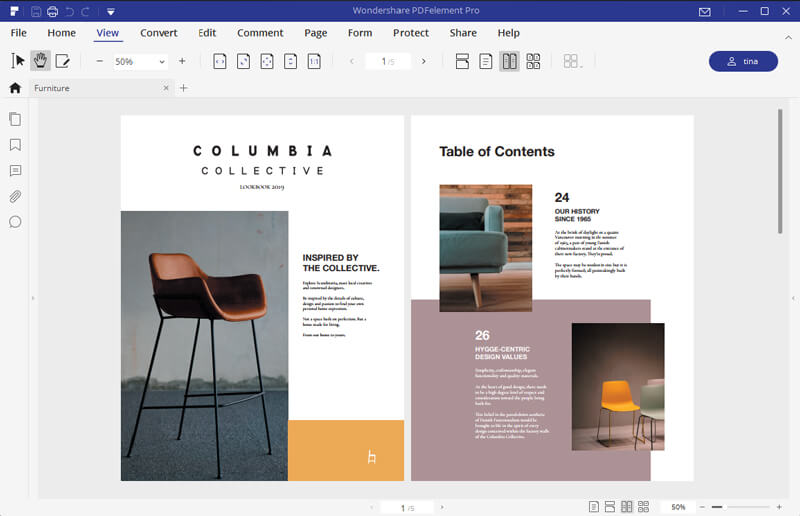 Of course, you will be able to do the modifications on your PDF as you like. With the powerful editing and annotating features, you can modify texts, adjust images and remark content with ease. In addition to text, PDFelement lets you export both standard PDFs and scanned PDFs to Word, Excel, PPT, EPUB, image formats etc.
Step 1. Open Scanned PDF
After installation of PDFelement, first step is to open your scanned PDF document with this program. To do this, you can click the "Open File..." button and your file will be opened directly in PDFelement.
Step 2. OCR PDF to Text without Conversion
The program will remind you to perform OCR once your scanned PDF has been uploaded. Click the "Peform OCR" button on the top information bar and choose an OCR language as per your needs. After a while, your scanned PDF will be turned into editable format. You can then click the "Edit" button on the upper left to modify your document.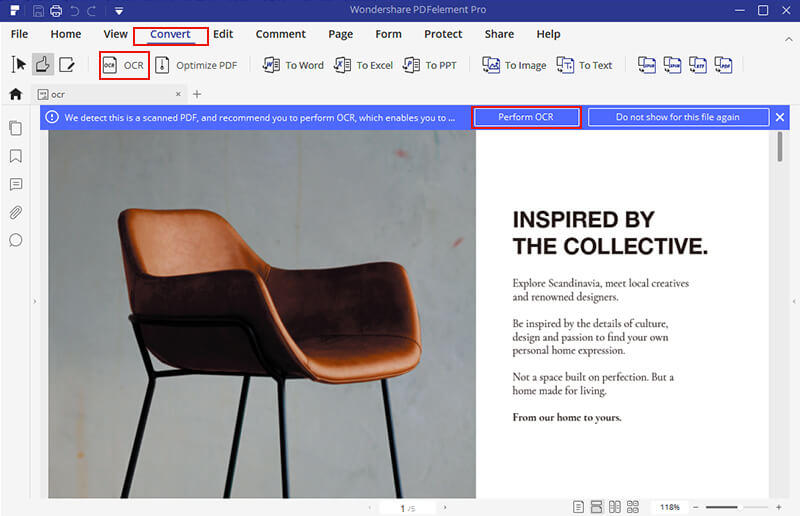 Step 3. Convert PDF to Text with OCR
If you prefer to export your scanned PDF to Text format, you can navigate to the "Home" tab, click the "To Others" button and then choose "Convert to Text". Then tick the "Settings" > "Enable OCR" option in the pop up window. Finally click "Save" to start the OCR conversion process.
To preset the OCR language you need, you can go to "File > Preferences" and select a language under the "OCR" tab.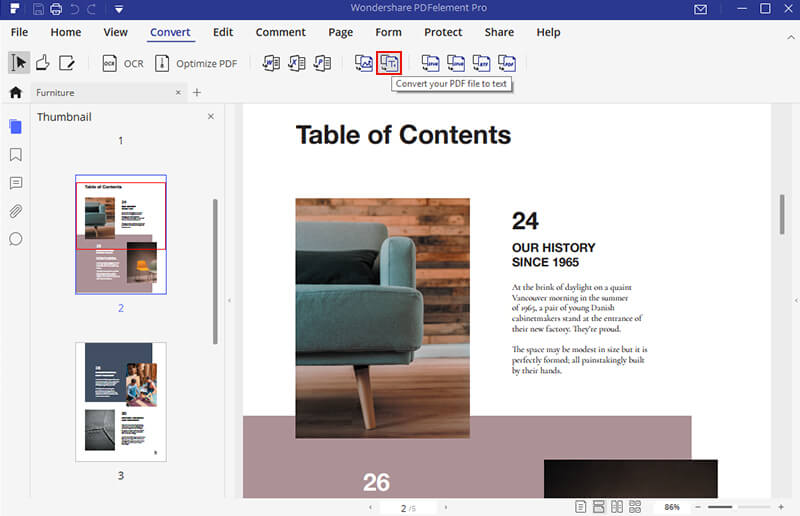 ---
How to OCR Scanned PDF to Text with Google Docs OCR
Below are the steps for converting scanned PDF to text with Google Docs.
After you login in with your Google accounts in Google Docs, click "UPLOAD" to upload the scanned PDF file that you're going to convert to text. Take Care! This is where Google Docs performs OCR.
When uploading the scanned PDF, you can see an uploading window and there is a "Setting" button as well. Click "Setting" to reveal the drop-down list. From here, check the option "Convert text from PDF and image files to Google documents".
This is how to use Google Docs OCR feature to convert scanned PDF to text. It's very easy, but Google Docs cannot retain the PDF file formatting and layout. If you want to keep the original PDF formatting and layout in the output docs, you should try Wondershare PDFelement.

Free DownloadFree Download or Buy PDFelementBuy PDFelement right now!
---