PDF-Xchange is a tool that proves beneficial in the instances that one needs to view PDF documents or even when one wants to add stuff onto the PDF documents using the application's super features. However, there is no version for PDF-Xchange in the Mac world but there are some other PDF-Xchange for Mac alternatives that you can go for. Wondering which tools are these? Well, let's dig deeper.
Top 8 PDF-Xchange for Mac Alternatives
1) PDFelement for Mac
PDFelement for Mac is designed to give users a complete solution to deal with all kinds of PDF problems. It is currently the best and most cost-effective PDF-Xchange for Mac alternative.
One of its great features is that it allows users to add and edit image and text in a PDF file. It also provides the option of annotating PDF files. This best PDF-Xchange for Mac alternative also allows users to create and convert PDF files. More, it can be installed and used on both Windows and Mac OS X, including the latest macOS 10.13 High Sierra.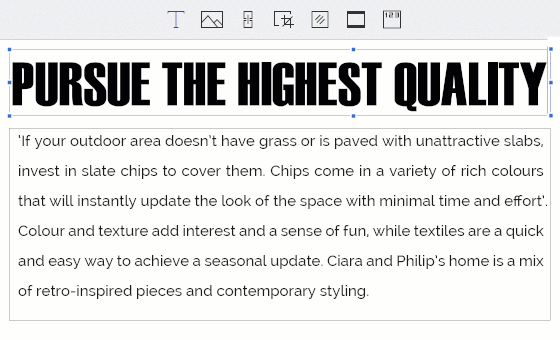 Pros:
The interface of the software can be considered as familiar for new and continuing users
Edit PDF documents smoothly and easily
Add annotations and all kinds of markups to PDFs
Create and fill fillable PDF forms, and sign PDFs
Create and convert PDF from/to other file formats without losing original format and style
---
2) Foxit Reader for Mac
Foxit reader can be accorded the definition of a multilingual freemium tool for viewing, editing, converting, signing, printing PDF files. One of the great features of this PDF-Xchange for Mac alternative is that it has enhanced document sharing capabilities and advanced PDF security features aimed at offering adequate support to business, government and enterprise clientele. The product prices are $8.99, $7.99 and $9.95 for business, standard and educational purposes.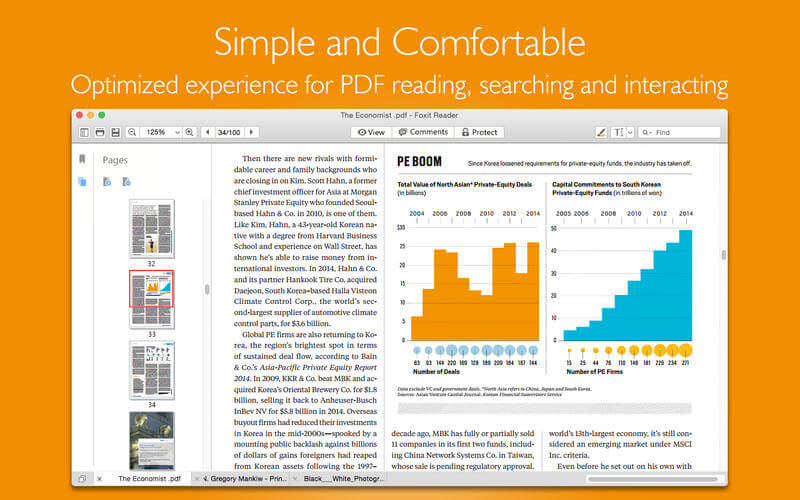 Pros:
A secure digital signature which provides validation platforms protecting users and their documents from interference by third parties.
Faster compared to other premium products in the market such as Adobe Reader.
A basic PDF printer is attached to the software, which proves helpful during PDF creation.
Cons:
The installer makes use of adware based on the default settings.
Limited support for advanced PDF files such as assembly.
---
3) Adobe Acrobat Reader DC for Mac
The PDF-Xchange for Mac alternative is regarded as the ultimate tool for PDF editing tools by many. It is one of the leader software within the industry thanks to a great blend of PDF tools. The price of the software in the open market is $14 for each month's subscription. One of its distinguished features is the cool user interface, coupled with the new online cloud service for its documents. The online cloud service allows a user to access all of his or her files on both mobile and computer applications. This software is supported on both Windows and Mac OS.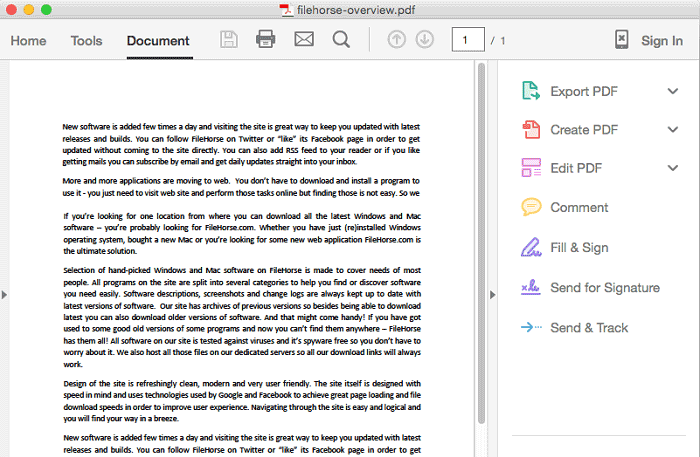 Pros:
New and efficient interface.
Amazing improvements on its OCR and text editing.
Additional document clouding which is characterized using a built-in PDF signing plus routing.
Cons:
The OCR corrections feature does not have an undo function.
Purchase plans and subscriptions offered by the company are pretty high.
---
4) Skim for Mac
This is an open source PDF-Xchange for Mac alternative, and can be characterized as the first free PDF reader for Mac OS X. the major feature of this software is that it helps the reader to read and annotate any scientific papers in PDF. Moreover, it helps the user to add and edit PDF notes and offers the aid of navigation through use of table of contents, thumbnails and document history. The software is provided freely for Mac OS X users.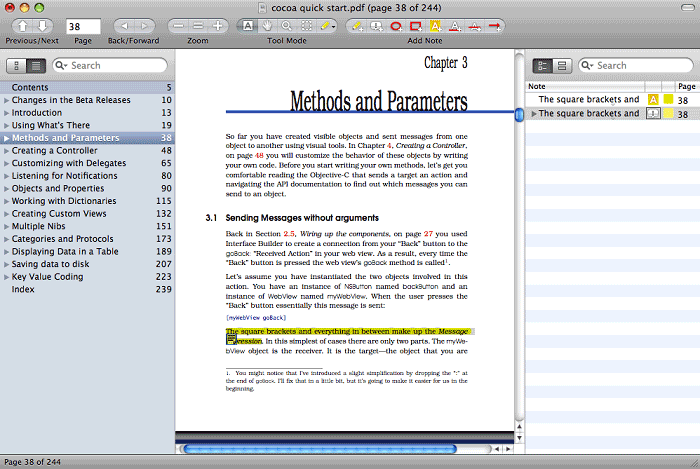 Pros:
It has great note-taking features.
It uses up a smaller memory of the system compared to Adobe Acrobat reader.
It offers previews to links on the PDFfile, therefore one does not need to open the file in order to ascertain what the contents of the link are.
Cons:
Doesn't offer the option of selecting multiple annotations at the same time.
---
5) PDF Expert
Designed by Readdle, the software's aim was to aid PDF users to find their ways around the tools easily. One of the great features is that it allows the user to annotate and highlight the PDF file, and add sticky notes if necessary. This software is one of the best PDF-Xchange for Mac alternatives and it supported on Mac and iOS devices.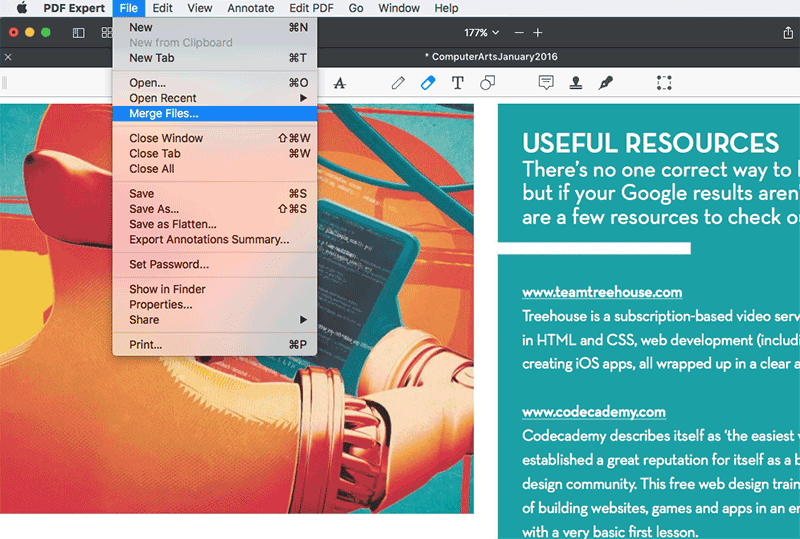 Pros:
Ease of annotating and editing PDF files on Mac.
Ease of combining multiple files into a single PDF file on Mac.
Cons:
Some PDF files with the newest formatting from Adobe do not open properly.
Navigating the cursor is a little cumbersome.
Get the best PDF Expert alternative now:
---
6) PDFpenPro
This is a lightweight and easy to use PDF-Xchange for Mac alternative. It has the feature of editing PDF files, adding signatures to PDF files and creating PDF forms. The software is provided freely to the users and is supported on Mac.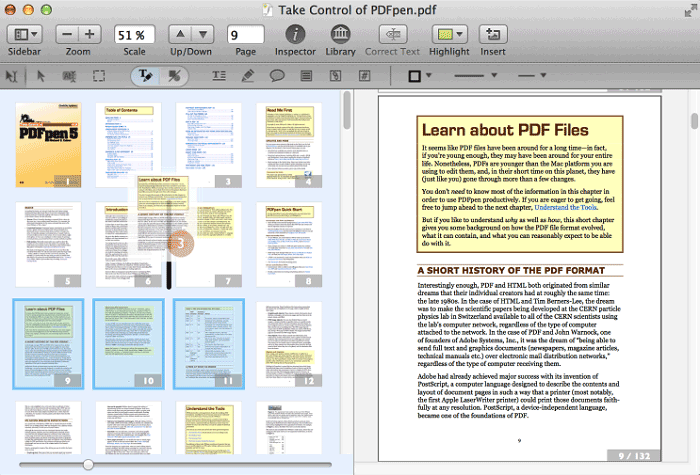 Pros:
All-in-one PDF solution for users to edit, annotate and sign.
It is lightweight therefore consuming quite limited space on the device that it is used.
Cons:
Lacks the features to convert PDF file to other formats.
---
7) Cisdem PDF Manager Ultimate
Cisdem PDF Manager Ultimate for Mac is software which provides the user with all the functionality that he or she might need in order to merge, split and compress PDF. This PDF-Xchange for Mac alternative supported on Mac OSX platforms.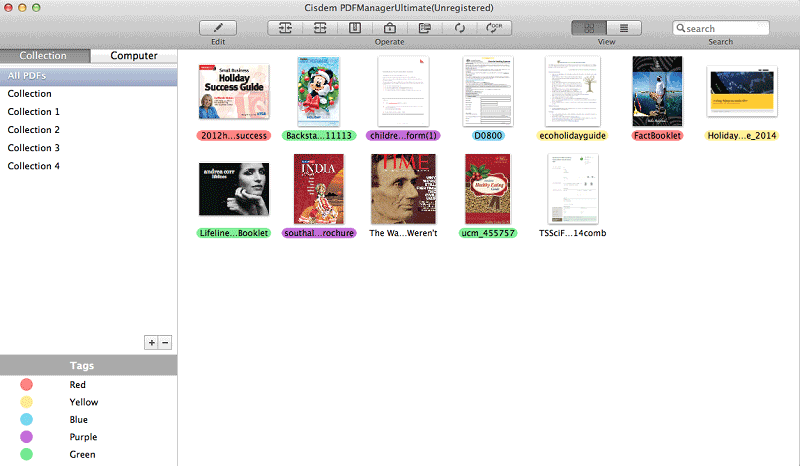 Pros:
One can easily merge large PDF documents.
There is the possibility of the user extracting images and text from scanned documents.
Cons:
There is no protection offered for standard PDFs
The security features can easily be bypassed by software which provides the options of memory-scraping and decryption.
---
8) Nuance PDF Converter for Mac
This PDF-Xchange for Mac alternative is a tool that is designed with the goal of providing individuals that interact with huge portions of PDF files within their daily livelihood. The software has the major key feature of being able to provide the user with the ease of highlighting text, possibilities to insert both voice and text notes to the file. The software is supported on Mac, and Windows platforms.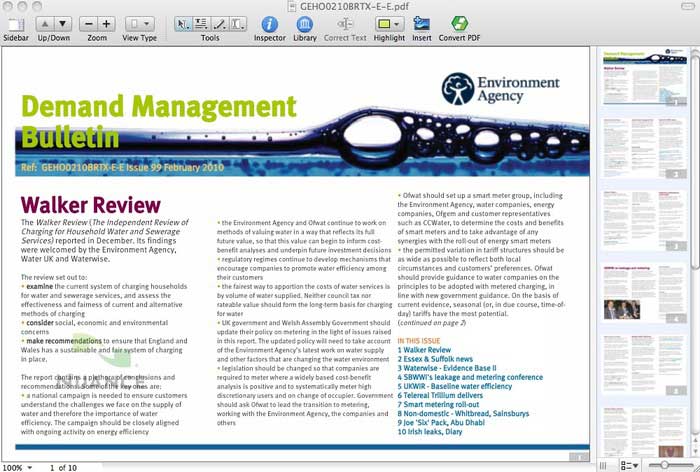 Pros:
It offers features to view, create, combine, merge PDFs.
It has a OCR feature to edit scanned documents.
The software provides users with the option of using markups to highlight sections of the text.
Cons:
A little expensive solution.
---