XFA (XML Forms Architecture) also known as XFA forms is a product of Adobe Systems, providing a template that has filling-out fields in documents and determines the layout or appearance of a form. Since it is embedded in PDF, it can be used to edit forms, do calculations, validate work and save changes made in filled-in forms. So how to open XFA form and fill it? Just keep moving on and get detailed guide in this article to learn to get quick access to XFA form with PDFelement.
To be able to open, read and fill in XFA form, you should have a compatible viewer. PDFelement is the best tool to use in opening such forms. This is the latest version of PDF, termed as a complete PDF solution. Moreover, recognizing a XFA-based PDF form is simplified since you only verify the XFA form features in the PDF output profile (Automatic Form Field Recognition). It is important to save the form in "compatibility" mode which will give you room for editing.
It is important to note that A PDF (Portable Document Format) is a file format that is used widely in presenting and exchanging documents such as an image, a text or diagram. PDFelement 6 Pro has an extra batch processing such as data extract, convert, bate numbering and watermark. This, therefore, makes it a pro tool in editing text and graphic images, viewing, converting creating and annotating XFA forms. Finally, it has many templates and add watermark easily.
---
How to Open and Fill XFA Form Easily and Quickly
You can open XFA form and fill XFA form with PDFelement directly, follow the steps given below:
Step 1: Open XFA Form
Drag and drop XFA forms into PDFelement 6 Pro after launching software or click on "Edit PDF" in the start screen to open XFA forms.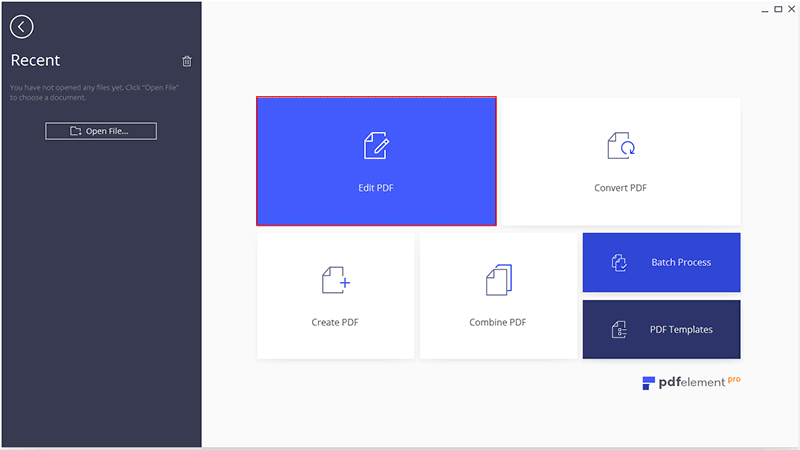 Step 2: Fill XFA Form
The PDF will automatically open the forms. Next, click the Form tab read XFA-based PDF forms by using "View" tab that has components that change your document views. It has parts such as print layout, full-screen reading, web layout, outline and draft view. Then just click on the Form field and the form will automatically become fill-able. You can start to fill XFA form now.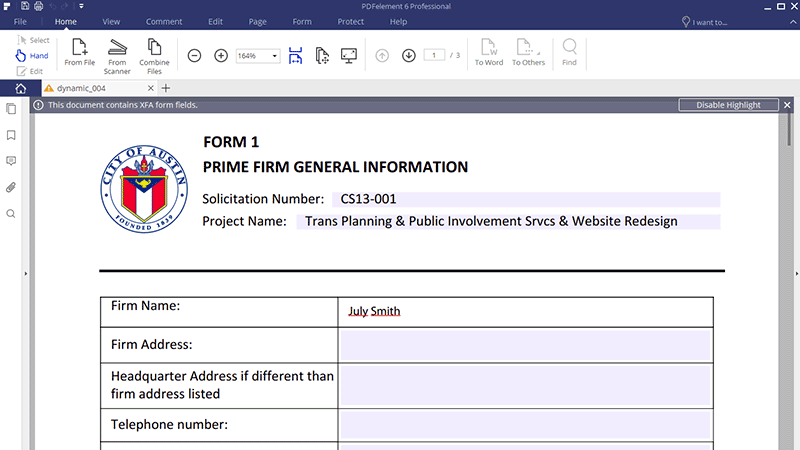 ---
What is XFA
XFA, which stands for XML Forms Architecture are specifications of propriety XML that was developed by JetForm to enhance processing of web forms. In 2002 however, JetForm was acquired by Adobe Systems, who and later on introduced XFA forms. PDF XFA forms can be used with various files such as PDF files starting from 1.5 specifications, since it is embedded in the PDF. XFA is considered as an external specification. Moreover, an XFA template dictates the appearance of a form.
These forms are usually saved internally in PDF files or as XML Data Package. The parts of an XFA form compriseof a set of XML documents such preamble, postamble, configuration, templates and dataset. The template is the most vital document since it encompasses the appearance of the XFA fields such as page dimensions, Buttons. In other words, it provides the structure and style of the forms. The datasets have importance to the fields that are mentioned in the template. Check the top XFA readers here.
---
Introduction to XFA Specification
XFA specification is used in developing applications that create XFA templates, in other words, forms that are to be filled-in. They are also used in developing applications that process XFA Forms. These XFA processing applications appear in two forms. It may be simple stand-alone form-fill in or a set of client-server application.
Furthermore, it is referenced as an external specification essential for the application of PDF 1.7. XFA Grammar Specifications present a set of reference that explains elements and attributes that comprise XFA grammars. It also has an appendix that explains behaviors of Adobe products which diverge from XFA specification. Finally, it gives details of Adobe-specific XFA implementation. Check the difference between Acroform and XFA form.
---
Why You Need XFA Forms
XML Forms Architecture (XFA) provides data which allows businesses to create interactive forms. It also provides a template –based grammar which delineates fields in which user can provide data.
XFA forms play role important roles in situations such as:
Printing Forms
This application can be used in printing either a blank form or one that is already filled in. The advantage of XFA processing during printing is that the form can be printed with a different print view basing on the user's preference. The print view can have differences such as:
Printing data as barcodes rather than text, the signature field may appear as underlined so that you can hand-sign or as widgets or you can have the summary of data computed on the first page.
Interacting with the User
An XFA form can interact with the user in various ways. One of them is that it provides features that make the form more accessible. It also makes it easier to fill out forms since it is an electronic version of a form. Moreover, some features may trigger interaction with another user.
Processing Machine-generated Data
XFA template can specify entirely machine oriented interactions. This can be done in ways such as consuming data produced by anther machine, performing calculations, and submitting updated data to another machine.
Moreover, using XFA forms comes with its benefits such as efficient workflow, gives room for dynamic interactions, a dynamic layout that makes forms automatically range themselves and provides scalability.
---
Tips for XFA Not Opening
XFA- based PDF forms cannot open in later versions of Chrome. This is because the in-built PDF viewer in Mozilla Firefox and Google Chrome do not support XFA-based PDF forms. The solution to this issue is to configure Firefox and Chrome such that it can open PDF using either Adobe Acrobat or Adobe Reader.
If you are not able to open XFA-based PDF forms, ensure that you have or download the latest reader or Acrobat as you require Adobe® Reader® or Adobe® Acrobat® or version 8. You can download at Adobe Downloads.
Acrobat and Reader on Microsoft® Windows®, configure to Protected View mode when opening XFA- based PDF forms thus preventing XFA -based PDF from opening. The solution is to disable Protected View mode in your Acrobat or Reader.
When using your mobile device and the XFA-based PDF forms refuse to open then download Adobe Reader for mobile.
If you are using a Windows phone with Windows 8 system, you will need to change to HTML5 using Classic view or LiveCycle ES4.