How to Read Text from Image with 2 Ways
Just for a moment, try to imagine a scenario in which it is easy to get the text out of an image or any scanned document for that matter. And read it. And do this in a matter of seconds. Sounds good? Well, it is possible. And today, we will show you the way how to read text from image. There are two methods, using a photo text reader, which would be a PDF tool, or finding an online converter. Let's roll.
How to Read Text from Image with OCR Reader
We said that one way is to find a picture text reader. The best software for that purpose is a PDF tool that can easily convert the image to readable, editable, and searchable text. What is the best software? Well, we firmly believe that is Wondershare PDFelement - PDF Editor, a powerful PDF tool that can read text from JPG, PNG, PDF and more image formats. You can use this tool to easily create, edit, convert, and markup PDF files, as well as other files.
Now let's take a look at how you can read text from images.
Step 1: Add an Image to PDF OCR Reader
The first step is to add the image to the PDFelement OCR reader. Click on Create PDF. The software will open a pop-up window for you to browse the file and add your image.
Step 2: Read Text from Image with OCR
Once the file is opened, the software recognizes it as an image and asks you to perform OCR to read the text. Click on "Perform OCR" to read the text within the image. The OCR tool in PDFelement can read text in 23 different languages. It can read English text, Chinese text, Japanese text, and more from image.
Step 3: Extract Text from Image
Once the OCR is finished, it gives you an option to edit or copy the text in the image. You can edit text by changing font style, size, bold it, or anything else under the "Edit" menu or copying the text to extract it from the image.
PDFelement can do more than just read text from images. Here is a quick breakdown of the most popular features of PDFelement:
Resize any document so that you can easily send it via email
Conversion of more than 300 file formats to PDF, and other file formats
Easily annotate the document with a wide range of annotation tools, including comments
Merge files within seconds
One of the best OCR (optical character recognition) on the market
Easy sharing of documents
Print documents from app to printer
Edit images, text, and more
Ability to remove watermarks
Simply put, PDFelement is a feature-rich photo text reader at a cheaper price. And it has a more intuitive and user-friendly interface and a familiar ribbon style.
---
How to Read Text from Image Online
There are also online picture text readers that can read and extract text from images without downloading software. Here is how to read text from image online with HiPDF.
Step 1: Open Picture Text Reader Online
Go to HiPDF Online OCR, which can read text from JPG, PNG, or PDF online. Note: This is a paid tool. You need to become a HiPDF subscriber to access this text reader.
Step 2: Read Text from Image Online
Upload your image, select the language of the text and click the "Convert" button to read text from the image. Now you can download the image with editable text.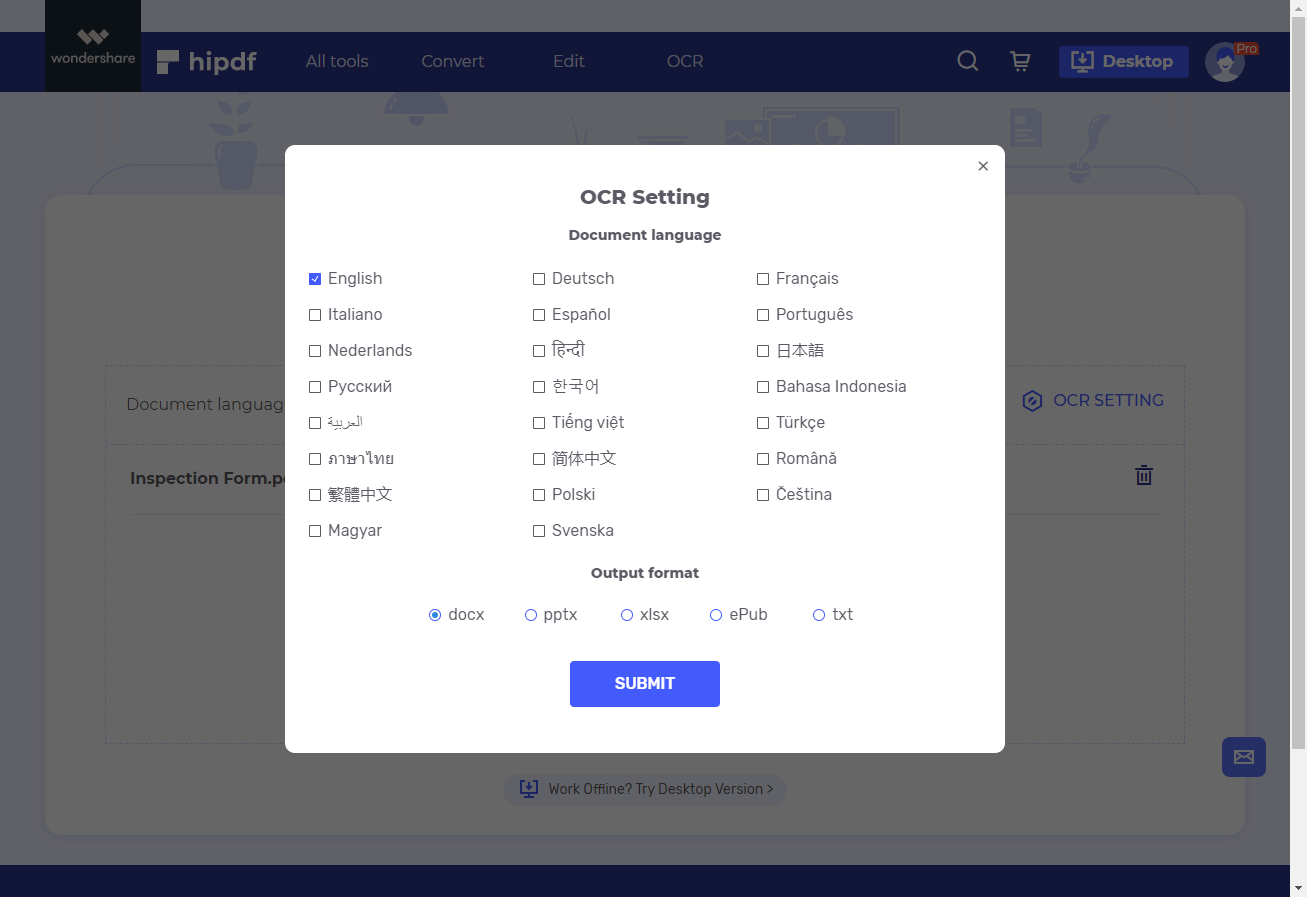 ---
How to Read Text from Image with Google Image Text Reader
Google Image Text Reader is a feature built into Google Drive. You can use it to convert image files to text easily. And it works on your computer, iPhone, and iPad device, or Android device. You can also save the content to Google Drive and share it with other users. Here is how to convert the image to a text-reading document.
1. Open the website drive.google.com.
2. Upload the file to Google Drive so that you can convert it easily.
3. Right-click on your file, and then click "Open With" > "Google Docs".
4. Google Image Text Reader will convert the file to Google Docs, and you can read it.
---
Best Photo Text Reader
Which is the best photo text reader for you? A PDF OCR reader or an online image text reader? Here is the comparison of the desktop and online text reader.
| | PDFelement | Online photo text reader |
| --- | --- | --- |
| Features | It provides a wide range of tools you can use for managing the document, including edit, markup, annotate, and more. | Using Google Drive to convert images to Google Docs, but also gives you an option to store new files in the cloud. |
| Stability | It is available in an offline version. | You have to be connected to the Internet to use Google Drive. |
| Results | It will completely convert the file, without loss of any formatting and fonts. | Google will not retain tables, columns, footnotes, and similar graphic elements, as it will not detect them. |
| Document security | It provides password and encryption protection for your files. | You can save and store documents in Google Drive. |
Free Download or Buy PDFelement right now!
Free Download or Buy PDFelement right now!
Buy PDFelement right now!
Buy PDFelement right now!
---
Other Popular Articles From Wondershare