Do you want to print multiple PDF files easily? This is a problem most people dealing with multiple PDF files face at one time or another. If you have tried many of them in vain, we feel your pain. This is why in this article we are going to provide you a solution with PDFelement that promises to not only provide a reliable service but also comes with a host of other features you will find quite useful if you use PDFs regularly.
How to Print Multiple PDF Files at Once
Rather than make unsubstantiated claims, we thought it necessary to offer you a demonstration of just how easy it is to use PDFelement to print multiple PDF files. Before we begin, download and install the program on to your computer. The installation wizard should provide you with a guide that you can easily follow to fully install the program on to your computer. Once the program is installed correctly, follow these very simple steps to print multiple PDF files.
Step 1: Combine Multiple PDF Files You Want to Print
To print multiple PDF files, we will first of all need to combine the PDFs or files of other formats that we want to print. With PDFelement, this is very easy. Just click "Home" and then select the "Combine Files" button.
Next, you need to open the PDF files you want to combine. Click on "Add Files" to import the PDFs you would like to combine to one PDF. We also provide several different ways to combine PDF files, check here.
Step 2: Print PDF in Batch
Once the merged PDF document is opened, click on "File" and then select "Print" from the options. In the "Print Window" that appears, specify the printing options and then click on "Print". And just like that, you will be able to print multiple PDF files easily and very quickly.
You can selesct "Multiple" in the "Print Mode" to select the page quantity per sheet, this is the solution about how to print multiple pages on one page PDF.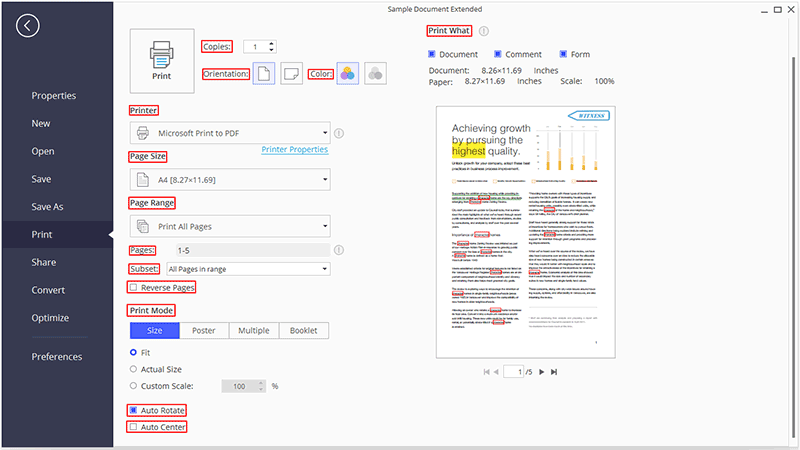 ---
Print Multiple PDF Files on Windows
1. Locate the PDF documents on your computer, and move them in the same folder.
2. Hold the "Ctrl" key and click all the PDF files that you want to print, in this way multiple PDF files will be selected at the same time.
3. Right-click the selected PDF files to choose Print. If you have already connected your computer with the physical printer successfully, then it will help you print the selected multiple PDF files at once.
---
Why Choose PDFelement to Batch Print PDF
By far the best PDF Printer to print multiple PDF files is none other than PDFelement. This is because when compared to other PDF printers in the market, PDFelement has constantly scored the highest when it comes to printing features that are designed to make the process easy. It prints a single PDF file quite easily but it its ability to combine multiple PDFs for printing that makes it the ultimate choice if you are looking for how to print multiple PDF files.
But perhaps the biggest reason why PDFelement should be your only choice when you want to print multiple PDF files is that it can combine PDFs easier than any other program. This is the most important feature when it comes to printing PDF files in batch and we're sure you will agree that this is where all others fail.
PDFelement will combine files of different formats such as Excel, Word, and Power Point presentations into a single PDF file that you can then print. We know that that seems unlikely since all of these different formats are in fact different but PDFelement is able to easily surpass this problem and offer you a great solution. All you have to do is open the different files you want to combine and the program does the rest.
Like we mentioned before, PDFelement is more than just a PDF printer. It comes with a whole host of editing features that mean you can make changes to your PDF file before printing. You can easily edit the text on the PDF, add and remove images and even add annotations such as comments, highlights and markups. You can also make use of its very effective file conversion feature to convert PDF to other formats. In other words, PDFelement is the ideal tool if you want to manage all of your PDFs easily, edit and convert PDF files and the ultimate tool to help you print multiple PDF files easily.
---
Tips on Printing Multiple PDF Files
There are several disadvantages when printing multiple PDF files, especially when using the wrong program. Chief among them is that you may lose some of the content on your PDF files while they were being combined. For most people, this most common problem they face.
Another disadvantage is that when you try to print PDF files without using a program such as PDFelement that will merge the files easily, the entire process can take up a lot of time, time that would be better spent on other matters.
But batch printing PDF when done correctly can be very advantageous. With the right program you can easily combine files from different formats such as Excel, Word and PowerPoint to one PDF and print the document as a PDF document. This comes in handy when for instance you were working on a report that requires you use all of these different formats.
The following are just a few tips to make the entire process easy;
Before printing the final document, check to ensure that it has been combined correctly.
Ensure that none of the text, images or any other components are missing.
Use a program that has a proven track record for batch PDF printing.
---