It is very useful to add bookmarks to PDF files, especially technical documents, instruction manuals, and eBooks. After you add bookmarks to a PDF file, you can access to a specific part of a PDF file easily and efficiently. Below we're going to talk about how to add bookmark to PDF files in Windows with PDFelement.
2 Steps to Add Bookmark to PDF Files on Windows
Step 1. Create Bookmark in PDF
On Windows, move to the "Home" tab and click the "Select" button. Then select the text which you want to add bookmark and right click to choose "Add Bookmark". You will see a new bookmark is displayed on the left-side Bookmark pane. Rename it as you want.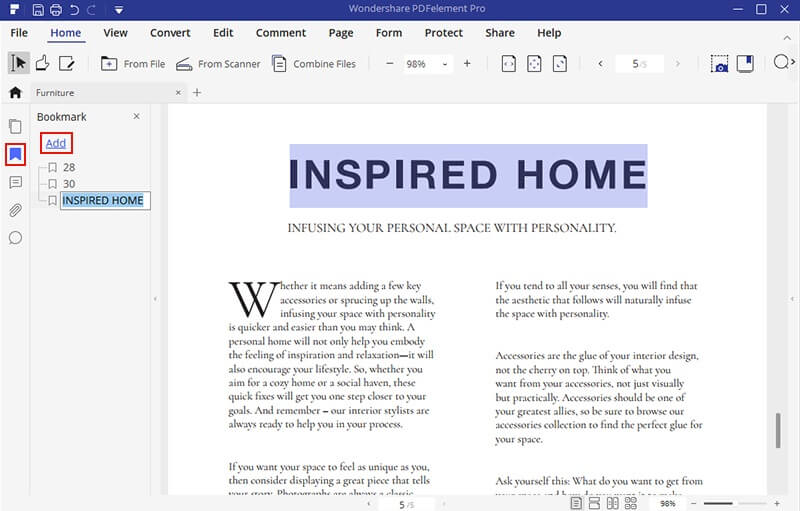 Step 2. Edit PDF Bookmark
If you want to edit bookmarks, add child or aunt to bookmarks, rename bookmarks, remove bookmarks, just go to the Bookmark pane and right click the bookmark you want to edit and you will see all the options. You can also go to the "View" tab and click the "Bookmark" icon to expand the pane.
To add bookmarks to PDF files, a PDF bookmark editor is needed. There are many PDF tools on the Internet. However, take all elements of reading a PDF file: reading modes, annotation tools and searching into consideration, you should select a professional one. Here you can have my recommendation: PDFelement. It is more than a PDF editing tool, but also a powerful PDF reader with which you can create bookmarks.
Put first thing first. Download the PDF tool with which you will add bookmarks to PDF files. Please download this best PDF editor for your Windows computer. And then install it on your computer.
---
Video on How to Add Bookmark to PDF Files on Windows