Top 10 PDF Apps for macOS 10.14
Are you looking for a PDF app for your macOS 10.14? There are quite a lot of PDF apps in the market that feature different functions and prices, which will make us confused how to choose a right one for macOS 10.14. No worries, today we will cut your trouble and offer a list of top 10 PDF apps for macOS 10.14 with features, pros, cons and prices.
10 Best PDF Apps for macOS 10.14
PDFelement is an application for various Mac products to view PDF files, edit and manipulate pages, secure and store information, change text and fill out PDF forms. PDFelement for Mac can easily put your stamp on PDF files, share files without difficulties, split and merge pages of documents.
PDFelement for Mac has everything you need to work with PDFs, with spontaneous simple and effective solutions. This best PDF software for macOS 10.14 responds faster when you open a PDF with it and does not only help you fill out forms but also helps you save filled out forms online for easy sharing and sending.
It allows you to insert pictures and extract pages in just one click. With PDFelement for Mac, you can set a password to protect your PDF form being opened by another user. Some striking features of PDFelement for Mac include annotation and conversion of PDF files, allows users to include watermarks, electronically sign documents, highlight, strikethrough or underline texts in documents and allows for different viewing modes.
PDFelement for Mac has proven to be the best PDF editor for macOS 10.14 as it beats its competitors hands down when it comes to speed and performance. With an advanced OCR technology which converts scanned documents to editable PDF files, PDFelement for Mac can also convert your hand-written signatures into digital signatures, keeping your documents super authentic.
Pros
Excellent PDF conversion
User-friendly interface
High Compatibility and very easy to use
Extensive fonts
High security of files
Advanced OCR technology
Price
Free version with a comprehensive PDF solution
$99/year
System Support
---
Adobe Acrobat Pro DC is another PDF software for macOS 10.14 and web services developed for creating, viewing, editing, printing and managing of PDF files. DC stands for Document Cloud which means that users can have their PDF files uploaded to the cloud and accessible on any device. The Document Cloud also includes Dropbox and e-signature integration.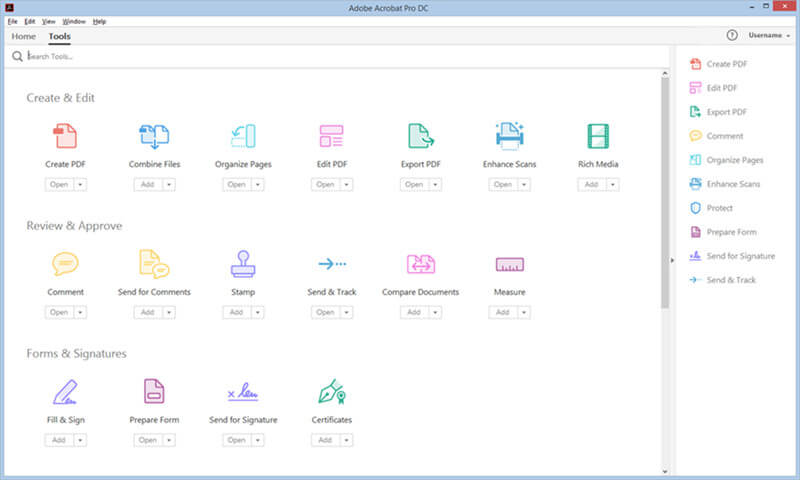 Pros
Documents look the same way always
Compact file format to enable quick PDF sharing
Good for archiving
Cons
Documents cannot be edited, although users can fill forms
Documents need to be converted to PDF
Price
System Support
Processor – Intel
RAM – 1GB and above
Screen Resolution – 1024x768 and higher
Hard disk space – 2.75GB and above
macOS 10.10 and above
Free Download Adobe Acrobat Pro
---
PDF Expert is one popular easy to use macOS 10.14 PDF editor that allows you to read, manipulate and annotate PDF documents from a centralized dashboard. With PDF Expert, you can edit images, texts and links, fill forms and electronically sign contracts. Problems of speed and working with several files are fixed in PDF Expert. The "splitting and merging of documents" function is also available on PDF Expert.
Pros
Friendly interface
Quick search
Automatic detection of fonts
Cons
Price
System Support
---
iSkysoft is most suitable for businesses. Its features include creating, editing, converting, signing and placing of watermarks on PDF files. This batch-processing tool used by the likes of Nike, IBM and other multi-million companies can easily upload and edit multiple documents at the same time. This literally means that you can convert and watermark as many PDF documents as you wish. With iSkysoft PDF, you can convert PDFs into searchable and editable files. The integration of document password protection stands iSkysoft PDF Editor out.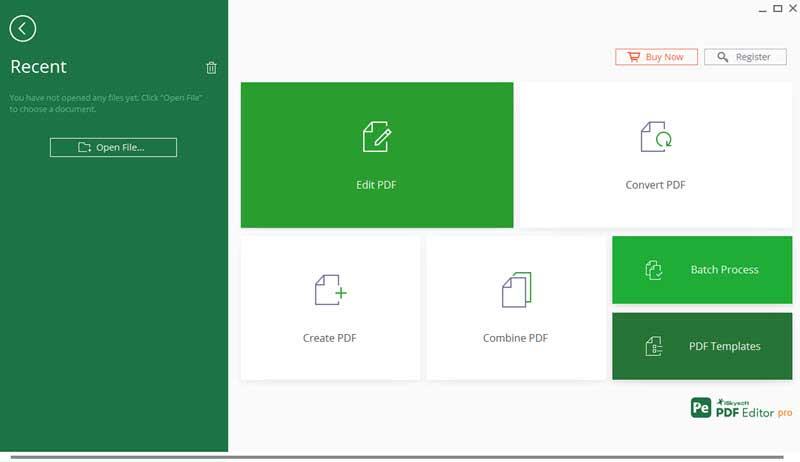 Pros
OCR functions
High level security
Cons
It is expensive
It has Compression issues
Price
System Support
---
This user-friendly interfaced app can create, edit and share PDF files allowing users to include drawings and add texts on documents. This best PDF app for macOS 10.14 also allows users to design, fill and embed forms on existing documents. PDFpen supports the electronic signature feature and different methods of document and image exports to other formats. A recent fix in PDFpen app welcomed annotations for marking up PDF files and sharing them without modification. Some striking features of PDFpen includes but are not limited to addition of comments, availability of more advanced TOCs (Table Of Contents) and addition of image formats.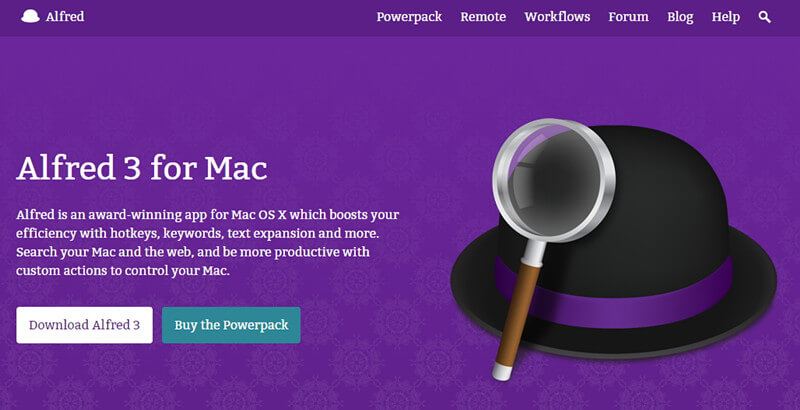 In general, PDFpen lets you manage texts, images, annotations and almost anything that comes with a document page.
Pros
Exports image and document in any format
Integration of OCR (Optical Character Recognition)
Cons
Tool selections and icons are not transparent enough
Price
System Support
---
Foxit Reader for macOS comes in multiple languages (specifically fourty-two languges, including English) and is used in creating, viewing, editing and signing PDF documents. With Foxit Reader, users can easily add notes and comments to PDF documents. The ConnectedPDF technology feature integrated in Foxit Reader gives users privilege to share and reject documents, monitor who views you documents and what they do and get reviews or request for files.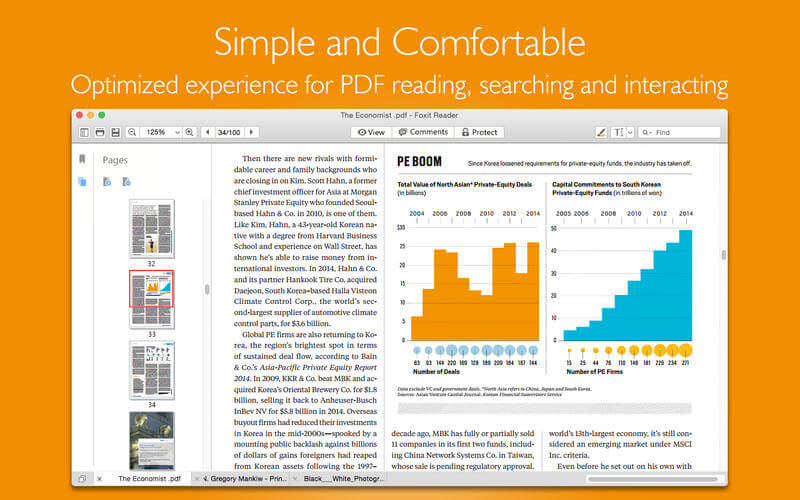 Pros
Job Access With Speech (JAWS) feature to enable blind users read the screen
Ideal for presentations
Large files are supported
Cons
Integration of unwanted programs
System Support
macOS 10.8 (version 7 and above)
macOS 10.12 (version 8 and above)
---
Skim, an open-source PDF app developed with Objective-C is used to create, view, edit and bookmark PDF files. Its features vary from manipulation of text formats, inclusion and editing of notes and comments. Its design is to enable users with annotations of scientific papers in PDF files and take screenshots for reference purposes.
Pros
Improved presentation mode
Navigation with table of contents and text highlight
Allows addition of circles
Cons
No OCR
Unintuitive basic features
Price
System Support
Intel
macOS 10.6 and above
---
Preview serves as both an image viewer and a PDF viewer for macOS 10.14. It gives Mac users the privilege to view, print and share images or PDF files. Preview can open files in Al (Adobe Illustrator files), PDF (Portable Document Format), PNG (Portable Network Graphics files), PPT (PowerPoint files), GIF (Graphics Interchange Format files), JPEG (Joint Photograph Experts Group files), BMP (Bitmap files) and a host of other formats. Preview has a distinguishing feature of encrypting files and restricting the use of such files. With Preview, you can encrypt and save a file so that a password is required by users to access, copy and print information from the file.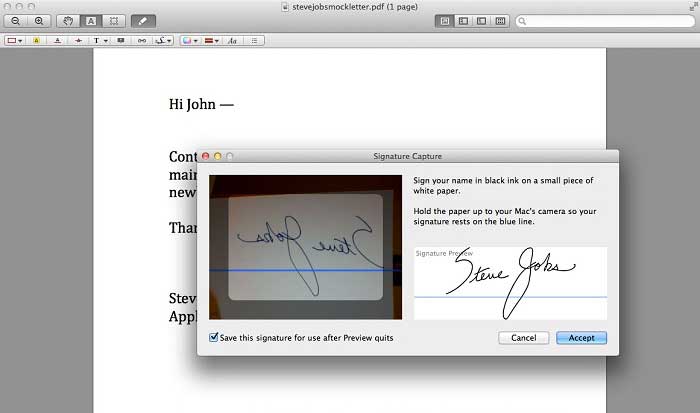 Pros
Easy looping of lost animated GIFs
Preview of lost playback
Cons
Encrypted PDFs cannot be edited when the original version is lost
No support for ISO-Standardized PDF
Destroys PDFs without warning
System Support
Intel
macOS X 10.5 and above
---
The PDF Reader Premium app is another best PDF editing software for macOS 10.14 that serves as a file manager and editor. Manipulation of PDF files and addition of freehand writing, annotations, sticky notes, and text boxes is easily carried out with the PDF Reader Premium. In order to ensure important files aren't difficult to find, documents can be tagged and labeled on your work space.
PDF Reader Premium's integration to cloud is another exciting feature that comes in handy to enable you access and save documents on cloud, and even back up already saved files on other devices. This app also supports input of multiple or large files at the same time without lag.
Pros
Intuitive user interface
Integration to cloud
Advanced editing options
Cons
Price
System Support
Free Download PDF Reader Premium
---
Soda PDF developed by LULU in 2010 is a flexible and easy-to-use app from the best PDF editor for macOS 10.14 reviews designed to allow users create, read, edit, share and convert PDF files. It is notable for allowing changing or tweaking of a file's size while saving it. Soda PDF can comfortably read eBooks and comic content files in CBR or CBZ. Soda PDF is currently integrated to the Cloud giving users access to their file from anywhere and any device. Its 3D enabled features gives users ability to flip through PDFs as in real life. With Soda PDF, users can review documents, add notes and mark-up text.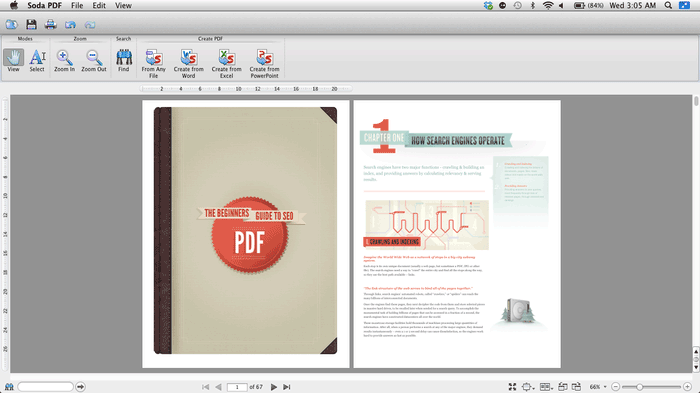 Pros
Balanced readability
Reduction of bit sizes
Cons
Disadvantaged in pricing model
Price
System Support
Free DownloadFree Download or Buy PDFelementBuy PDFelement right now!
---
Related Articles
All Topics