Well-managed accounting is at the heart and soul of any successful business. Staying on top of your accounts helps you to assess your financial outlook and expected growth. Yet it can be hard to find high quality accounting software that lives up to the task. High quality accounting software will keep track of accounts receivable and payable as well as invoicing and payroll. There's an endless list of accounting software on the market, so it's important to do your research before buying. The most important element of choosing accounting software that works for your business, give some thought to what functions are important to you as a user. Below we take a look at 10 of the most popular accounting software offerings on the market, to help you make the correct choice. Further we'll also give you useful tips to extract data from accounting files, which the accountants often meet.
The Ultimate List of Accounting Software for Windows
Considered as the best alternative to QuicksBooks, FreshBooks is an accounting software that is based on cloud, enabling access to accounting functions and data from anywhere anytime on any internet connect device. FreshBooks's functionality spans over the areas of basic accountancy, billing and invoicing, payment and expense management and payroll, serving as one stop shop for small scale businesses to serve their accounting needs.
---
Wave is another popular cloud based accounting software that is being used by over 2 million freelance accountants and small businesses to manage day to day accounting, invoicing and payment, bookkeeping, payroll and reporting. Its powerful features and appealing design make it one of the most popular accountancy and bookkeeping software. It provides exceptional navigation tools and user interface.
---
Deltek is a cloud based ERP accounting software that streamlines fundamental financial and accounting tasks, letting businesses successfully manage their resources and projects' accounting and financials, expense and time management, purchasing, client billing, document management and payroll. The software delivers integrated and comprehensive user interface to help large scale business efficiently manage and track their financial operations and resources.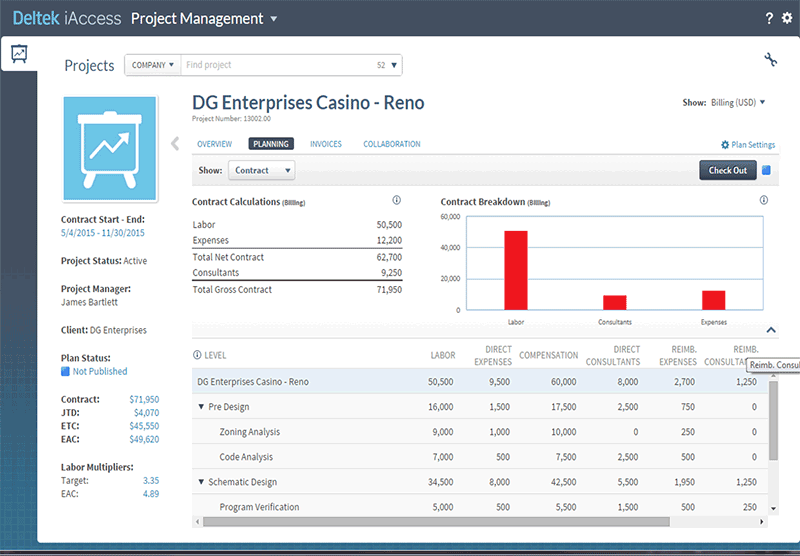 ---
Sage Accounting Software is one of the most well known, and widely used accounting software offerings on the market to. The system has always excelled in adapting itself to different business goals and unique requirements. This cloud-based application excels in keeping your book keeping under control. SME's can manage their books and relay their data to the cloud as needed. Larger organizations utilize the cloud mobility to enjoy a range of scalability with Sage Live and Sage X3 so that they can upscale in line with their customer demand. One of the drawbacks is that there is a learning curve for using sage, so if your not particularly tech savvy, or don't have the time to learn to use the software, then there are simpler options on the market. It's worth mentioning that the lack of mobile features can put this software behind other mobile options on the market.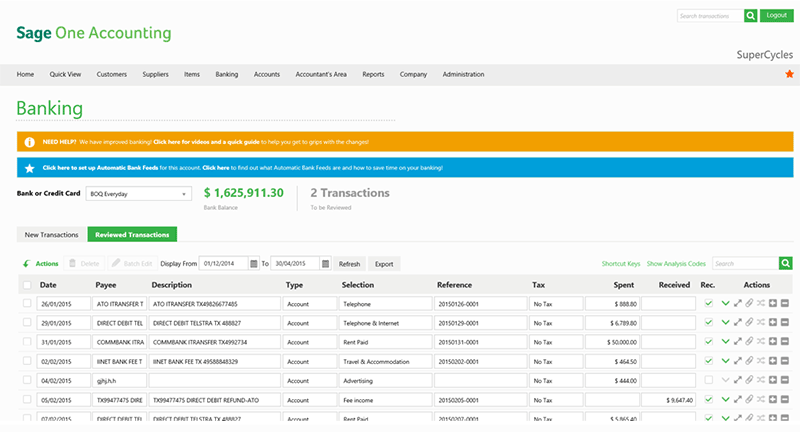 ---
QuickBooks is one of the fastest accounting software packages on the market, allowing users to instantly access client information at the click of a button. Through the simple user interface, businesses can scan receipts and invoices promptly to ensure that business accounts stay balanced. The core features of the software are in line with other accounting software packages on the market, offering a comprehensive management of accounts payable, receivable, invoicing and real-time fixed asset management. Unfortunately, QuickBooks doesn't support bank reconciliation, tax management, or expense tracking. This means that new users will do well from the software but more established organisations may struggle with the limited functionality.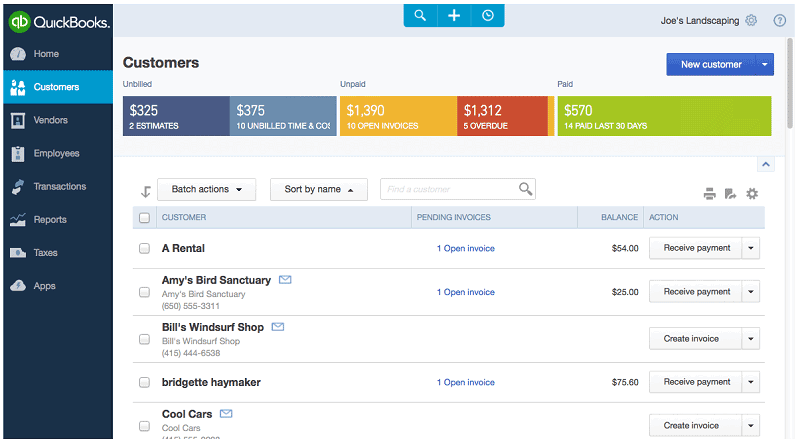 ---
Whilst not in our Top 5, Zoho Books remains an adept piece of accounting software, allowing users to have a firm grasp over cash flowing in and out of their businesses. Users produce invoices and receipts, run bank reconciliation, transactions and collections from clients. The core functions of Zoho Books include account management (both payable and receivable accounts), alongside purchasing and spending management. The software is ideal for small businesses looking to get their foot on the accounting ladder, as Zoho Books is simply laid out and easy to use. However, given that Zoho Books is cloud based, larger businesses may find that the lack of desktop integration fails to meet their needs (In addition for poor support of tax management and payroll functions).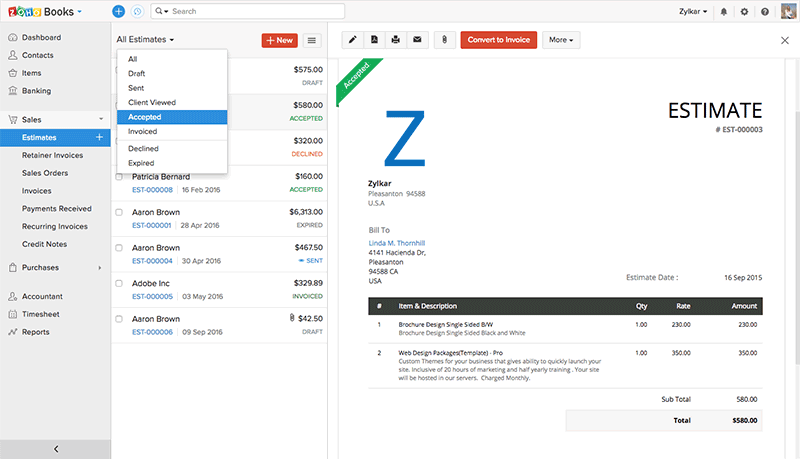 ---
Dynamics 365 is one of Microsoft's lesser-known accounting software offerings, and it packs quire a punch. The mission statement of Dynamics is to automate where possible, enabling users to streamline bookkeeping and supply chain management with minimal time investment. The shear variety of features will work for small start-ups all the way up to larger organizations. The basics, are all there with accounts payable and accounts receivable functions readily accessible and an onboard cash management system that helps to manage invoicing and payroll's.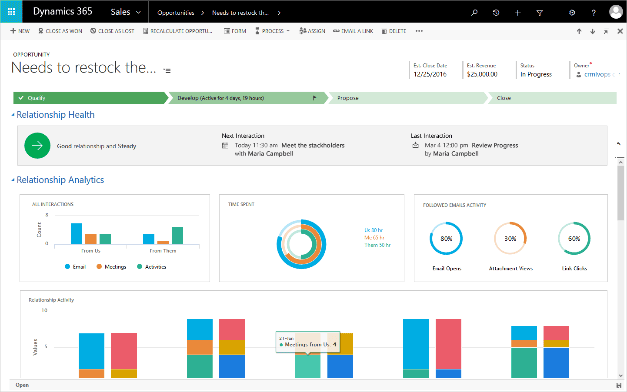 ---
Intacct has all the usual features, it is user-friendly and easy to navigate, although for new users it can take a while to become familiar with the system, high quality, instant, technical support as well as online help is available to all users. The system is well respected, although there have been reports that the software occasionally slows down occasionally, and some users have stated that its reporting is not as effective as its competitors.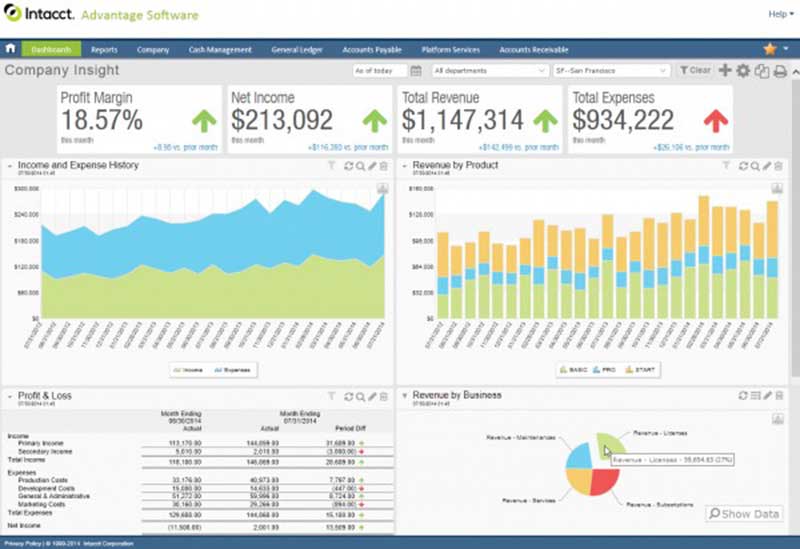 ---
GnuCash is a solid piece of multiplatform accounting software, and can be used to handle payable and receivable accounts, payroll, credit notes and invoices. As yet another open source application, GnuCash is characterized by its versatility. With GnuCash you can track bank accounts, stocks, income and expenses. GnuCash's unique Double Entry accounting system must debit one account and credit another by the same amount.
Double Entry is invaluable for small businesses aiming to balance their books efficiently. This feature is aided by the dedicated Account Reconciliation system, which enables users to compare transactions against physical bank statements. For a comprehensive overview of your finances, GnuCash is hard to beat.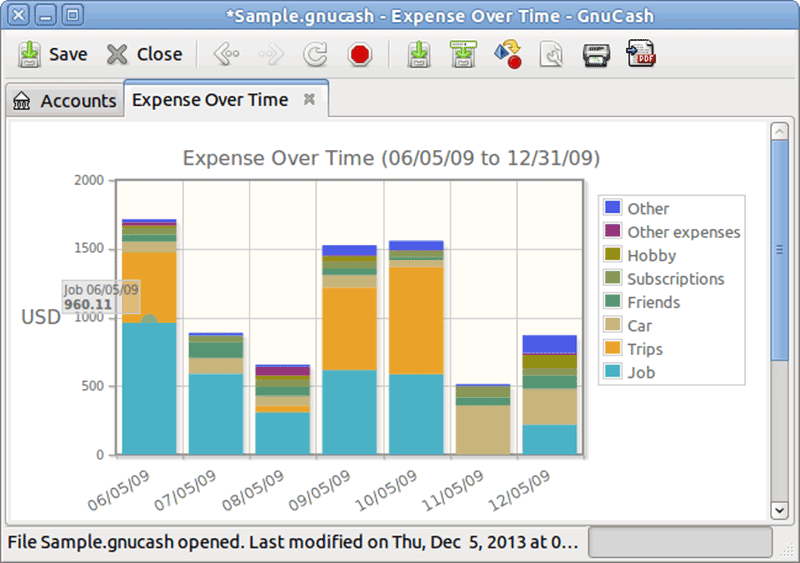 ---
BillQuick is another business accounting package that is known for offering great technical support. BillQuicks best known feature is that it helps users create custom reports to fulfill their requirements. Users are also able to edit existing invoices as needed. Despite these advantages BillQuick does not, however, offer the depth of features that you might expect in professional accounting software, and it cannot be easily integrated with other business software.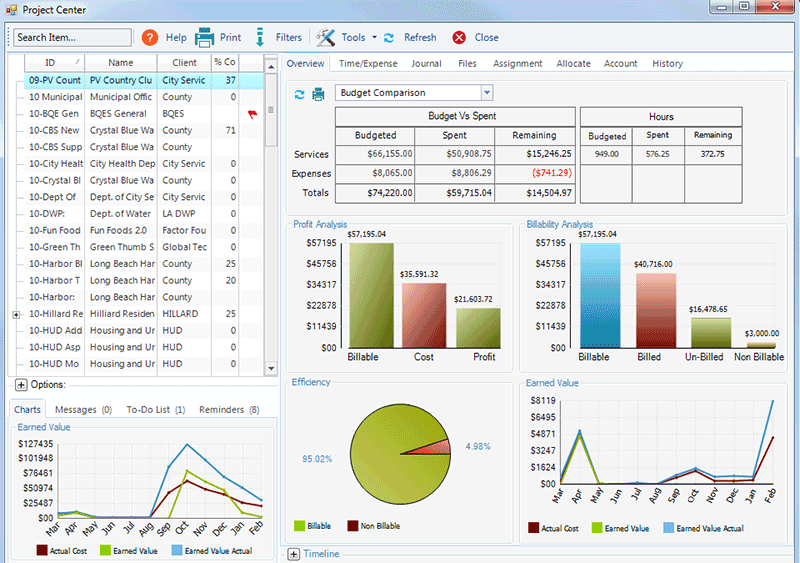 ---
The Key to Get Better Accounting Experience
Accounting and finance, till few years back, used to be taken as the most hectic and the highest time consuming business operations, involving sensitive financial data and immense responsibility. Tons of paper work, manual working and filing all made the process complicated and prone to serious errors. PDFelement has successfully revolutionized the accounting of today's businesses, enabling electronic data extraction, interpretation, conversion, annotation and distribution done in few seconds.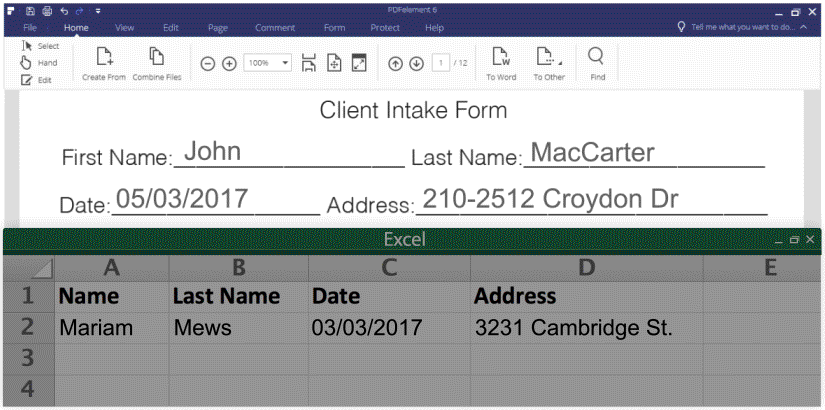 With quick extraction, accountants are able to save their time by avoiding manual data typing and annotation. PDFelements scans PDF documents and converts the files into PDF/A format. Long term data archiving has been given a new dimension in this software, where there is no manual data management.
Step 1. The scanned PDF files are imported into the system
Go to Home Page. You will see Open File tab. Once you click it, PDF file can be uploaded. Alternatively, you can drag and drop the file into software.
Step 2. Form Fields are marked
Go to Form tab and select Data Extraction option.
Now click Extract Data from Scanned PDF option.
Once clicking Next, you can select the text fields and label selected areas.
Then choose Save Setting and click Yes to go ahead.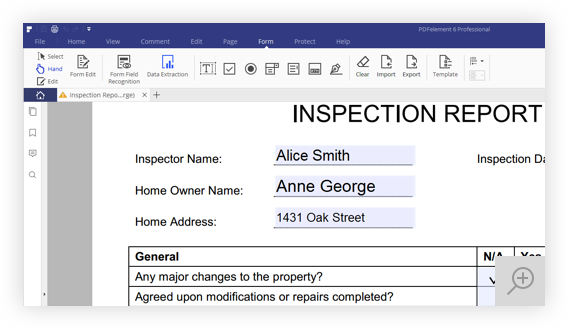 Step 3. Extract The Data
This step lets you extract data directly from scanned PDF. Go to Batch Process Window and select Start to initiate extraction.
Once it is completed, and once you click Finish, the CSV files of the scanned documents are saved on your system, which you can locate.