Nitro PDF Reader, as one of the top PDF readers, allows users to read PDFs and make rectifications accordingly. As we use PDF a lot in our work for its portability and security, so sometimes Nitro PDF Readers couldn't fulfill all your requirements. In this article, there is a list of top PDF Readers including Nitro PDF Reader that you shouldn't miss.
Top 8 Best PDF Readers Including Nitro
1. PDFelement
PDFelement is loaded with PDF reading capabilities. In addition, the tool performs conversion between PDFs and hundreds of other file types including the mostly used Microsoft Office files.
Pros:
PDFelement allows PDF editing tasks in proper manner as options are displayed in a straightforward ribbon-type interface.
The tool can smartly convert PDF embedded tables into Excel spreadsheets.
OCR can turn scanned PDF into searchable and editable text.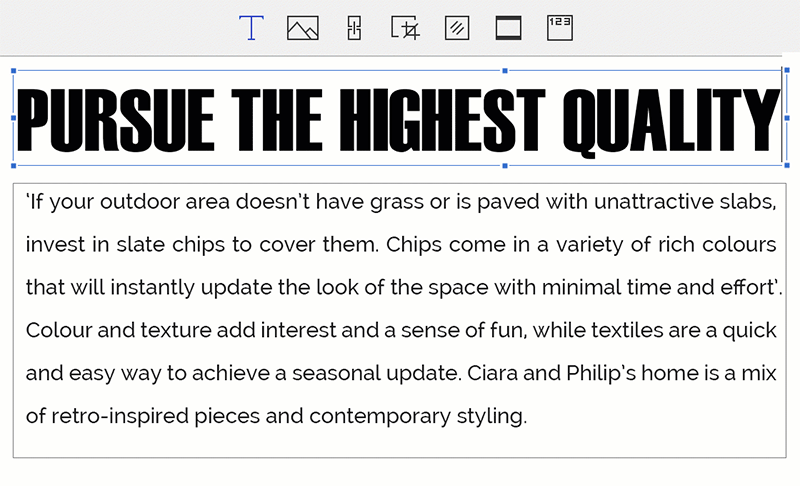 Score: 4.9
After learning the detailed comparison between Nitro Pro and PDFelement, you will decide which one is more friendly for users.
---
2. Nitro PDF Reader
Nitro PDF Reader, one of the preferred PDF suites available in the market. Nitro PDF Reader 64 bit is paired with great interface to read, create or import PDF files with ease.
Pros:
Nitro PDF Reader sports great optimization capability
The tool is equipped with class leading features
Cons:
Nitro PDF Reader is not an application with source

opened

OCR crashes on large documents.
Score: 4.8
---
3. Sumatra PDF Reader
Sumatra PDF reader is a lightweight PDF suite that can be easily installed on a low end system. The tool is loaded with portability features.
Pros:
The reading tasks can be performed at high speed.
The loading time is short
The tool is equipped with keyboard shortcuts with which you can zip through any document with ease.
Cons:
The interface is not intuitive.
Score: 4.6
---
4. Foxit PDF Reader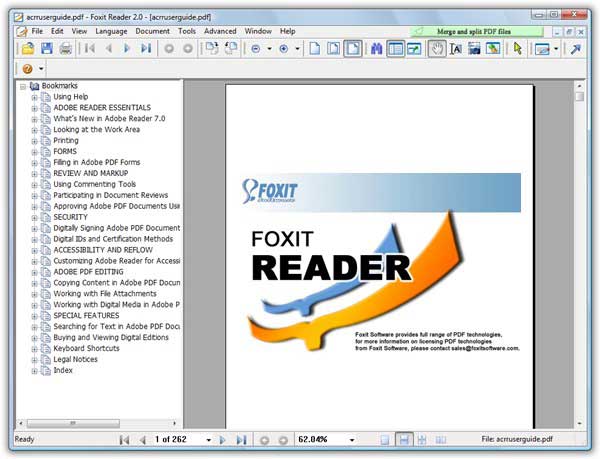 Foxit PDF Reader is an alternative to Acrobat reader, which clearly displays PDF files with a minimal interface. The tool sports wide range of handy features as well.
Pros:
Foxit PDF Reader loads quickly without experiencing lag from plug-ins loading.
E-sign features.
Cons:
Foxit PDF Reader does not support document signing process.
Score: 4.7
---
5. Adobe Acrobat Reader DC
Adobe Acrobat has made a new upgrade by launching Adobe Acrobat Reader DC. The tool sports a shiny, touch enabled interface and is equipped with a new document cloud online service which automatically allows you to access all your PDF files through computer's web browser or Acrobat mobile apps.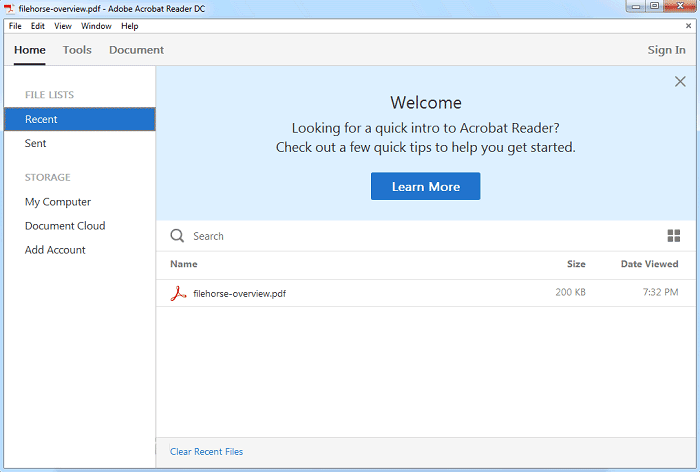 Pros:
Fast performance
Intuitive interface
Cons:
Confusing subscription plans
Score: 4.4
---
6. PDF-XChange
Users of Adobe Reader sometimes experience lag when the loading time rises. Adobe has addressed such drawback by launching PDF-XChange.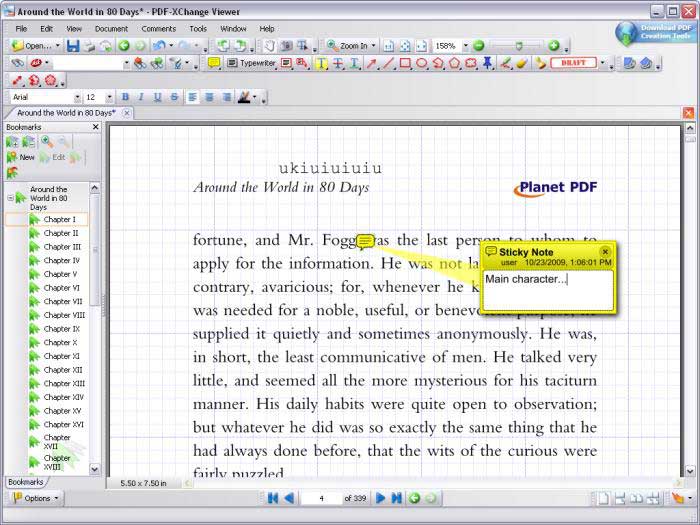 Pros:
Users can easily open and browse PDF documents with PDF-XChange.
You can perform simple page annotations with text and drawings.
Cons:
This tool cannot create documents.
Score: 4.4
---
7. Expert PDF Reader
Expert PDF Reader enables you to print and view PDF documents on Windows operating systems. This tool allows you to modify exiting documents.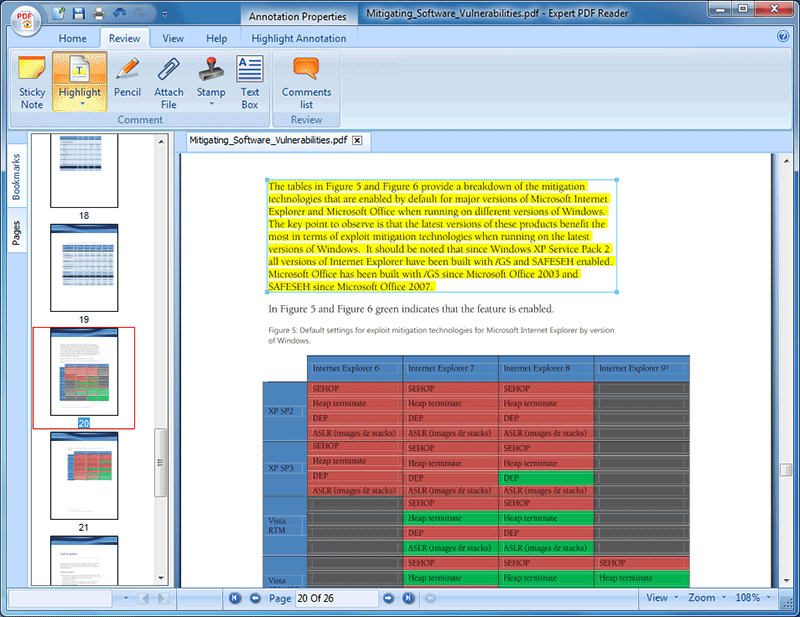 Pros:
Easily modify document outlines
Create rubber stamp impressions on documents when required
Cons:
Protected documents cannot undergo annotation with this tool.
Score: 4.3
---
8. Cool PDF Reader
Cool PDF Reader is the smallest PDF reading tool among other PDF readers. The tool allows you to view, extract, print, crop and convert PDF files to TIFF, EPS, WMF, PNG, GIF, JPG, BMP or TXT format.
Pros:
Does not require substantial time for installation
Runs at fast speed
Cons:
User Interface is not up to the mark.
Score: 4.2
---
How to Read PDF Files Easily and Comfortably
As you have seen how PDFelement is beneficial over Nitro PDF Editor. Now, you would like to know how you can edit a PDF file with this PDF editing tool.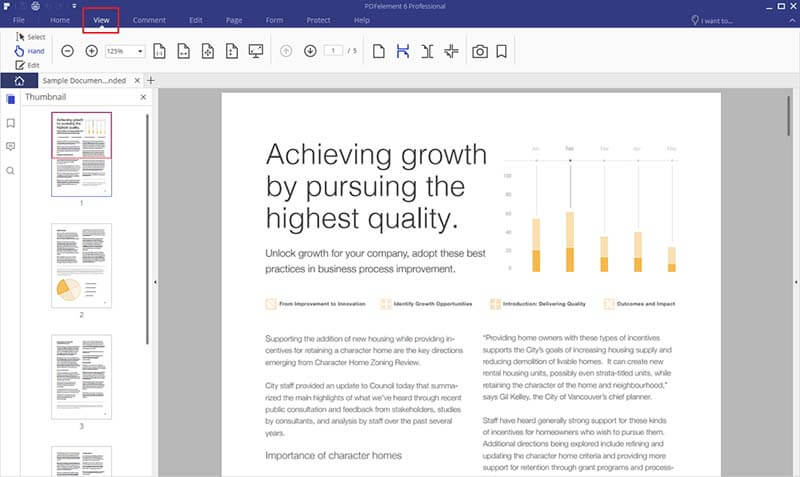 Step 1. Open File and Go to View Tab
First, you need Download PDFelement. You can simply click the following button to download the free trial.
Upload the PDFelment, open your PDF file and go to "View" tab.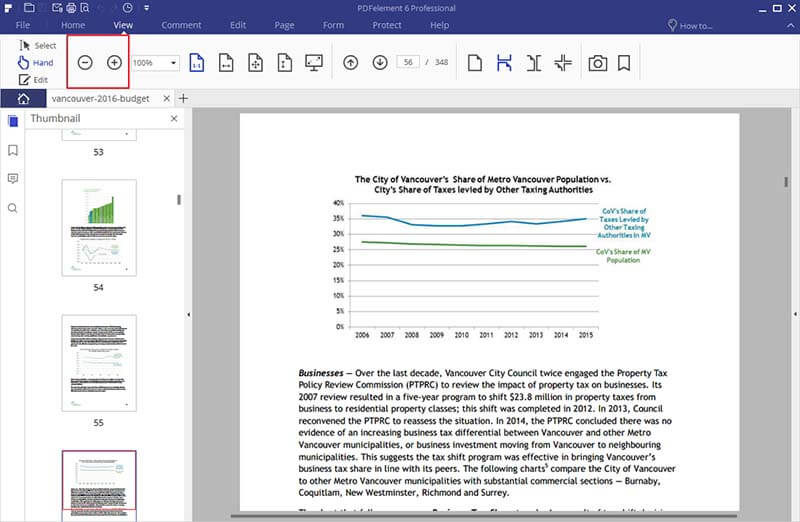 Step 2. Zoom In & Zoom Out
Under the "View" tab, you can see multiple options. You can click the "Hand" button to enter into the view status.
By clicking the "Zoom In" and "Zoom Out" shortcut icon, you can adjust the size of your PDF file.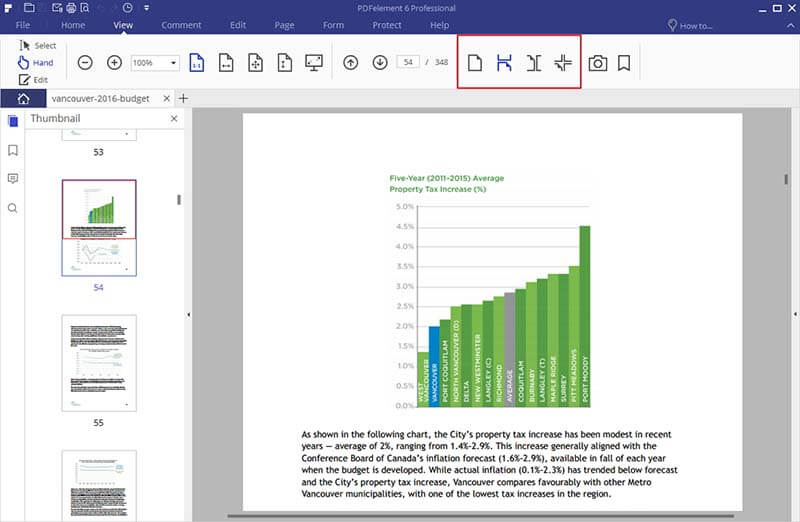 Step 3. 5 Reading Modes
Under the "View" tab, you can also select the reading modes to make your eyes more comfortable. There are "Single" "Continuous" "Facing" "Facing Continuous" "Full Screen" five reading modes. You can choose any of them according to your needs.
Step 4. Snapshot and Bookmark
Again under the "View" tab, you can "snapshot" the PDF pages in high quality. You can also add a "Bookmark" if you want to mark it and read it next time. And you can add notes, highlight areas etc.
---