What Is Difference between Bookkeeping and Accounting
In most cases accounting and bookkeeping have always been used interchangeably but they don't actually refer to the same thing. Even with difference between bookkeeping and accounting both have some inherent similarities, but in terms of scope one is much analytical and vast than the other. The following are key bookkeeping vs accounting differences and what each actually means, including software that makes both operations efficient and possible.
What is the difference between bookkeeping and accounting
| | Bookkeeping | Accounting |
| --- | --- | --- |
| Explanation | Refers to the methodical financial transactions recording within a business. | Indicates intensive reporting and systematic recording of all financial activities within a business within a specific time frame. |
| Making critical decisions | Bookkeeping provided information cannot be used to reach far-reaching conclusions and decisions within an organization. | It's highly likely and usually the case for a company's management to make intensive business decisions and reach extensive conclusions through data from an accounting process. |
| Intention | Bookkeeping is intended to ensure every financial transaction is recorded correctly and systematically. | Accounting is done with the intention of evaluating the financial wellbeing of an organization and sharing the data and conclusions of the exercise with the management or relevant individuals. |
| Creation of financial statements | In bookkeeping process no financial statements come up or created. | An accounting process involves the heavy preparation and creation of financial statements. |
| Must-have skills | Bookkeepers don't need to wield any exceptional skillset to undertake the process. | Extensive skillsets are required in accounting since data analysis and preparation of financial statements is not just complex but highly analytical. |
| Scrutiny | No intensive analysis and scrutiny if any is carried out or needed. | In accounting the information from bookkeeping process is highly scrutinized, analyzed and interpreted before being compiled in presentable financial accounting reports as required. |
| Kinds of processes | Can either be double entry or single entry type of bookkeeping. | Includes diverse processes such as financial, social responsibility, management, inventory, HR to cost accounting among others. |
| Qualifications | The requirements of bookkeepers include accuracy in their duty and ability to understand financial topics with their work mostly under the eye of accountants. | Accountants must have sufficient academic qualifications and experience with most actually going as far as attaining CPAs (Certified Public Accountants). |
Definition of Bookkeeping and Accounting
Bookkeeping: Refers to financial transactions record keeping in an orderly and complete manner by a bookkeeper. Bookkeeping involves recording and storing entire documents of all monetary transactions that will be handy during the accounting period. The aim of the process is disclosing the true image of both overheads and income after a specific accounting time frame.
The bookkeeper records such transactions taking place in a firm such as incurred expenses, credit purchases, sold items, cash flow among others and capturing all these in bookkeeping journals, cash books, sales and purchase returns among other day books and involves either single entry or double entry bookkeeping system. While a bookkeeper is still important, the current trend shows bookkeeping is losing its touch with most businesses today in search of much complex and intensive processes beyond simple bank ledger balancing, keeping financial information orderly or data entry.
Accounting: Refers to the provision of information on the financial wellbeing of a company. Accounting is an extensive process beginning from the moment transactions are recorded ending with financial statement reporting after completion of a financial period. Accounting leads to the identification of the financial transaction of a business with systematic recording following before grouping information that's similar and summarizing it for presentation purposes to the authority awaiting the accounting information.
The process in itself is thorough and analytical towards offering a complete and correct status of financial statements to a business owner, lay men, government, employees, manager, and creditors to investors. All the presentations are highly simplified to ensure the consumers easily understand the details from a specific financial period. Financial statements from an accounting process offer a glimpse of a company in terms of its financial position, turnover and wealth. Accounting is branched in different categories such as social responsibility, management, and cost, financial to human resource accounting. With the advent of bookkeeping and accounting tools and software, bookkeeping vs accounting differences are being blurred fast as bookkeeping software is now released with accounting functionalities and vice versa.
---
Freshbooks - Unique Software for Bookkeeping and Accounting
FreshBooks is unique accounting software aimed at helping small businesses simplify their accounting and bookkeeping services for efficient running of their operations in a secure, fast and easy way. The accounting software is cloud-based and accessible securely via both Tablet/Smartphones and desktop helping in the automation of tasks such as follow-ups and time tracking, expenses organizing and invoicing.
FreshBook features include:
Invoicing:-Create professional invoices fast
Organizing expenses:-Effortlessly manage expenses without paperwork such as receipts
Time-tracking:-Offer ability to invoice time the tracked and automatic compilation of hours worked into an invoice
Easy collaboration:-Provides entire team with access to feedback, files and discussions in a single place for completion of projects on time
Fast payments:-Allows automatic deposits and faster payment within 11 days once online credit cards acceptance is activated
Reportage:-Simple to understand reports and comprehensive enough for accountants
Mobile:-Mobile app keeps firm and clients connected to take accounting processes wherever you're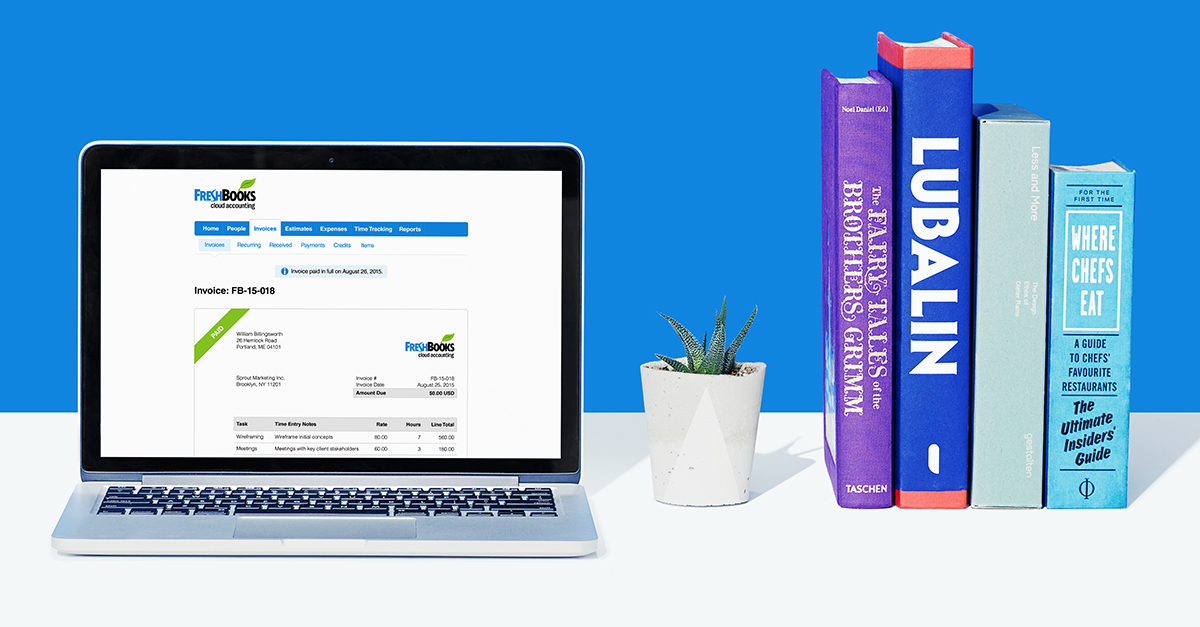 Free Download or Buy PDFelement right now!
Free Download or Buy PDFelement right now!
Buy PDFelement right now!
Buy PDFelement right now!