The Definition of Accounting Cycle
With the accounting cycle certain rules and processes are followed to guarantee conformity and accuracy of an entity's financial statements. Understanding the cycle of accounting and what really happens in accounting cycle steps helps comprehends what's expected. With accounting software critical in every accounting cycle, understanding how the tool manages the process pays.
The Meaning of Accounting Cycle
Accounting cycle refers to the entire period where a business accepts, records, sorts, manages and credits payments as received and made within a specific accounting time frame. When it comes to what is accounting cycle, it's important to note that businesses commonly balance their account books mostly every quarter and at the end of the financial year.
However, accounting cycle definition doesn't limit the time to settle an entity's books; if a company wants to they could settle account books weekly or daily as much as the immensity of the work can be daunting. Lots of transactions are recorded over an accounting cycle as diverse financial statements are prepared from cash flow, profit and loss statements to balance sheets. At the end of the accounting cycle, all business accounts need to balance.
If they do then the accuracy is a surety of the process and the efficiency of the professionals and accounting software involved with the accounting process culminating in the closure of the accounting period. New business accounts are then created as the next accounting cycle begins.
---
The Accounting Cycle Steps
The accounting cycle refers to the entire process where all financial statements and transactions of a business are processed and recorded. This is from the moment transactions take place to when they're represented and added into financial statements to the closure of the company accounts. Accountants and bookkeepers are highly involved in ensuring the entire accounting cycle is tracked efficiently from the beginning up to the end. With each fiscal year things actually become easier as the cycle begins again as far as the business remains in operation all along.
In every accounting cycle all debits and credits, T-accounts, journal entries and entire accounts and entries adjustments throughout the full cycle are all incorporated forming the bedrock of all accounting cycle steps. These steps are usually eight and include:
Transactions: The procedure is commenced by financial transactions. It's actually financial transactions that are tracked throughout the accounting cycle and can include expenses, sales revenue, assets acquisition, purchases and debt payoffs, among others.
Journal entries: As the transactions are taking place, they need to be recorded in journal entries chronologically. Accounts are debited and credited and it's important that each debit and credit equals and balances.
General Ledger posting: Once the journal entries are prepared and ready, they will then be added into a general ledger will all transactions in a summarized form and all accounts clearly evident.
Trial balance: After the accounting time frame has come to an end, such as monthly, quarterly or annually a trial balance is expected showing a total balance of all accounts.
Worksheet: This is an important process that seeks to correct errors and adjust properly where the total balances in terms of debits and credits appearing on a trial balance have refused to equal.
Entries adjustments: It's also important for adjustment of entries to be added accounting for deferrals and accruals once the accounting period comes to an end.
Closing: Once everything is done expenses and revenue accounts need to be closed to pave way for another accounting cycle. Income statements in expense and revenue accounts indicate how a company is performing for a certain period of time and thus closed once that cycle is up. However, since balance sheets indicate the financial position of a business over a specific period of time, its accounts cannot be closed yet considering the accounting cycle might just be for a month or quarter.
---
Freshbooks - Best Software Compatible for Accounting Cycle
FreshBooks has been around for a while offering automatic financial management tools to businesses of all kinds for a decade and counting. The accounting software is accessible via mobile devices or synced across devices. It offers online payment acceptance features to help accept credit card payments even as you collaborate easy with coworkers across the board. FreshBooks include time tracking features to keep tabs on hours logged on while allowing you to manage expenses. Most importantly, businesses are provided with easy to use invoicing features to get paid faster as you send clients the most professional invoices anywhere.
The accounting cycle is long and involving with lots of accounts opened and financial transactions carried out. FreshBooks dashboard offers access to all critical reports that you need conveniently. These include spending breakdowns, recent activity summaries, profit and loss reports, accounting aging report, sales tax summary reports, invoice details and expense reports, accounting reports from general ledgers, trial balances to charts of accounts. In addition, you're able, not only to save and export, but also print all these financial reports and share them with your financial advisor or accountant.
Try Freshbooks for Free >>>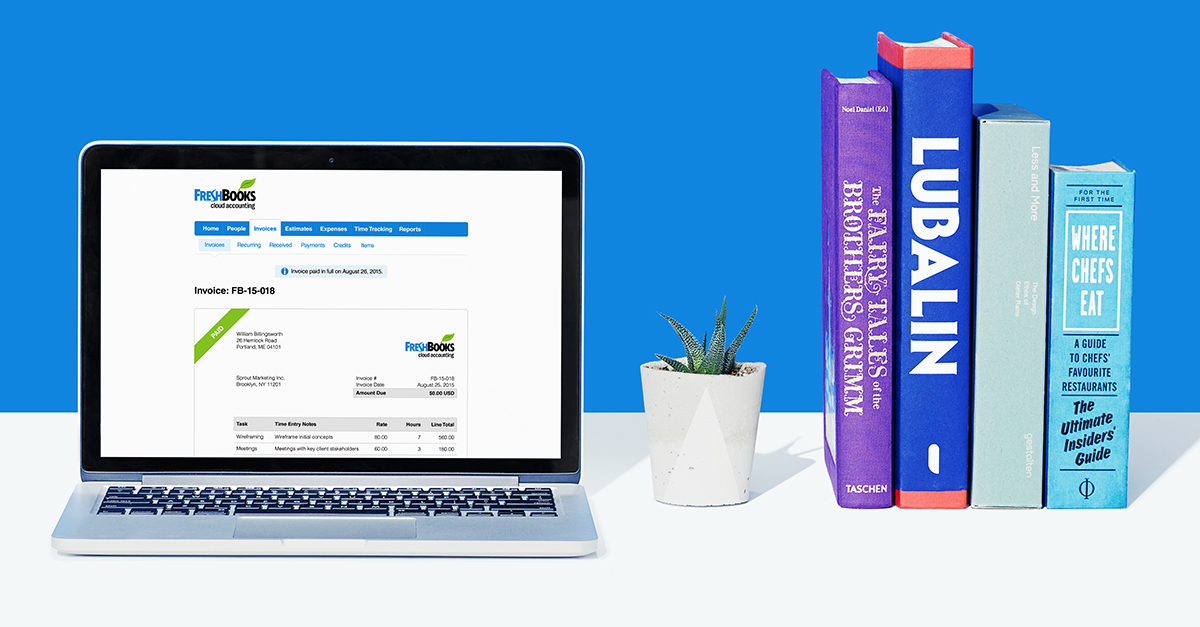 Free Download or Buy PDFelement right now!
Free Download or Buy PDFelement right now!
Buy PDFelement right now!
Buy PDFelement right now!
Up to 18% OFF: Choose the right plan for you and your team.
18% OFF
PDFelement for Individuals
Edit, print, convert, eSign, and protect PDFs on Windows PC or Mac.
12% OFF
PDFelement for Team
Give you the flexibility to provision, track and manage licensing across groups and teams.
Contact us to learn more about the custom services we can do for you.
Related Articles
All Topics