In a small business there is always too much to do. If you are not careful you can get so involved in managing the routine day to day activities that there isn't time to work on building your business and taking it to the next level. How can you break out of this cycle and actually take the steps you need to make your business grow?
If you can't reduce your workload, you can find ways to become more efficient. Finding the right small business software can help a business rise to greater heights. There are many aspects of your business that you can partially, or fully automate, and make less time-consuming. Some business owners are reluctant to investigate software for small businesses because they believe that such software is too expensive, and not an appropriate investment in today's business environment where there is constant pressure to reduce costs and maintain the bottom line.
It's true that some small business tools can be expensive, but that doesn't have to be the case. We have come up with a list of best value small business software available, these 6 tools will save you time without breaking the bank.
What should you look for in small business software?
The following are just some of the things you should look out for when deciding which software that is right for you.
Don't just look at the price! Ensure that the small business software you pick is not just affordable but also compatible with your business needs.
Look for tools that offer a free version, or a free trial. Testing a tool before committing to purchase is a great way to make sure you are buying something that is right for you.
Look for software solutions that will easily integrate with all your other business systems. For instance, it makes sense to pick a CRM software that integrates with whatever email marketing platform and shopping cart you use. Your aim must be to have a business where all your departments integrate seamlessly.
Finally, ensure that your software permits multiple users so that all departments in your business are able to communicate with one another effortlessly.
Top 6 Small Business Software
If you are looking for an easy and efficient way to manage all the PDF documents you send and receive every day, PDFelement for business is a great choice. Not only is it easy to use, it is also the most efficient way to easily, create, manage and share PDF files. Creating a new PDF is simple; you just open a file and it will be automatically converted to PDF. You can also use this software to convert PDF files to a range of formats including Word, HTML, PowerPoint and Excel. The editing features of PDFelement are as robust as they are functional. You can quickly add and delete texts or images. There is even an OCR feature to edit scanned PDFs.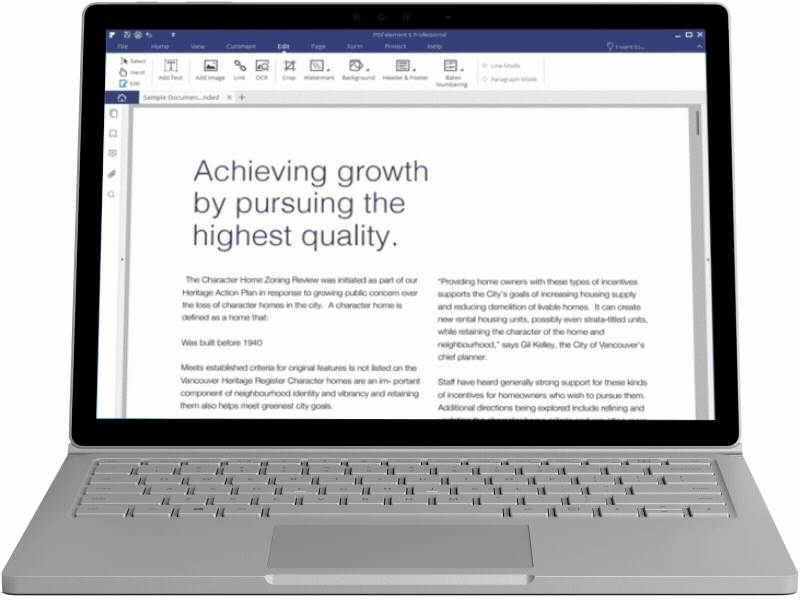 You can also use the software to convert PDF files to all kinds of formats including Word, HTML, PowerPoint and Excel. Its editing features are as robust as they are functional. You can easily ad and delete texts or images and even utilize the OCR feature to edit scanned PDFs.
Pros:
Simple, intuitive user interface
Great editing and annotation features
Quickly edit scanned and image-rich PDFs
Easily convert PDFs to multiple formats
Volume licensing discount with the business features
Can be deployed to multiple computers
---
Easy invoicing is a vital, but routine, part of every small business. Small business software can swiftly automate this process, and let you concentrate on more creative tasks. ProfitTrain can efficiently handle your invoicing needs in addition to a boasting a range of extra features including, to-do lists, time tracking and even HTML invoice templates. A a one-time payment of $49.95, means that it relatively affordable for most businesses, and will soon cover it's costs in time saved.
Pros:
Great invoicing services including business expense tracking
Simple to install and use
Cons:
Its user interface is not particularly pretty
Only available for Mac users
---
QuickBooks doesn't really need any introduction. It's one of the top accounting software packages in the business. What might surprise you is that at only $250, it still ranks as one of the more affordable accounting software packages on the market. It comes with a great user interface that simplifies the complexities of accounting. One of its most useful features is its ability to offer an overview of your business's financial status at a glance.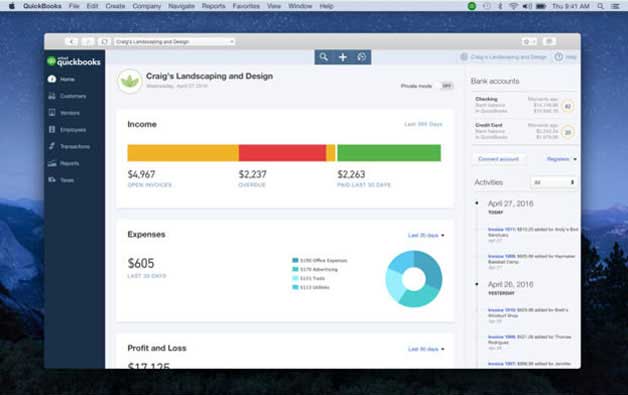 Pros:
It has all the accounting settings your business could ever need
It integrates really well with other third-party apps
Cons:
It is incapable of working in mixed Mac and Windows environments
---
If $250 is a little pricey for your business accounting then at only $36 Xero offers a great alternative. Xero provides for double entry accounting tools. It employs cloud-based storage to ensure security and easy sharing. It is packed with useful features which can compete with some of the best in the market, but it is the user-friendly interface, and ease of use that is perhaps its greatest selling point.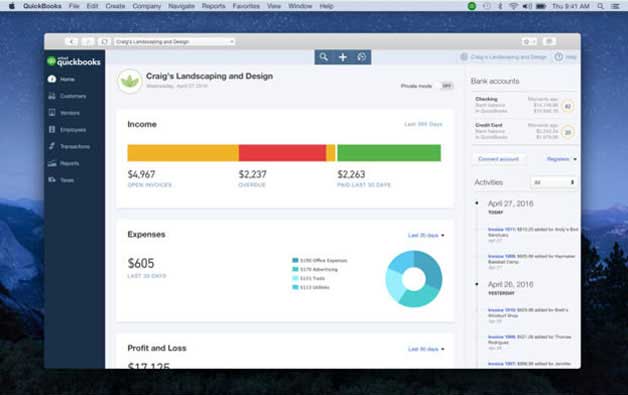 Pros:
Reasonably priced
Offers good account management options
One of the best inventory-tracking systems of any accounting software
Cons:
Lacks a billable event time- tracking features
Reports are not easily customizable
---
Zoho Books small business software is the accounting suite from the Zoho corporation, well known for its many productivity applications. Their accounting program comes with excellent capabilities and is highly flexible, ideal for the startup that wants to get a handle on their books. The only negative we can find is that it lacks integration with payroll and third-party applications, the only accounting software we've seen to not offer these integration features.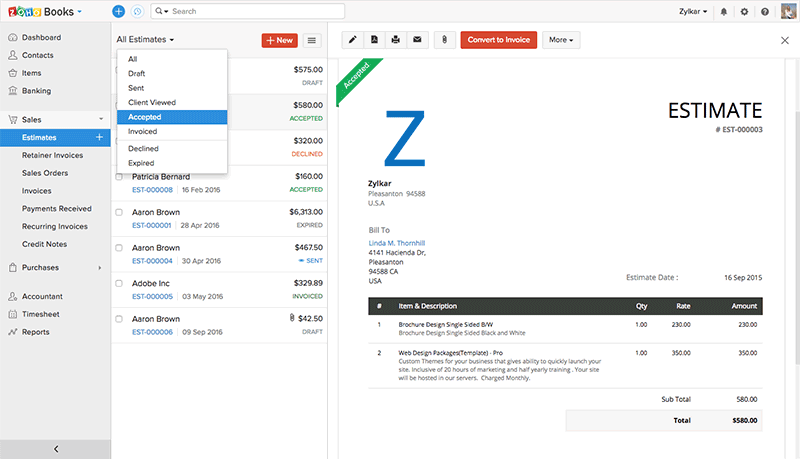 Pros:
Reasonably priced
Offers good account management options
One of the best inventory-tracking systems of any accounting software
Cons:
Lacks a billable event time- tracking features
Reports are not easily customizable
---
At $12 a month, Insightly offers small businesses the kind of CRM features that for which other software companies charge big bucks. It's easy to use and very intuitive. All the features of this small business software are designed to automate CRM as much as possible. It offers contact management, project management, opportunity management and detailed sales reports. It really is an all-in-one solution.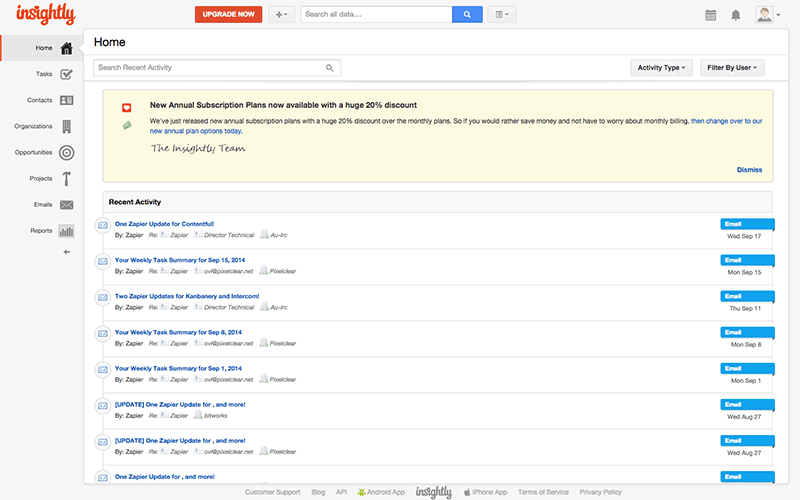 Pros:
Very easy to use
Affordable and scalable as your business grows
Integrates with services such as Gmail, Google Maps, QuickBooks online and even Outlook and Office 365
Integrates with email marketing options such as MailChimp
Cons:
There are a limited number of customizable reports
---
Tips for Using Small Business Software
Choosing the right software isn't as hard as you might think. We hope this list has helped you to think about the right solution for your business. Please leave a comment and let us know what you think.