Are You a Translator? Read This and Transform Your Business
Linguistic professionals offer translation services. They use the translation invoice so as to charge payment to their client. The translation invoice is a special business document that contains details about the translation services rendered. This invoice translate indicates the nature of translation, the total cost as well as the date when translation was provided.
Free Translation Invoice Template
Free Download and customize it according to the sample text below
---
What is a Translation Invoice
A translation invoice is a document that is used to explain how much money should be paid for translation services rendered. It explains the total cost of translate invoice to Spanish on a per word basis. Hence, the client is able to calculate and verify the amount charged by the translator. This invoice is often supported by a linguistic Quality Assurance (QA) document. This is so as to assure its validity and guarantee the services provided.
---
What to Include in a Translation Invoice
A translation invoice contains a collection of important sections which validate it. They include:
• The Title "Translation Invoice"
Seeing as it is an official business document, this invoice needs to be titled "Translation Invoice".
• Invoice Number
This is a unique identifier of the invoice document. It is usually made up of numbers. However, letters can be included to boost uniqueness.
• The Vendor
This is the company or individual providing the translation services. Their name, postal address, phone number, email address and registration number are required.
• The Client
This is the recipient of the translation services. Their name, postal address, phone number and email address are required.
• The Full Description of Services
This is a detailed description of the translation services which were provided. Elements such as the length of provision, rate per word, the number of translators involved, props utilized, secondary assistance requested, and extra charges are indicated in the invoice translation French. This helps in quantifying the services and clarifying the transaction.
• The Currency
The specific type of legal tender that is to be exchanged in the transaction is entered here. This element is especially important for transactions that involve parties from different countries or international transactions.
• The Grand Total
This is the total amount of money that should be paid for the translation services. It is inclusive of any applicable taxes.
• The Due Date
The date by when the payment should be made needs to be indicated here as well.
---
How to Create a Translation Invoice Easier with FreshBooks
What is FreshBooks
One of the most well-known and effective accounting softwares today is known as FreshBooks. It can assist you to run your enterprise in an easy, straightforward and productive way. Among other things, it can assist with the automation of your enterprise. In addition to that, it can create translation invoices according to a predetermined schedule. In doing so, it frees up your time so that you can focus on other enterprise activities such as advertisement, client interaction and expansion.
Try Freshbooks for Free >>>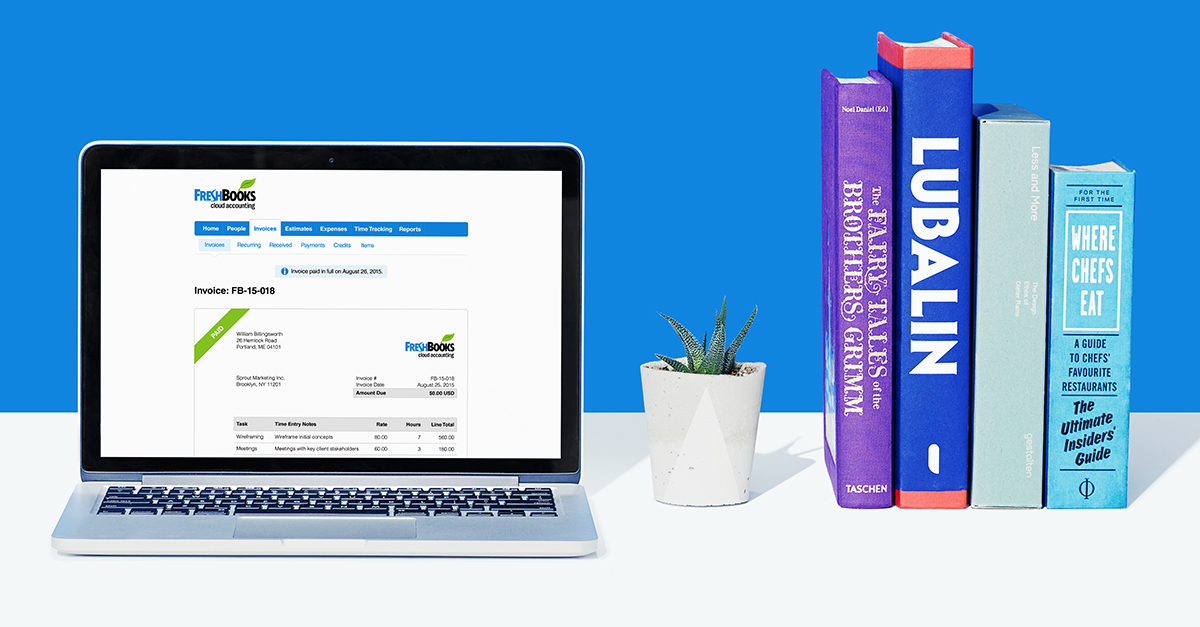 The FreshBooks software has an interface which is user-friendly and intuitive as well. Thanks to this, you can use the tools held inside to create professional translation invoices. Some examples of the automation processes which it can perform include accounts reporting, creating invoices, organizing expenses and task scheduling. Seeing as it is based on Cloud infrastructure, FreshBooks makes it easy for you to manage the software and gain access to your business data from any location worldwide.
How to Create a Translation Invoice with FreshBooks
The FreshBooks software makes it very easy for you to create an invoice for translation services. It presents two main methods of accomplishing this task. You can use the Dashboard or the Invoices panel.
1. By Using the FreshBooks Dashboard
While at the FreshBooks main Dashboard, simply navigate to the "Create New" button and click upon it. Having done so, proceed to select "Invoice". This will make you arrive at a "New Invoice" screen which contains an invoice template.
2. From the "Invoices" Panel
It is also possible to create a translation invoice by directly using the Invoices panel. Simply tap on the button labeled "New Invoice". After you click upon it, the software will activate a new screen where you can enter details about invoice translation Spanish.
Generally, the translation invoice template provided by FreshBooks is divided into 3 main sections. They include:
Accept Credit Cards:

This section of the template contains some options which you can use to determine if your translation invoice will accept payments made through credit card.

Customize Invoice Style:

In this section, you can tailor the overall appearance of your invoice. You can determine elements such as the font and the colors of the headers. You can also determine whether your invoice will be recurring or not.

Invoice Transaction Details Sections:

This is the most important part of the invoice template. That's because it contains options which help you to determine the specific details of your translation transaction. Examples of these are the Vendor's name, the Client's name, Services rendered and also the Total Cost. This section represents the meat and potatoes of the template.
After you complete customizing the options indicated above, FreshBooks presents you with an option to Save the document. This option is ideal in case you intend to make some further adjustments. If you are satisfied with its appearance, simply Send it directly to your client. The software will deliver the document via email.
FreshBooks is the future of invoice creation for businesses today. It leverages the power of information technology so as to make it possible for you to run an enterprise in an easier, rewarding and more efficient way. This software is an investment with long term returns!
Free Download or Buy PDFelement right now!
Free Download or Buy PDFelement right now!
Buy PDFelement right now!
Buy PDFelement right now!
Up to 18% OFF: Choose the right plan for you and your team.
18% OFF
PDFelement for Individuals
Edit, print, convert, eSign, and protect PDFs on Windows PC or Mac.
12% OFF
PDFelement for Team
Give you the flexibility to provision, track and manage licensing across groups and teams.
Contact us to learn more about the custom services we can do for you.