Do You Need a Financial Incentive For Your Work? Discover the Deposit Invoice
A deposit invoice is able to capture the details of enterprise transactions where a deposit is paid prior to the full amount being settled. For example, a vendor may partly provide some goods or services and then collect a deposit from the client. This amount is captured in the deposit invoice. After that, the full amount is paid after the entire job is completed. After that, the grand total can also be captured in a consequent invoice.
Free Deposit Invoice Template
Free Download and customize it according to the sample text below
---
What is a Deposit Invoice
This is a specialized invoice which can capture the deposit amount that is paid after a sample product or service is delivered. After issuance, the vendor receives payment and a go-ahead to continue with the task. The deposit invoice is a precursor to the invoice that captures the grand total. As such, the deposit invoice meaning shows that it is an important document in modern business.
---
What to Include in a Deposit Invoice
There are multiple elements that need to be included in a deposit invoice. They include:
• The Title "Deposit Invoice"
This business document needs to have the official title of "Deposit Invoice".
• The Invoice Number
This is an identifier that signifies the deposit invoice as a unique document. Often made up purely of numbers, it can also contain some letters.
• Date of Issuance
This is the date when the deposit invoice was issued.
• The Vendor
This is the company or individual who is issuing the xero invoice deposit. Their name, postal address, phone number and email address are required. If it is a company, then its registration number is included.
• The Consignee
This is the recipient of the deposit invoice. Their name, postal address, phone number and email address are indicated.
• A Full Description of the Transaction
This is an explanation of the goods or services which are included in the transaction. If it involves physical goods, a clear description of these items is needed. If applicable, some units of measurement are also indicated as well.
>• The Currency
This is the exact type of legal tender that needs to be used in the transaction. This element is especially important to utilize in situations of international transactions or where the parties involved are from different countries.
• Grand Total
This is the total amount of money that the customer needs to pay. It is inclusive of all taxes.
• The Due Date
This is the date by when the invoice needs to be paid.
---
How to Create a Deposit Invoice Easier with FreshBooks
What is FreshBooks
FreshBooks is a special business software which assists with accounting and other business process activities. By using this software, you can operate your business in a smoother, more efficient way. By using FreshBooks, you can generate business documents quickly and professionally. For example, you can easily generate a deposit invoice on demand.
Try Freshbooks for Free >>>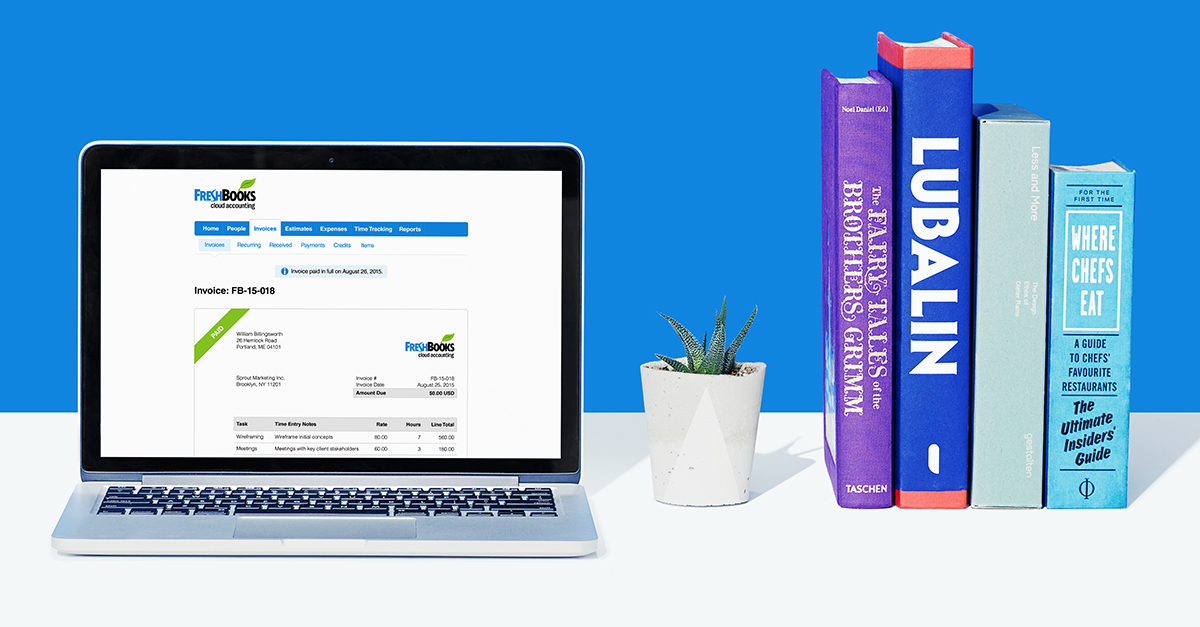 This software has an interface that is easy-to-use. Thanks to its intuitive dashboard, you can learn how to operate it quickly. Hence, FreshBooks has a short learning curve. Thanks to this, you can begin to generate deposit invoices and even automate business processes quickly. Some examples of the processes that can be automated include task scheduling, creating invoices, organizing expenses and accounts reporting. FreshBooks is built upon Cloud infrastructure. As such, you can gain access to this software at any time you desire through any Internet-capable device.
How to Create a Deposit Invoice with FreshBooks
Creating a deposit invoice using FreshBooks is quite a straightforward process.
1. Through the Dashboard
You can create a deposit invoice through the Dashboard section. Here, simply navigate to the button labeled "Create New" and click on it. Having done so, pick the "Invoice" option. This will immediately activate a screen with a "New Invoice" template.
2. Through the "Invoices" Panel
You can also create a deposit invoice directly from the Invoices panel. You can generate a deposit invoice directly through the Invoices panel. In this section of the FreshBooks software, simply tap upon the button labeled "New Invoice". This will immediately activate a new template screen where you can enter the details that are required for the deposit invoice.
Structure of the Template
The various sections in the deposition invoice template allow you to customize your deposit invoice such that it can accept credit card payments. They also enable you to design the deposit invoice. You can pick the colors of the headers, the specific font and also determine if the document will be recurring or not. Last but not least, the template contains some sections where you can enter details about the transaction at hand. Examples of these are the vendor's details, client details, products or services involved as well as the total amount.
After customizing the deposit invoice template to your liking, you can Save it. This gives you an opportunity to edit it further according to your preference. You can also Send it directly to the client. FreshBooks delivers the document via email.
FreshBooks is an ideal software for generating business documents. It can create effective invoices for your enterprise. With many other helpful features, it is an ideal technological resource today!
Free Download or Buy PDFelement right now!
Free Download or Buy PDFelement right now!
Buy PDFelement right now!
Buy PDFelement right now!
Up to 18% OFF: Choose the right plan for you and your team.
18% OFF
PDFelement for Individuals
Edit, print, convert, eSign, and protect PDFs on Windows PC or Mac.
12% OFF
PDFelement for Team
Give you the flexibility to provision, track and manage licensing across groups and teams.
Contact us to learn more about the custom services we can do for you.