Information Technology (IT) adds speed and efficiency in all sectors where it is applied. In the world of business, IT is implemented in form of software. A prime example is the invoice system. Enterprise owners use it to generate invoices on demand. Some systems can even create invoices automatically after a trigger event. The invoice is essentially a record of business activity.
Free Invoice Template
Free Download and customize it according to the sample text below
---
Top 5 Invoicing System
When it comes to efficiency and user friendliness, no other invoice system is better than FreshBooks. This system is constructed to assist businesses in generating invoices whenever they are required. FreshBooks can also generate business documents such as purchase orders and receipts. This software can also be used to automate recurrent enterprise processes. Examples of these are task scheduling, invoicing, expense organization and client session booking. By doing so, it improves operational efficiency. FreshBooks is hosted in a Cloud platform. Therefore, it can be used from anywhere in the world by simply logging in. You can use FreshBooks at no cost through a limited time demo. If you desire a longer period of use, you can buy a subscription at $15 per user.
Try Freshbooks for Free >>>
This invoicing software provides business solutions on the basis of Software as a Service (SaaS). Tipalti can handle end to end invoicing within your enterprise. In addition to generating and issuing invoices, this software can also perform payment processing and tax compliance. Not only does it collect the appropriate tax forms, Tipalti also fills and generates them on your behalf at the end of every year. Tipalti enforces security through a thorough assessment of all financial processes in your organization. It also creates performance reports and delivers them to you automatically. You can get a free product tour of Tipalti in its official website.
Built for companies of various sizes, Intacct is a powerful invoicing solution today. By using this software, you can minimize the amount of calculation that you need to perform in your enterprise. You can also automate a wide variety of business processes. Intacct can scale along with your business. Hence, it can handle your client list as it grows over time. Every step of invoice administration can be automated using Intacct. This includes the generation, filling, sending and payment reception. By doing so, human error is eliminated. An interesting feature of this online invoice system is that it can be integrated with other business software solutions. This creates a seamless combination of software in your enterprise. This online invoice system free can be used for a limited time through a free trial. Extended usage requires you to invest in it. Free price quotes are offered.
This is a software that is developed especially for handling business processes. FinancialForce Accounting is fundamentally an Enterprise Resource Planning (ERP) software solution. Hence, it can effectively manage crucial business processes such as invoicing. The software handles this activity efficiently from end to end. Seeing as it is built on the Salesforce Cloud infrastructure, you can access your business data and invoice records from anywhere using a dedicated portal. FinancialForce Accounting can handle multiple currencies, provide projections and automate business processes.
Implementing high levels of security in all processes, CheckIssuing provides the resources and facilities required for enterprise invoicing. The software can help you to administer the invoicing process from end to end. CheckIssuing also enables you to brand your invoices and other business documents with your enterprise logo. This maintains uniformity and ensures brand promotion. The software is scalable and can expand along with your business. It also implements security checks and balances such as security lines on envelopes and toner anchorage.
---
How to Create Invoices Easier with FreshBooks
What is FreshBooks
The process of creating an invoice can be made much easier by using FreshBooks. This is a dedicated software which can generate documents and also help to automate business processes as well. This software was designed to improve the efficiency of your enterprise. Therefore, you can use it to create invoices according to an automatic schedule. You can also use this web-based invoice software open source platform to conduct activities such as accounts reporting, task allocation and expense organization automatically. Seeing as it is Cloud based, FreshBooks is easily accessible from anywhere in the world. Here is how to create an invoice using this business digital tool.
Try Freshbooks for Free >>>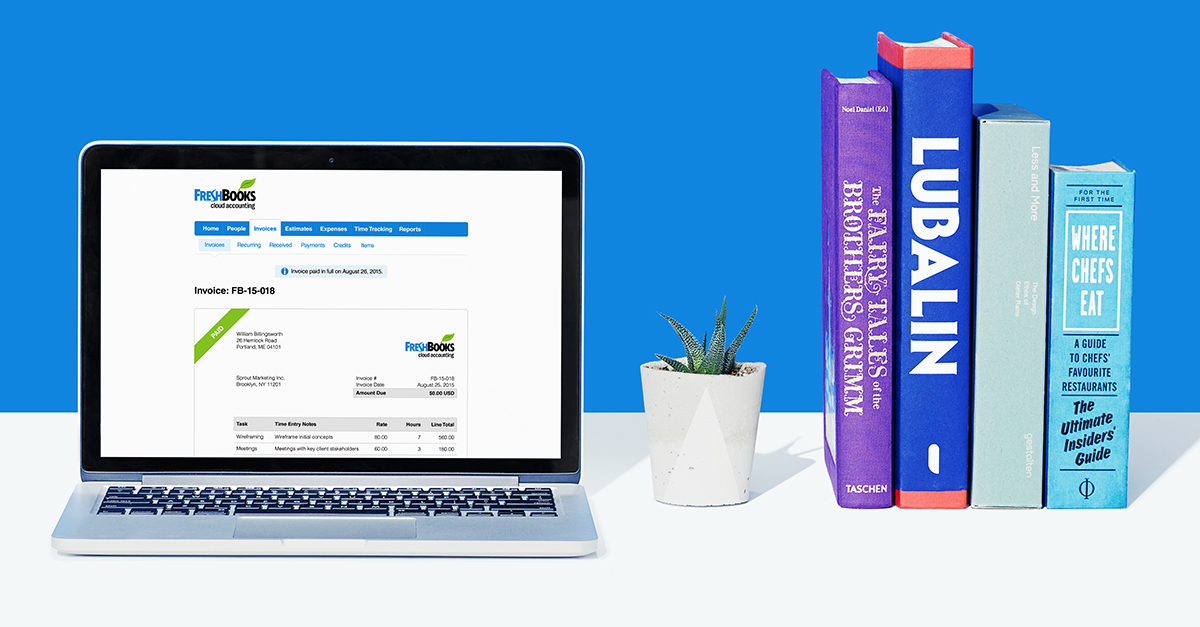 How to Create Invoices with FreshBooks
By using FreshBooks, you can create an invoice quite easily. The software provides two unique methods of generating the document.
1. Through the Dashboard
This is the main control panel of the FreshBooks software. From this section, you can simply tap on the option labeled "Create New". After that, navigate to the option labeled "Invoice" and tap on it. Having done so, the software will immediately generate a new template that you can fill for the purposes of your transaction.
2. Through the "Invoices" Panel
This is a dedicated panel that you can use to create an invoice. While here, simply tap on the option labeled "New Invoice". After doing so, FreshBooks will bring up a new template that you can fill so as to generate an invoice.
There are various sections that you need to adjust so as to create an invoice. They include:
Accept Credit Cards:

In this section, you can determine if your invoice will recognize and process credit card payments.

Customize Invoice Style:

In this part, you can determine the overall appearance of your invoice. Some aesthetic elements that you can customize include the font and the overall theme. You can also determine if your document will be recurring in nature.

Invoice Transaction Details Sections:

This is the most important part of the invoice template. It allows you to enter specific details about the transaction at hand. You can specify elements such as your Company name, the Product or Service Involved, the Client and the Due Date of payment.
FreshBooks provides business owners with an efficient, effective way to process business documents. This software can develop these documents for you on demand or even automatically. It is a great digital invoicing system to make for your business!
Free Download or Buy PDFelement right now!
Free Download or Buy PDFelement right now!
Buy PDFelement right now!
Buy PDFelement right now!
Up to 18% OFF: Choose the right plan for you and your team.
18% OFF
PDFelement for Individuals
Edit, print, convert, eSign, and protect PDFs on Windows PC or Mac.
12% OFF
PDFelement for Team
Give you the flexibility to provision, track and manage licensing across groups and teams.
Contact us to learn more about the custom services we can do for you.
Related Articles
All Topics