Not all small and medium businesses are ready to pay for an expensive document management system. Sometimes, small and medium businesses decide to try open source document management systems, mostly because of their low price (mostly free). And there are other advantages to using open source DMS. However, there are also disadvantages, and we will make sure to list them both. First, we would like to introduce you to five open source document management systems that do a good job of providing businesses with simple and basic features.
Top 5 Open Source DMS
Helping organizations gain control over their DMS is what LogicalDoc does best. You can access the software via any web browser. And that is one of the main differences between LogicalDoc and any other open source document management software. Unlike others cloud-based systems, LogicalDoc is accessed through your own network. You can use the software to create, and coordinate any number of documents and increase collaboration and productivity of your team.
Pros:
Quick retrieval and easy access to documents
Excellent support team, backed up with good pricing structure
Easy to use and install, as well as maintain the constant update
Cons:
The community edition is buggy and limited
No client sync a local directory with the repository
---
Another open source document management system, Alfresco is designed mostly for enterprises. The software provides enterprises with document management, web content management, image management, content repository, workflow, records management, and much more. It is a complex piece of software, and while the company does put effort in making it easy to deploy, there is a steep learning curve.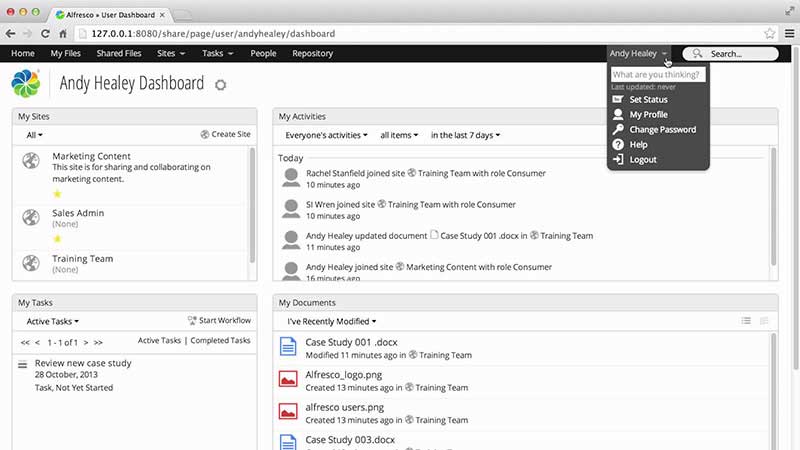 Pros:
You maintain version of each change within the document
When you want, you can get any revision
Easy customization
Cons:
Complex to use
You need to be administrator to change settings in the security system
Incoherent APIs
---
The software tracks the flow of content through the business cycle. Most of the features in Nuxeo are designed to reduce time-consuming search and retrieval. You can capture content within the system in a number of ways, including email, scanning images, and office documents. With a great audit logging, you can track the content lifecycle easily.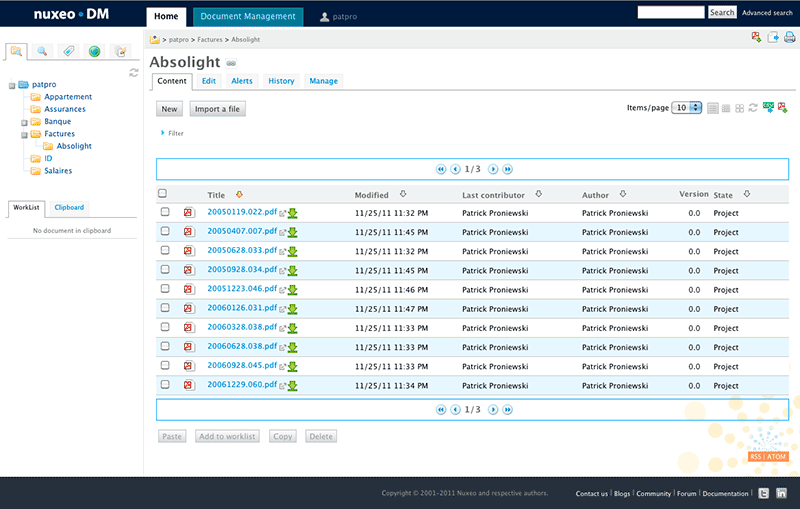 Pros:
Your projects are easily maintainable
Robust platform with everything available through APIs
Every aspect can be customized
Cons:
Huge learning curve for beginners
Customizing can get tricky and complex
---
One of the best open source document management systems, KnowledgeTree allows users to secure, share, track, and manage documents. Some of the features include Search within Document Contents, Workflow, Metadata, Version-Controlled Document Repository, and WebDAV support. KnowledgeTree is one of the most favorable open source DMS for sales reps.
Pros:
You can easily find the right content at the right time
Quick plays enable users to create cadences of content
You can create rules based on fields in Salesforce and assign content to those rules
Cons:
Not as intuitive as other open source content management systems
Not great sync with Box.com, as you have to delete files in both directories
---
A web based collaboration platform, Feng Office helps you manage your projects easily. You can collaborate with your team, but also with your customers. Some of the project management features include task management, time tracking, Gantt Chart, document management, and knowledge management. Formerly known as OpenGoo, Feng Office is now one of the best document management system open source on the market.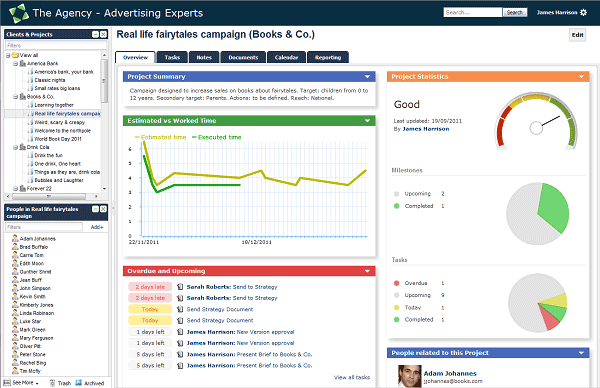 Pros:
Very useful and simple to use free version
You can track and email alerts to multiple people
You can tag items
Cons:
Search feature is not as good as it should be
Every update, Feng Office removes some features from the community edition and makes them paid-only
Templates require a lot of work
---
Shortcomings of Open Source Files Management System
Those are some of the best open source document management systems you can find. We would also like to note some shortcomings of open source DMS.
Fewer features – it is only logical that free software should come with fewer features than paid versions. While some of the open source DMS provide paid versions, they are still worse than a regular paid version of open source document management tool
Lack of technical support – since these are open source tools, for every problem, you are usually asking the community using the software
Programs rarely meet the compliance standards of government agencies or business industries
---