For many online businesses who make use of accounting software, the QuickBooks cloud would not be strange to them. The QuickBooks cloud is an online cloud accounting software that gives you quick and easy access to your online data anytime anywhere. The QuickBooks cloud accounting software is a unique one with several features that have made it the number one cloud based QuickBooks. These features among others include:
It gives you a grip on your finances and financial statements from anywhere and at any time because your data are being organized and kept in the cloud.
QuickBook cloud makes it easy for your business to be able to interact with other businesses on the cloud who make use of the software too.
An advanced and monitored security feature that assures the safety of financial data kept in the cloud-based QuickBooks. This feature is designed in such a way as to be able to easily detected checkmate any issue of hack and crack attempted on the software.
Being cloud QuickBooks, you can easily access your data and information from any device making use of your login details.
---
Freshbooks - A Better Alternative to QuickBooks Cloud
As much as you have heard about the QuickBooks cloud, you certainly should have also heard about FreshBooks. Freshbooks can basically do everything cloud-based QuickBooks accounting software can do and many more. Freshbooks offers more advanced and flexible features than the QuickBooks cloud that makes it more adaptable. Why choose Freshbooks Cloud?
Try Freshbooks for Free >>>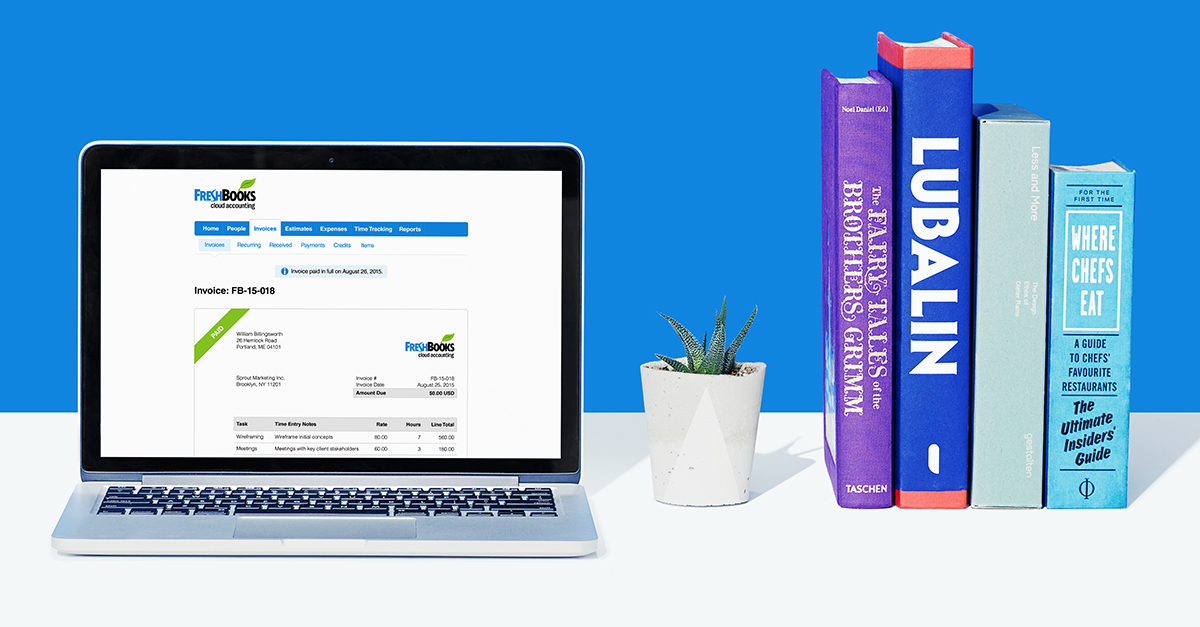 When it comes to business accounting and bookkeeping, you have to consider the flexibility and ease of use of any software before making use of it. Freshbooks Cloud is one cloud accounting software every business should be using because of its innovative features. These features among many other notable ones include:
Professionally looking and well-customized invoices. These invoices have been designed by individuals who have gained expertise in the art of designing invoices over time.
An estimate feature that constantly provides you with financial estimates that gives you access to jobs from several online platforms.
Freshbooks Cloud also allows for easy online payment as it accepts credit cards as a means of payment.
A time tracker feature that lets you keep track on billable hours both of yourself as well as that of other employees and contractors.
The project budget feature which helps in estimating the required budget needed to carry out certain projects. This plays an important role in keeping the team in check.
A timely report feature that gives you an insight into activities carried out by your business over a given period of time.
Cloud-based QuickBooks has been a long-accepted accounting software because of its proven credibility. However, despite the widespread usage of cloud-based QuickBooks, the Freshbooks Cloud is still a better alternative as it is more of an improvement on QuickBooks cloud. It provides a lot of amazing features like a flexible time tracking feature, powerful business financial insights and a project budget feature among others that can help businesses have better accounting and bookkeeping records.
Free Download or Buy PDFelement right now!
Free Download or Buy PDFelement right now!
Buy PDFelement right now!
Buy PDFelement right now!
Up to 18% OFF: Choose the right plan for you and your team.
18% OFF
PDFelement for Individuals
Edit, print, convert, eSign, and protect PDFs on Windows PC or Mac.
12% OFF
PDFelement for Team
Give you the flexibility to provision, track and manage licensing across groups and teams.
Contact us to learn more about the custom services we can do for you.
Related Articles
All Topics