Many startups and established real estate businesses often make the mistake of underestimating the power of numbers, even with the high number of real estate accounting software in the market. As a result, many businesses continue to function without knowing the real value of their businesses. For any real estate agent, accounting is a critical component of a successful real estate business. Instead of spending tons of capital on accounting firms, real estate businesses can opt to use one of the many accounting software for real estate businesses. Brokerage firms can also take advantage of real estate brokerage accounting software in the market for their businesses. Here, we sample some of the best accounting software for real estate businesses.
A List of Real Estate Accounting Software
Realtyzam is a cloud-based real estate accounting software that is popularly used to manage receipts and track expenses, which helps provide an indication of a business' financial health. It enables real estate agents to track income and keep tabs of marketing and listing fees, commissions, and broker fees.
It is also quite useful for generating reconciliation and tax reports for filing tax returns at the end of the financial year. Real estate agents also use it to track conversion rates on a monthly or annual basis and also to provide insights into productive sales leads over a given period.
Realtyzam is available for both desktop and mobile-based platforms, including Android and iOS devices on a flat monthly subscription fee.
---
Back Office is a QuickBooks solution developed to cater specifically to practitioners in the real estate industry. It also doubles up as a solid real estate accounting software, which helps widen its field of application. Back Office enables users to keep track of sales, referrals, and commissions, helping businesses manage cash flow. It also enables users to manage sellers, buyers, and escrow accounts, which helps create a lean management process.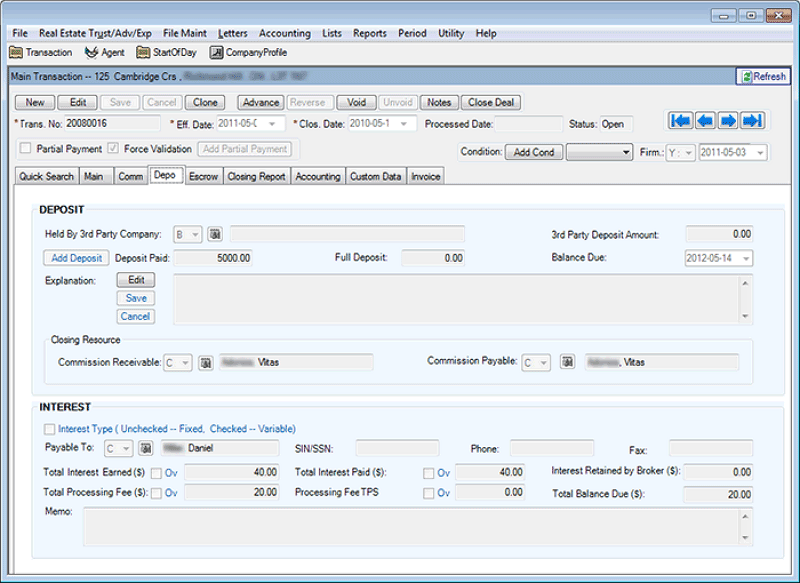 Back Office also boasts of one of the best integrations with QuickBooks, the industry-leading accounting management software and one of the best accounting software for real estate agents. This makes it easy for users to generate actionable reports on QuickBooks quickly and effortlessly.
---
Xero is another cloud-based real estate accounting software that allows you to manage your company's accounts remotely. This application allows users to keep track of invoices, expenses, and tax inputs and outputs seamlessly from a PC or mobile app. It also integrates with your bank accounts, enabling you to reconcile expenses. Xero further comes with a neat payroll processing feature to help automate the monthly payroll.
Cloud-based accounting applications such as Xero enable users to synchronize data with accountants and bookkeepers, which enable businesses to run smoothly. Xero is especially useful for portfolio management where most functions are automated and easily managed remotely.
Additionally, like Back Office, Xero comes with QuickBooks integration that lets you sync data between Xero and QuickBooks.
---
This is a construction and real estate accounting software and management solution that brings together different aspects of real estate management on a single platform. Sage 300 Construction and Real Estate incorporates Sage's experience in accounting software, providing users with unparalleled accounting functionality.
Real estate agents can use Sage 300 to manage accounts payable, accounts receivable, ledger accounts, and payroll processing. While Sage 300 can store large amounts of data, it's not the easiest application to use. Users often need to turn multiple knobs to perform the simplest of functions. Sage 300 also suffers from scarce updates, which makes the whole user experience feel a bit archaic.
---
Tips to Get the Right Real Estate Accounting Tool
Real estate accounting software should never be a replacement for real accounting work by an accountant or bookkeeper. You should always look to complement the work of your accountant using such software to ensure your real estate business runs smoothly.
That said, choosing accounting software for real estate agencies will depend on the number of employees who will use the software. Many cloud-based solutions will bill you according to the number of users on the system, so always restrict the number of users to help save on costs.
You should also consider the level of expertise for potential users. Complex software will require a learning curve within the business before your staff can use them, so tread carefully when implementing such software.
---