What is Computerized Accounting
Manual accounting for thousands of years had been the trend and standard until around 1980s when fast computers hit the market globally. Computers for diverse functions were not only found to be reliable, highly accurate and the easiest to use in accounting circles but made it so easy to store and manage tons of financials data. With accounting software today allowing small businesses, governmental bodies to individuals to basically accomplish any type of accounting function computerized accounting continue to pack lots of unique features. The following are all the important information about computerized accounting.
The Definition of Computerized Accounting
Accounting in itself is the system made up of diverse controls, processes and procedures for the summarization, classification, recording and collection of financial data to help businesses, individuals, governments and other entities make decisions and interpret it to understand their financial status. Computerized accounting is carried out via computerized accounting software and computers in the recording, analysis and storage of financial and accounting data. With all manner of systems available today, small businesses and anyone else can actually find the computerized accounting system that matches their individual characteristics.
Financial transactions of an organization today are wholly recorded in computerized accounting programs with an entry largely made once transactions are finished. All the information is recorded in the computerized accounting system; due to the development of cloud storage and systems it's actually easier to connect a businesses' computerized program with the cloud and back up all financial information in real-time to safeguard against system crashes without any warning. Backups are also carried out in internal and external backup systems to keep this vital data intact.
The Advantages of Computerized Accounting and Features
The advantages of computerized accounting and features are aplenty. Some of the special benefits for going for a computerized accounting system include:
Automation: Computerized accounting has picked up due to the nature of paperwork, which is cumbersome, tiring and time consuming. Computerized systems bring to an end most time-consuming and mundane accounting tasks related to manual paperwork management of financial data. Highly accurate-Computerized accounting is so accurate the possibility of an error is virtually impossible. After imputing financial data from subtractions, additions to complex calculations every process is software completed automatically.
Access to information: Before computerized accounting systems collaborating with co-workers remotely in real-time and sharing financial information and data was wholly impossible. Accounting software and computers allow users to share financial information in real-time whether on mobile devices like Tablets or desktops through different methods including cloud-based web systems.
Reliable: The accuracy of diverse financial statements through computers has led to improvement of accounting tools and reliability of financial accounting statements.
Scalability: As small businesses grow and complexity of accounting required becomes more intense computerized accounting ensures nothing really limits performance and processes of the business; accounting software and complex computers keep the processes fast, reliable and easier to carry out.
Secure: With external and cloud-based storage choices data is safely stored averting losses from earthquakes, floods, and arsons to accidents. Features of computerized accounting system are diverse too. Whether you've done an intensive computerized accounting course or not you can actually carry out accounting through any computer system. Computerized accounting is top-notch enough to handle lots of transactions at the same time accurately and speedily.
You can also carry out real-time and instant reportage providing much needed quality financial accounting reports and accurate and reliable data. The age of complete manual system with lots of paper documents is virtually gone. No more need for vouchers, receipts, journals, books and records to complete accounting processes.
With such features as OCR (optical character recognition) in PDFs you can actually transform all your financial documents from receipts to invoices into searchable and editable PDF document fast. Computerized accounting systems ensure vital, complete and needed accounting reports are produced fast and as expected.
---
Freshbooks - Software That's Suitable for Computerized Accounting
There's no better way of working smart in your small business than installing computerized accounting software. FreshBooks is a great example of such a computerized accounting tool that has been around for over 10 years automating processes, including invoicing, time tracking and expenses organization. The accounting software works with desktops, Tablets and Smartphones to Macs, ensuring accounting functions are professional and efficient.
The cloud-based system guarantees instant access to customer financial reports anywhere and when needed. You no longer have to waste time designing and creating invoices; professional invoice templates are offered and invoicing completed in the computerized accounting tool. You can even track expenses no matter how bulky your financial transactions are and know whether you're profitable by submitting or sharing financial reports and data in CSV format with your accountant.
Try Freshbooks for Free >>>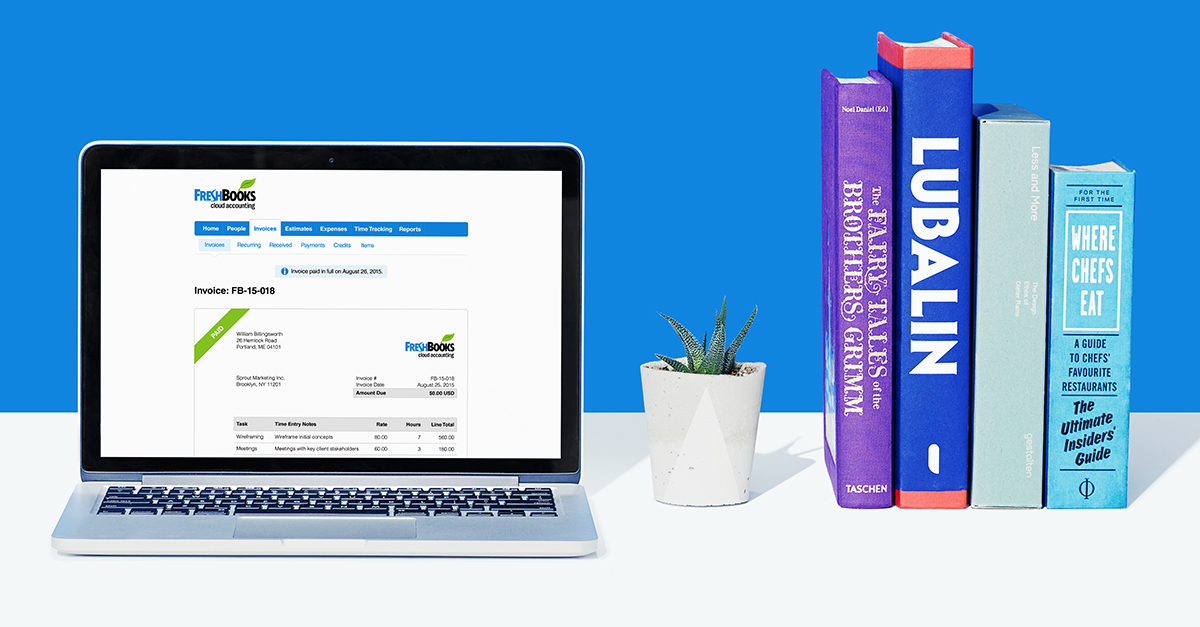 Free Download or Buy PDFelement right now!
Free Download or Buy PDFelement right now!
Buy PDFelement right now!
Buy PDFelement right now!
Up to 18% OFF: Choose the right plan for you and your team.
18% OFF
PDFelement for Individuals
Edit, print, convert, eSign, and protect PDFs on Windows PC or Mac.
12% OFF
PDFelement for Team
Give you the flexibility to provision, track and manage licensing across groups and teams.
Contact us to learn more about the custom services we can do for you.
Related Articles
All Topics