iPad supported eBook formats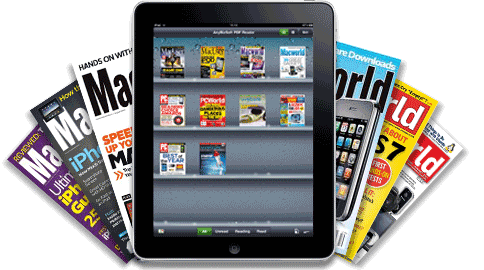 Before downloading or buying eBooks from the internet, you may take the eBook format into consideration, because some eBook formats are not supported by iPad. Wondering which eBook formats does iPad support? Getting some basic info about eBook formats is useful especially when you need to buy eBooks from online book store for iPad. The following is about iPad supported eBook formats.
Bonus: Check out how to deal with PDF files on mobile devices easily.
---
EPUB - EPUB is the default eBook format for iPad. Because it can adjust text to fit on iPad screen, Apple makes it as the default eBook format for iPad. eBooks bought from iTunes Store and iBooks Store are almost all in EPUB format. And from the eBook sharing sites, other online book stores, and personal websites, hundreds of eBooks are in EPUB format as well. Whenever you sync an EPUB eBook to iPad, you can use iPad e-Reader, iBooks to read it.
---
PDF - Actually, iPad is another eBook format that iPad supports. Take the importance and commonplace of PDF into consideration, Apple upgraded its eBook reader iBooks to support PDF file format. However, to enhance reading experience, people still convert PDF to EPUB format for reading on iPad. After all, EPUB is the default eBook format for iPad. If you have some interesting PDF eBooks, you can follow the steps below to convert PDF to EPUB for your iPad.
---
EPUB and PDF are the 2 default formats supported by iPad directly. Once you synced eBooks in EPUB or PDF format, you can read them on your iPad hassle freely. From here, you may want to know how to turn iPad incompatible documents to EPUB for PDF for reading on iPad. It's very simple. Just Google "how to convert (your file type) format to EPUB" and you'll get tons of information. Among the info, you can get very useful solutions. I prefer the open-source app to make eBooks conversion – Calibre. It's free and easy-to-use. You can use it to convert multiple files types: MOBI, ODT, PRC, PDB, PML, RB, RTF, SNB, TCR, TXT, TXTZ, etc. to EPUB. To learn more details, please visit: http://manual.calibre-ebook.com/faq.html#what-formats-does-app-support-conversion-to-from. Of course, there are sharewares as well, like Wondershare MePub, a professional EPUB creator.
---
I talked about two default iPad supported eBook formats above. But that's not enough. With special e-reader installed on iPad, more eBooks in different formats can be supported by iPad, such as Kindle. Here, the 'Kindle' doesn't mean the device Kindle, but the app for iPad. To allow iPad users to access to Amazon.com to buy eBooks, Amazon has released Kindle for iPad to read eBooks in .mobi format.
Anyway, EPUB is the most popular eBook format for iPad. Apps on iPad, like iBooks, Nook, and other e-readers supports reading EPUB. Besides installing one of EPUB supported apps, if you also like to buy eBooks from Amazon.com, you can also install Kindle on your iPad as well.
---
eBook Formats for iPads