QuickBooks Rental Property
When you get in to the business of rental property management, it is imperative that you find a good accounting system to track your rent payments, expenses, payments and profits. QuickBooks rental property management offers a solution for property managers who have many commitments such as paying owners and trust accounting. So for any manager looking to track multiple small to medium sized properties QuickBooks for rental property is the way to go. For the rental property software QuickBooks is customizable with the help of your accountant to suit your preferences.
QuickBooks Key Features
Accounting capabilities- For a QuickBooks rental property manager, extra organization is needed. Rental property software QuickBooks is the kind of accounting software that lets you breakdown rental income and expenses for different properties.
Streamlined leasing functionality- Setting up QuickBooks for rental property can help streamline management activities. QuickBooks has the capability of helping you advertise and lease the properties you manage. This is achieved through the provision of templates that save property listings including photographs.
Easy payment mode- Property managers can pay owners electronically via eCheck (ACH). QuickBooks has the ability to identify the distribution amount due to an owner and transfer the funds to them electronically.
---
FreshBooks - The Better Alternative to QuickBooks
FreshBooks accounting software for real estate rentals which has the ability to allow invoicing and bookkeeping. Freshbooks provide you with a platform where you stay professional, cut your costs down and deliver an accounting masterpiece. On Freshbooks you have the ability to advertise partners and track their accounts, track and manage expenses, carry out basic accounting tasks and simplify communication with your accountant.
Try Freshbooks for Free >>>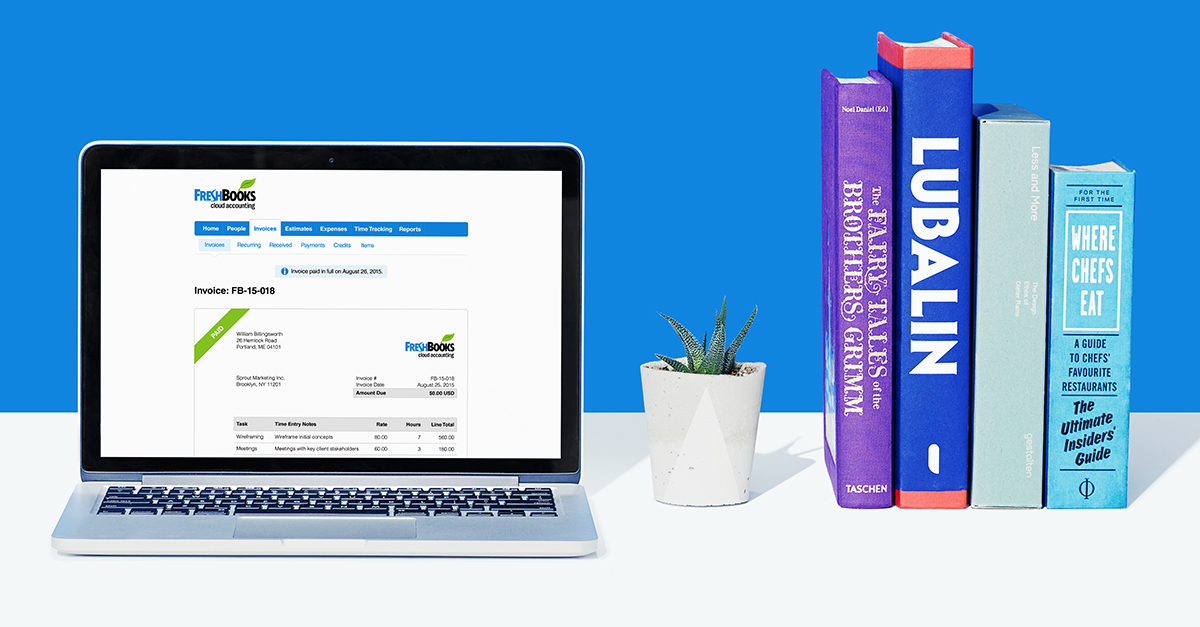 Key Features of FreshBooks
User friendly- Freshbooks has a simple and straightforward user focused design. The design is colorful, full of personality and has a professional look.
Integrations- Freshbooks has grown rapidly outside their own wheelhouse of freelancers billing hourly time. This has been achieved by Freshbooks willingness to integrate with other platforms, payment systems and even 3rd party users.
Customizations- Freshbooks offers you the freedom to edit and customize their invoices to suit your preferences.
Try Freshbooks for Free >>>
Why Choose Freshbooks
Freshbooks offer property managers the chance to create invoices in bulk within their interface. This saves the property manager time and lets them focus on more critical issues. When one has more than a dozen invoices to create at the end of every month at once, Freshbooks provides a platform that enables the predictability of the amounts and projects. This helps the property manager to set them as recurring invoices so they can be updated at once. These projects and amounts are set to a trigger like website purchase that the manager can set to automatically generate as an invoice.
Free Download or Buy PDFelement right now!
Free Download or Buy PDFelement right now!
Buy PDFelement right now!
Buy PDFelement right now!
Up to 18% OFF: Choose the right plan for you and your team.
18% OFF
PDFelement for Individuals
Edit, print, convert, eSign, and protect PDFs on Windows PC or Mac.
12% OFF
PDFelement for Team
Give you the flexibility to provision, track and manage licensing across groups and teams.
Contact us to learn more about the custom services we can do for you.