Most sensitive information does come with passwords and encryption that lock the PDFs. It is normally hard to print these types of documents directly to the printer. You need first to delete the printing restriction from the document so that the printer can read easily from it. Now let's see how you can print locked PDF.
Part 1

The Program for Printing Locked PDF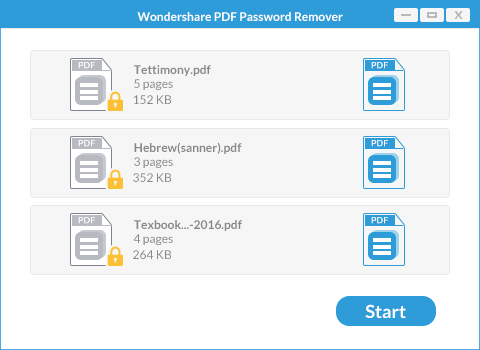 In this case, Wondershare PDF Password Remover for Windows (or PDF Password Remover for Mac) comes in handy. There are documents that have restrictions such that you cannot copy, print or even edit the text in a PDF file. PDF Password Remover comes to the rescue. It makes all documents free to edit, copy and print since it removes password protection from PDF files.
This is easy to use the tool if you have an idea behind overpassing file restrictions. Therefore, users can decrypt PDF protections and remove restrictions. Getting started with this software gives no trouble due to its intuitive interface. It is straightforward. You do not require knowledge of PDF protection.
Part 2

How to Print Locked PDF Files

There are two steps that are required to finally remove password and permissions. The software has a "batch" mode that gives the user privilege to import or upload up to 200 PDF files for decryption. If you own the document, then use the password to open the document before you proceed to remove protections from PDF files.
Step 1. Import Locked PDF
When you launch PDF Password Remover you will be greeted by a display that has an "Add Files" button to the extreme top corner. Using this button, you can upload or import PDF files. You can then specify the output destination folder.
When using a Mac platform, you can import the protected PDF by dragging and dropping it onto the program's interface.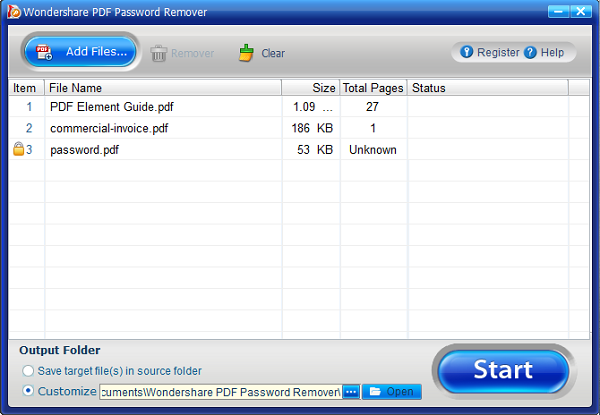 Step 2. Remove Printing Restriction from PDF
When all the settings are done, you can now consider removing printing restrictions. You can remove copying, editing and printing restrictions directly by clicking the "Start" button located at the bottom right. If opening password required, you need to hit the "Lock" icon and then enter the password to continue.
PDF Password Remover for Mac works the same; you can remove restrictions on PDF by clicking the "Start" button to decrypt PDF protection. If a "Lock" button appears, then you will be prompted to enter the right password before commencing the process of removing protections.
Step 3. Print PDF after Unlocking
After removing the printing restriction from the PDF, now you can proceed with the printing process.
Ask the Community
Still get confused or have more suggestions? Leave your thoughts to Community Center and we will reply within 24 hours.