How to Unsecure PDF Files in Mac OS X El Capitan and Windows 10
"I have an important PDF file. However, it is a password secured PDF document and what's worse, I forgot the password. Is there any way to convert the secured PDF to unsecured document? Please help!"
In daily life, it is very common to unsecure PDF files because 90% of PDF files, especially important PDF reports, coming from the Internet are password secured. You can read some, but seldom can you copy, edit, or print them. One way to change the situation is converting secured PDF to unsecured. Below we tell a way to unsecure PDF in Mac OS X El Capitan and Windows 10.
Part 1

Program to Unsecure PDF Files in Mac and Windows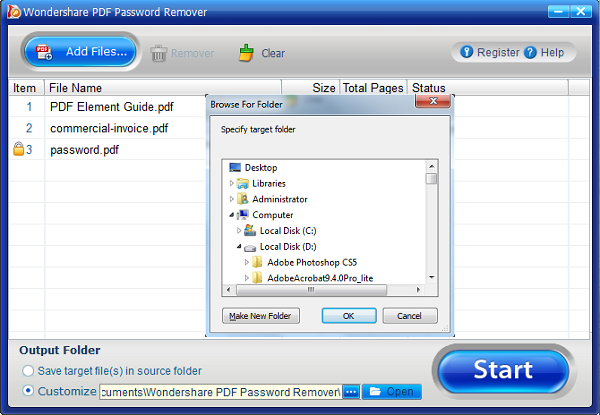 Wondershare PDF Password Remover is such a professional PDF password cracker and remover. You can unsecure PDF by removing password within a few seconds so that you can edit, print, copy PDF contents freely.
First thing first. You should click the download button to download Wondershare PDF Password Remover. It is the best tool to unsecure PDF files on either Mac computer or Windows PC. If you're a Windows user, download the Windows version (Wondershare PDF Password Remover). If you're an iMac, MacBook Pro or MacBook Air user, download the Mac version (Wondershare PDF Password Remover for Mac). Try PDF Security Remover! Download the right version for your computer.
Part 2

How to Change Secured PDF to Unsecure PDF Files
Step 1. Upload secured PDF files
On Windows PDF unsecuring tool, you should click the "Add PDF Files" button on the left corner to upload secured PDF files.
On Mac PDF unsecuring tool, you can either drag and drop PDF files to the app, or click on the "+" to import secured PDF files. In order to save your time, you can upload a batch of PDF files to unsecure them at the same time.
Step 2. Unsecure PDF Files
If you saw a lock on the right side of the PDF item bar, that means this PDF file is secured by an Open Password. So before deleting PDF security, you should enter the right password to unlock it first. Otherwise, you'll fail of unsecuring the PDF. If no lock appears, it implies the PDF is secured from copying, editing and printing. In this case, what all you need to do is to click the "Start" button to unsecure the PDF.
Ask the Community
Still get confused or have more suggestions? Leave your thoughts to Community Center and we will reply within 24 hours.