When you move from using your old device to a new iPhone 8, you come across new and beautiful wallpapers that its' operating system offers. It's always interesting to have something new. This excitement is mostly seen in the first few days you get the iPhone, but after a while you realise again you want something new and different. You begin to imagine of wallpaper that is more creative, artistic and can bring out the person you are. With such thoughts, you shouldn't worry about how to get these wallpapers. We have discussed below on the various websites you can download wallpapers of your choice for your iPhone 8.
Top 5 Website to Download Wallpaper of iPhone 8
1. iDesign iPhone
iDesign iPhone is a great website to download cool wallpapers for your iPhone 8. It has wallpapers of various images you can download what suits you. Wallpapers you can get include those of cartoons, cars, girls, cities, architecture, flowers, holidays, abstract, celebrity, animals, comics, anime, fashion, politics, religion, televisions, in the water, vector, grunge. You can also get wallpapers of military people, games, logos, paintings, city, nature, sports, scenery, patterns, texts, Asian, space and much more.
iDesign iPhone allows you to download the same wallpapers for iPod touch devices.
---
2. idownloadblog.com
idownloadblog.com is a unique website to which you can download iPhone 8 wallpapers. It can download wallpapers fro iPad, iPhone, and Mac. It has a broad range of categories from which you can choose your wallpapers.
iDownloadblog wallpapers have images of nature, geometric and more beautiful images of things you can think of. With this website, you can select from uniquely themed wallpaper apps, standard wallpapers and Live Photo wallpapers for animated backdrops. It keeps updating the wallpapers, and you are sure to get the latest wallpaper for your iPhone. The site has genre specific wallpapers for iPhone.
---
3. Wallpapers Home
Wallpaper Home is a website that is well designed with numerous wallpapers for your iPhone 8. It has wallpapers that you can freely download for your iPhone, Mac, iPad and even desktop. The tags are properly labelled thus making it easy to download the appropriate wallpaper. The categories of wallpapers you can select from include; HD, abstract, pets and animals, animations and cartoons, technology, beauty and stars, holiday and event, nature, landscape, art and drawn, military, sport, movies, and others.
You can also get the latest wallpapers under "Recent" category and most popular wallpapers. All these wallpapers are free and you have no excuse of not beautifying your iPhone 8. When you click on the selected wallpaper, you will be able to see its original resolution and possible custom sizes. It also displays the supported OS and devices.
---
4. ithemesky
ithemesky is one of the best websites to think of when you want beautiful wallpapers for your iPhone. You can download amazing wallpapers for your iPhone and iPad and desktop on ithemesky website. It supports various iPhone devices such as iPhone 6 Plus, iPhone 4s, iPhone 5s among others. It also supports iPad devices like iPad mini, iPad Air, and others.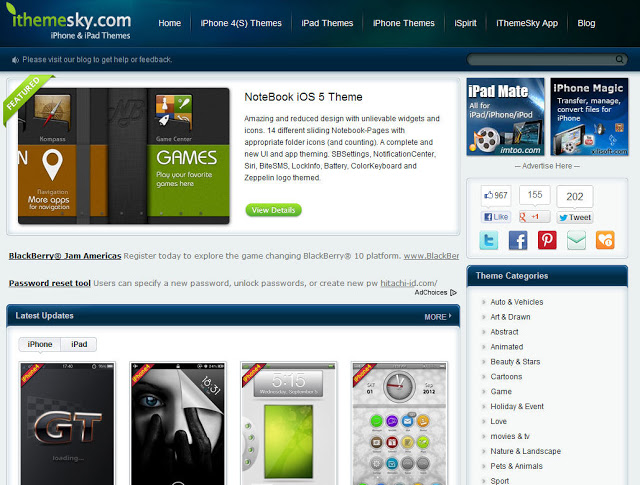 Its' wallpapers have lots of categories including, anime and cartoons, auto and vehicles, sport, technology, beauty and stars, love, abstract, holiday and event, nature and landscape, art and drawn, pets and animals, food and drink, military, movies and tv, space and more. The website shows the latest wallpapers you can download for your iPhone. ithemesky describes the nature of the wallpapers it displays for downloading. With this, you can be sure and identify the exact wallpaper for your iPhone.
---
5. iPhoneWalls
iPhone Walls is a gorgeous website that one can use with much ease. You can download stunning wallpapers for your iPhone 8. It has an extensive range of wallpapers of various categories that you can select. They include; space, girls, textures, misc, shelves, funny, architecture, abstract, apple, animals, cars and bikes, food and drinks, close-ups, sexy, illustration, music, places, holiday, nature, movies, typography, technology, sciences fiction and more. You can also check through random wallpapers on iPhoneWalls. Moreover, you can create your own collection of wallpapers in one position. Downloading of wallpapers is free of charge.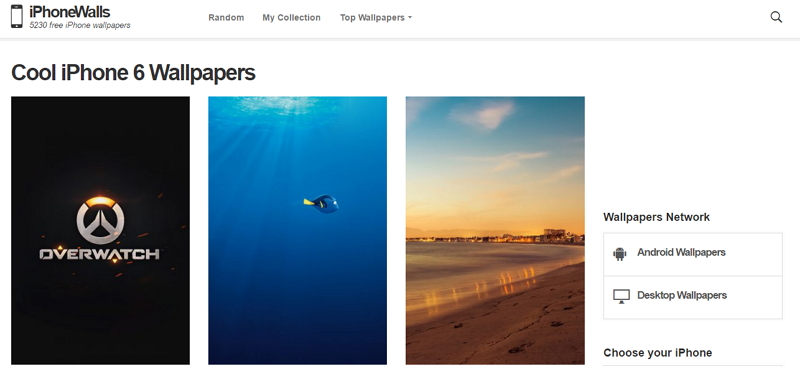 You can also download Android and Desktop wallpapers. iPhoneWalls supports other iPhone devices like iPhone 6 Plus, iPhone 6, iPhone 6s. iPhone 5, iPhone 5s, iPhone SE, iPhone 4, iPhone 4s and more.
There are many beautiful websites to download Wallpapers for iPhone 8 as has been discussed above. It should never be a trouble to replace already existing wallpaper on iPhone. It is an easy and quick task when using the best websites to download them. As iOS 11 will be launched in the fall of 2017 like iPhone 8, you can get the whole picture of iOS 11 here.