Can iBooks read PDF? Yes, it's actually quite easy to read PDFs in iBooks. This articles will give you a step-by-step guide on how to sync a PDF file to your iPad so you can read PDF iBooks on your iPad. If you're just looking to read PDFs on your iPad, make sure to check out the free PDFelement app.

How to Open PDF in iBooks for iPad
Method 1. Open PDF in iBooks from an Email Attachment
Wondering how to read PDFs on your iPad with iBooks? You might have received PDF file attachments in your Email and have wanted to sync these files to your iPad. You can open a PDF with iBooks by tapping "Open in iBooks" on the top right-hand corner of the screen. iBooks will immediately open the file, and can save a copy of the PDF right away and display it on the virtual shelf.
Method 2. Sync PDFs to iPad
When you sync PDFs to your iPad, iBooks might save these PDF files directly. In this case, to read a PDF eBook, launch iBooks and tap the Collection on the top left-hand side of the main interface to select the desired PDF. Then tap to open the PDF on the virtual shelf.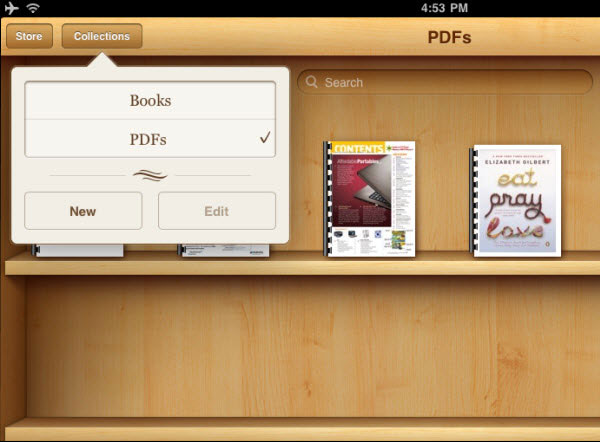 ---
How to Convert PDF to EPUB on iPhone and iPad
The information above shows you how to open a PDF on your iPad in iBooks. However, to enhance your reading experience, we suggest you convert PDF to EPUB format for reading on your iPad. EPUB format is the default eBook format supported on iPad. To convert PDF to EPUB on iPhone or iPad, read this tutorial convering step-by-step instructions on how to convert PDF to EPUB format while preserving the original formatting and layout of the output EPUB eBooks.
---
How to Convert PDF to EPUB on Windows and Mac
PDFelement is a professional PDF editing tool which is designed for personal as well as business use. Whether you want to make edits to PDF content, manage PDF pages, protect PDFs with permissions and passwords, or add backgrounds and bates numbers to PDF, this program can help.
Check out the steps below to learn how to convert PDF to EPUB on Windows or Mac, and transfer it to iPad for a better reading experience.
Step 1: Import PDF Files
Open the program, Next, open the PDF file you want to convert. Both native and encrypted PDF files are supported. Just add multiple PDF files to perform batch conversion. If you are a Windows user, click the "Open File" menu after you have launched the program.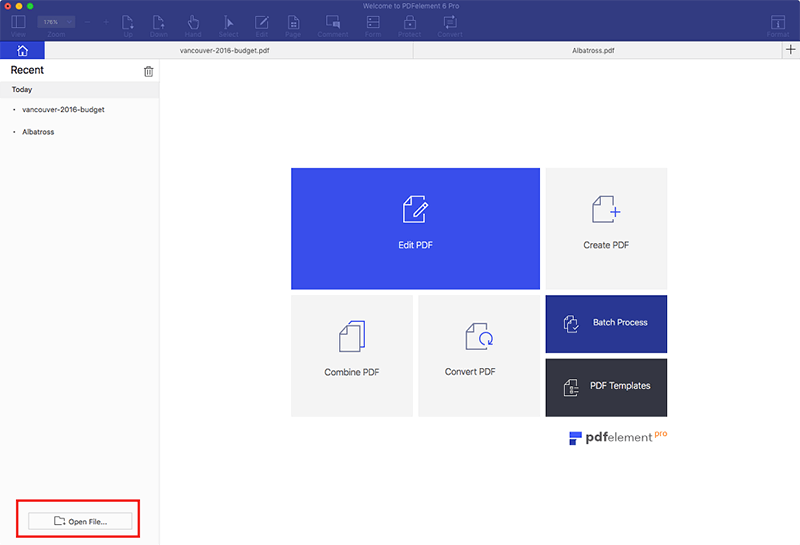 Step 2: Convert PDF to EPUB
Click the "Convert" button in the top right-hand corner of the program. Customize the conversion settings and select EPUB as the output format in the pop-up Window. Then just hit the "Convert" button and you're done. Within a few seconds, you'll see the converted EPUB eBook in the output folder. For Windows users, select "Convert to EPUB" from the "To Other" drop-down menu.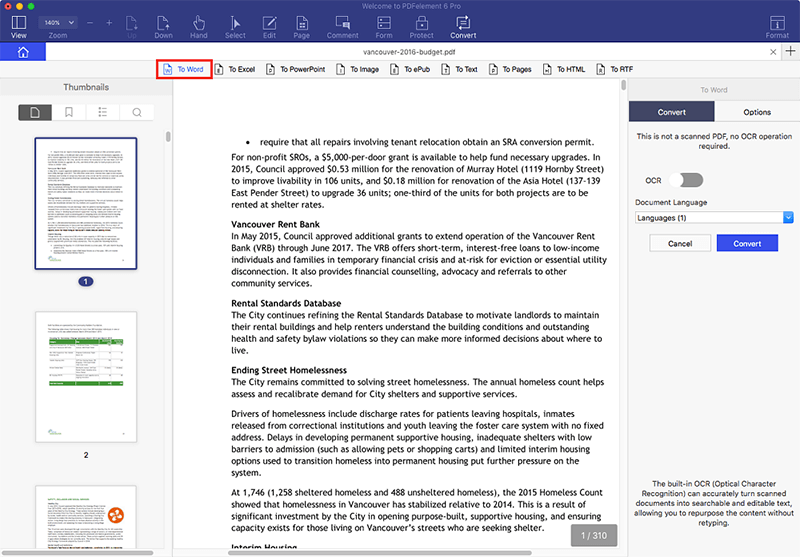 Step 3: Read PDF in iBooks after Conversion
After converting PDF to EPUB format, you can transfer the conversion to your iBooks.