Annotating PDF files with the built-in Preview on Mac is workable. It can meet your needs if you only want to make a few simple annotations in OS X Mavericks, Mountain Lion or Lion. However, if you desire to annotate and markup PDF files easily and efficiently, you should use a professional PDF editor, like Wondershare PDF Editor for Mac. Only with the right PDF Annotator, you'll export a satisfying PDF file. Wondershare PDF Editor for Mac is a handy tool that has multiple annotation tools for you to annotate PDF files flexibly on MacBook Pro, MacBook Air, and iMac. These annotation tools are: Sticky Note, Text Box, multiple line-drawing tools, Free-hand drawing tool, links, and markup tools. You can find all the annotation tools in the toolbar. Wondershare PDF Editor for Mac works well in OS X 10.9, 10.8, 10.7 and 10.6.
Download the free trial version below to take a try! If you're a Windows PC user, download Wondershare PDF Editor for Windows trial version.
1: Add Sticky Note and Text Box on Mac
Sticky Note and Text Box are widely used for annotation. You can add Sticky Note and Text Box wherever you want on the PDF page. Just choose Sticky Note or Text Box from the toolbar, drag your mouse over the PDF page to place the Sticky Note or Text Box. And then type in anything in the box. Next time if you want to view the Sticky Note on the PDF, just click on the yellow icon and the text box will appear. Different from Sticky Note, Text Box overlays the page contents, you can view the text directly when you view a PDF. The default colors of Sticky Note (yellow) and Text Box (red) both can be changed easily in Inspector.

---
2: Draw Line Annotations
You can add drawing and scribble imprints over the PDF pages. There are six shapes for you to choose. They are Arrow, Line, Rectangle, Oval, Polygon, and Cloud. All the shapes are listed on the toolbar. Or you can select them from the Annotate menu.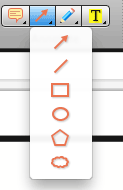 ---
3: Add Free-hand Drawing and Links
Click Pencil button on the toolbar, and you can add free-hand drawings on the page. The Eraser tool can help you remove the drawings by Pencil. Click Link tool on toolbar, you can select an area to add URL or any page in the PDF file. When readers move the move over the area, they can click on it and link to the Internet or the page you set.

---
4: Markup PDF Text
You can apply a highlight color to specific selected text. You can use this to tool to mark words or sentences in a PDF document. Besides highlighting, you can also underline or strike through any selected text. All of these functions help you to mark the content easier.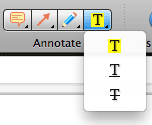 To change the color for highlighter, underline, strikethrough, etc. please click the very bottom right to select Annotations to show annotation for this PDF file. Click the annotation you're making and click Inspector in the toolbar to change the color. Below is a snapshot of the exported PDF file I've annotated on Wondershare PDF Editor for Mac. It is beautiful, right? Download PDF Editor for Mac to annotate PDF on your Mac right now ! If you're a Windows PC user, learn how to annotate PDF in Windows PC >>
---
Video tutorial for how to annotate PDF on Mac