Many people wrote email to ask me how to modify a PDF formatted resume. So this time I will show you how to save a word file (.doc .docx) as a PDF for FREE. Then you can email PDF file without the worry for fonts and layouts changing on receivers' computer. In the following article, you will learn how to convert .doc and .docx file to PDF separately. Conversion quality in both ways are good with all text, images hyperlinks and layouts exactly the same as the original file.
Microsoft Word 2007 save .docx as PDF
You can go to Microsoft website and download Microsoft Save As PDF add-in. Now in the new release of Office 2007 Service Pack 2 (SP2), the add-in has been built into it. Users no longer have to download and install the add-in separately. You can just update your office to SP2.
1. Open a .doc document
2. Click Office button and select Save as then click PDF or XPS
3. A dialog will pop up, assign file name of the PDF document to be generated then click Publish and you can have your PDF file open directly if you have a PDF reader in advance.
Google Docs save .doc as PDF
If you don't have word 2007, don't worry. Google Docs supports .doc only. Follow me step by step then you can save a .doc word file as PDF too. The requirement is that you have a Google account.
1. Go to Google Docs and sign in.
2. Click Upload to upload files from your computer.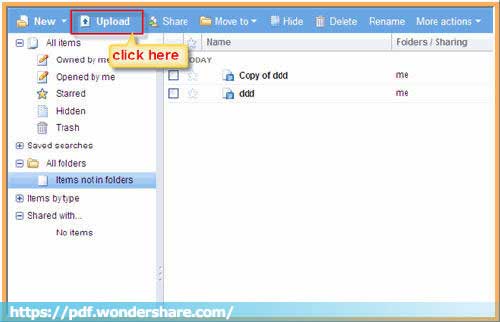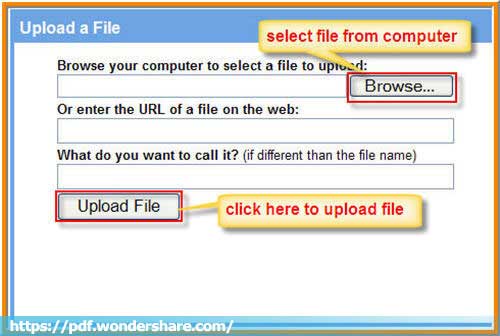 You can also start new online word documents by emailing them directly to the email address assigned to you.
3. Then in File tab, select Download file as->PDF. Then the PDF file will create for you. You can either open directly or download it to your computer.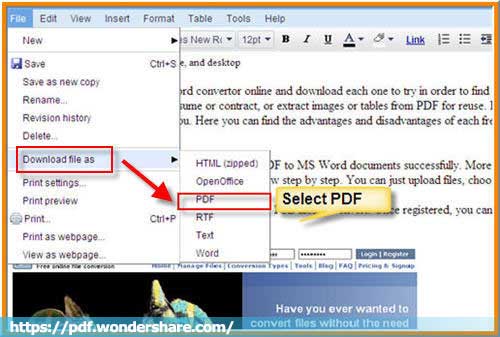 Simple that? Now it is time for you to save as PDF from word files. Just try it. And you can create a neat and professional resume for getting a better job.
Note: If you need to convert PDF back to Word, Excel, PowerPoint, Text, HTML pages, even images,please try our 7-in-1 PDF Converter.