Have too many emails in Outlook and need to backup them as PDF file? You might have learnt that you can directly print these emails to PDF. However, this way always results in the attachments being printed out randomly. But it is quite different with Adobe Acrobat. Acrobat is able to save Outlook email to PDF perfectly. It is fully compatible with Outlook 2003, 2007 and 2010. So if you have installed any above mentioned Outlook, you can convert Outlook email to PDF easily with Adobe Acrobat.
Benefits of backup Outlook email to PDF:
1. Keep track of lots information.
2. Preserve files for future use, especially some important attachments.
The following are steps for backup outlook emails to PDF in Adobe Acrobat
1. Install Adobe Acrobat. Just like Microsoft Office, if you install Adobe Acrobat later than the installation of Microsoft Outlook, a quick access to Adobe Acrobat is automatically inserted into Outlook. Launch Outlook and click on Adobe Acrobat on the toolbar. And then you can see two options: Attach as Adobe PDF & Attach as Secured Adobe PDF.
Attach as Adobe PDF means every attachment, PowerPoint, Word, Text, etc, is going to be saved as PDF.
Attach as Secured Adobe PDF implies you're going to save document and attachment as secured PDF, which means these files are protected from opening, copying or printing.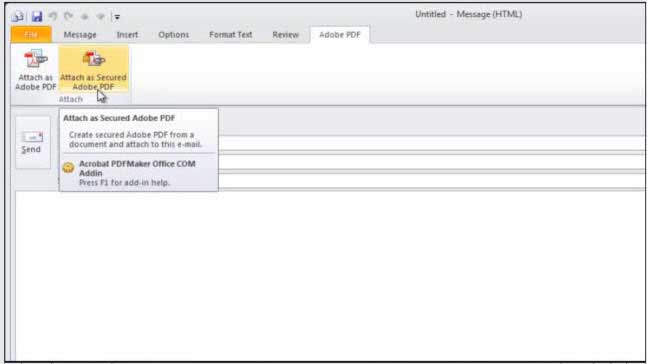 2. Save Outlook emails to PDF
Launch Outlook and then click Adobe Acrobat on the toolbar. On the submenu, you can see four tabs: Selected Messages, Selected Folders, Change Conversion Settings and Setup Automatic Archival. From here you have two ways to convert Outlook emails to PDF files.
Convert selected messages to PDF: Under Selected Messages, select Create New PDF or Append to Existing PDF. If you have a message which keeps update, you might need to append to existing PDF, which makes the message a complete one. Select the email you need to save as PDF and right-click on it. Navigate to "Convert to Adobe PDF" and click on, then name the PDF and click "Save". Adobe Acrobat could save the email as well as the attachment right away.
Convert selected message folder to PDF: To save time, you should save all the emails you'd like to convert to PDF in a folder. Then click the click the Selected Folders on the tool bar and then click on the folder to begin the process of saving Outlook messages to PDF files.
After you save Outlook emails to PDF files, they will be opened in Adobe Acrobat like emails. You can click on any of them to see the whole message and click on the hyperlink of the attachment to open the attachment in another window. It is pretty cool to see all the emails are arranged so perfectly.