How to Convert PDF to Excel on Mac While Retaining Formatting
Most of the businesses revolve around numbers. While PDF may provide you the security of the data, to edit the files and manage them, those PDF files need to be converted to a more editable format like Excel. However, for mac users, they don't have many choices to convert PDF to Excel for Mac OS X. Because there are quite a few PDF to Excel converters are compatible with Windows and Mac OS X. In this article, I will give you the best choice to convert PDF to Excel for mac users.
Part 1

The Best PDF to Excel Converter in Mac OS X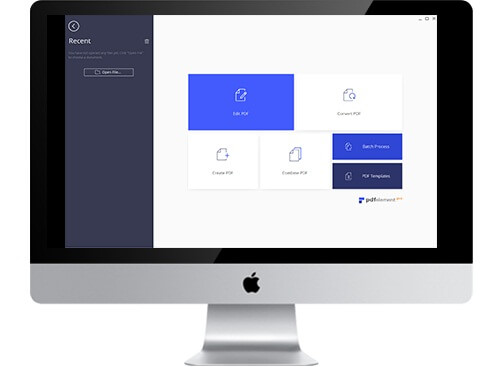 If you are looking for a hassle free PDF to excel conversion on Mac then the best option in the market currently is Wondershare PDFelement for Mac .
The qualities to look out for in the best converter is the ability to retain the original format without compromising on the table alignment, convert multiple pages together and the OCR capability to convert even scanned PDF documents to excel.
Most use-to-use interface for mac users! It won't take you long to learn how to use the program well.
Most cost-effective PDF solution for mac! Comparing to many PDF solution for mac users, Wondershare PDFelement for mac has the full features but with a lower price.
OCR technology is embedded in the program! You can turn scanned image and PDF into searchable and editable texts.
Professional design of buttons in Mac OS X! All the buttons are designed according to the habits of mac users.
Check the Video Tutorial
Part 2

How to Convert PDF to Excel in Mac OS X Easily

Wondershare PDFelement for Mac supports conversion of PDF to multiple file formats including Microsoft Excel. The steps are very simple and easy to follow: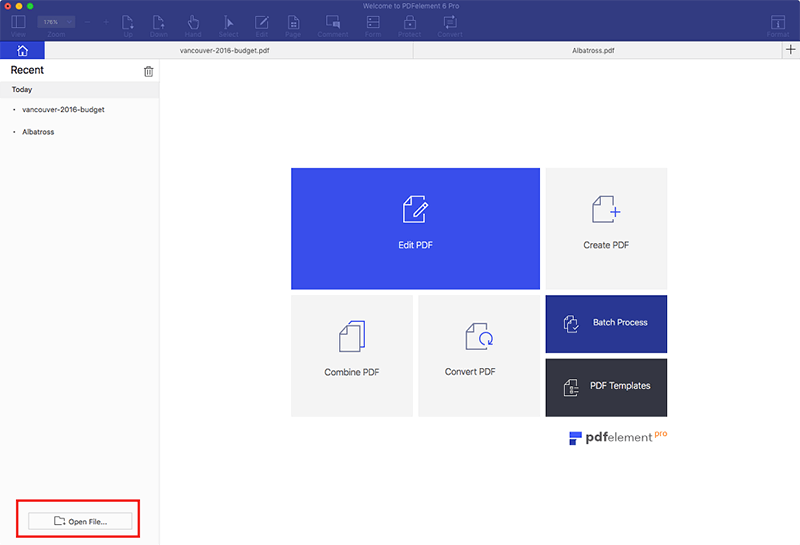 Step 1. Importing the PDF that Has to Be Converted
Open PDFelement once installed. Import the PDFs that you want to convert by clicking on the "Open File" button.

If there is an encrypted file in the list, there will be a "Lock" icon before the file name. Click on the same and give the password for decryption. You can include multiple files for conversion, in which case each PDF will be converted to different sheets of the Excel.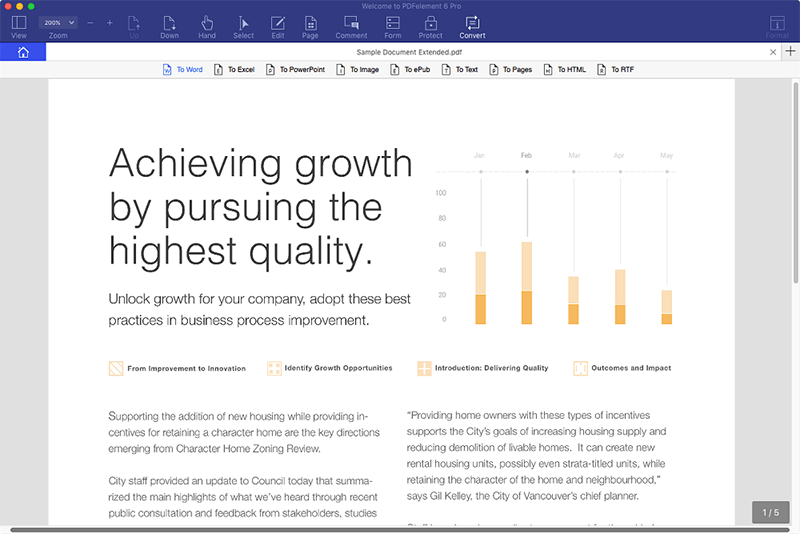 Step 2. Choose File Format
Once your PDF file is open. You can click on the "Convert" button on the top of the program. As soon as you clicked on the button, a submenu will be expanded. Choose "To Excel" to activate the conversion window.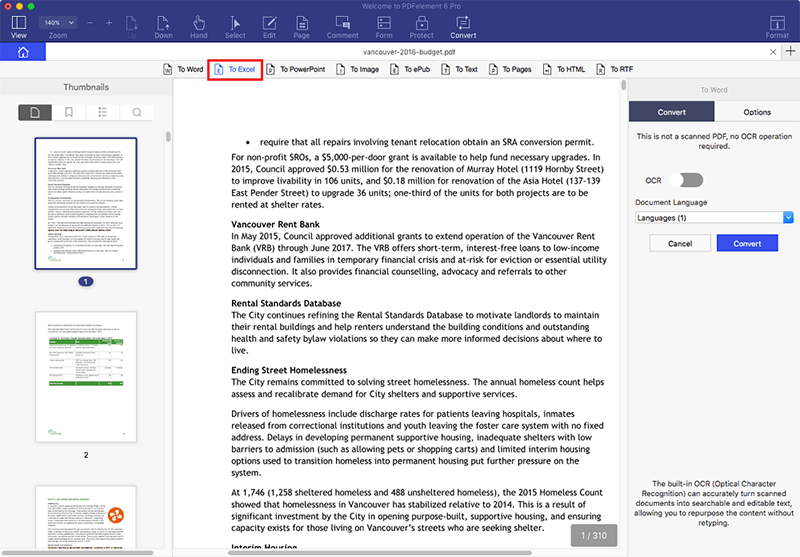 Step 3. Start Converting PDF to Excel for Mac
On the right side conversion window, you can select the page range, enable OCR for scanned PDF. You can also set the changes as you want like retaining original formatting or combining multiple sheets together. Click the "Convert" at the bottom right. The file will be ready in less than a few seconds.
If you are windows user, you can learn >> how to convert PDF to Excel in Windows here!
Part 3

Useful Tips about Converting PDF to Excel

Living in a fast paced world, it is important that we make efficient use of our time. Manual keying in of data is outdated. It is the age of converting the file to our required formats and managing them. There are several reasons why one would need to convert PDF to excel.
Irrespective of the industry you are working in, whether it is a simple statistical job or you are practicing medicine, you will be dealing with numbers and it is important that you are able to edit or convert them into charts, as and how you require it.
Most of our statements and financial transactions are shared in the format of a PDF for security reasons. However, we need them in an editable format to make sense of the numbers.
Be it a complex calculation of your yearly taxes or a simple budget preparation for your house this month, it is easier to do on an Excel than on paper.
While Excel is the most favored tool for computations and any other operations with numbers, PDF is also the most sought option for security. With Wondershare PDFelement, you are not just eliminating manual data entry work, but you also get to enjoy both the worlds of PDF for security and excel for its compatibility.
Ask the Community
Still get confused or have more suggestions? Leave your thoughts to Community Center and we will reply within 24 hours.