How to Use an Invoice to Get Paid For Goods Delivered or Services Rendered
One of the most important business documents today is the invoice. If you are wondering, "what's an invoice", it is a report that contains details about goods or services that have been provided to a buyer by a vendor. According to the invoice definition, these details entail descriptions, amounts, units of measurement, cost and terms of payment. For the vendor, an invoice acts as a request for payment. For the seller, it acts as an indicator that the job is complete.
Free Invoice Template
Free Download and customize it according to the sample text below
---
What is an Invoice
In making an effort to define invoice, an invoice is documentary evidence that a product or a service has been completed and compensation is due. It contains information about the delivery or task at hand and adds transparency to the transaction. According to the invoice meaning, it is a vendor's request for payment and a seller's indicator of task completion. Invoices are normally produced after the work is complete and before payment is performed.
---
What to Include in an Invoice
An invoice contains a collection of important elements. They are:
• The Title "Invoice"
Seeing as this is an official document, it needs to be labeled as "Invoice".
• The Date of Issuance
This is the date when this invoice was issued.
• The Invoice Number
This is a unique identifier for the document. It is made up of digits but may also contain some letters.
• The Vendor
This is the company or individual supplying the products or services in the transaction. Their name, postal address, phone number, email address and if applicable, registration number are indicated.
• The Client
Also known as the Consignee, this is the individual who is receiving the goods or services indicated in the transaction. Details such as their name, postal address, phone number or email address are indicated herein.
• The Full Description of Goods or Services
Every business transaction involves some goods or services and they are indicated here. This section of the invoice contains descriptions of the products involved in the transaction. Their quantity, physical appearance, value and components are described in detail. If the transaction involves some services, the materials involved, hours, labor and extra resources are indicated. This part of the invoice also contains the associated units of measurement.
• The Currency
This is the specific type of legal tender that is being utilized in the transaction. This element is of top priority in international transactions or business involving people from different countries.
• Taxes Involved
Any applicable taxes are included in the invoice. Examples of these are Sales Taxes and Value Added Tax (VAT).
• Grand Total
This is the total amount of money that the client should pay in the transaction at hand. It is inclusive of taxes.
---
Invoice Terms You Must Know
There is a number of invoice terms that you need to know. They are:
• Terms of Sale
These are the terms that the vendor and the buyer agree upon. Factors such as the cost, delivery, method of payment and due date are terms of sale.
• Net 7, 30, 60, 90
This is the period of time that should pass by before payment is due. The number after the "Net" indicates the number of days that can pass by comfortably before payment is made.
• Line of Credit Pay
This is an indicator that the client has an opportunity to pay the outstanding value in an invoice over a long period of time. This can be on a monthly or quarterly basis. Basically, the Line of Credit Pay allows a client to buy a product or service on credit.
• Recurring Invoice
This is a type of invoice that is utilized in ongoing services. Examples of these are web hosting or construction. Issued on a monthly basis, recurring invoices normally have the same amount each time.
• Invoice Factoring
This is a type of financing where businesses sell outstanding invoices to a factoring company. This provides them with up to 85% of the invoice value in as little as one day. It is a method of credit financing.
---
How to Create an Invoice Easier with FreshBooks
What is FreshBooks
One of the most effective softwares that you can use for accounting and business operation purposes in your enterprise is FreshBooks. It can help you to generate business documents such as invoices. It can also assist you to automate specific business processes. Examples of these are creating accounting reports, job scheduling, organizing expenses and developing business documents. FreshBooks has an interface that is intuitive in nature. Seeing as it is quite user-friendly, the software has a short learning curve. It is also constructed on Cloud technology. As a result, you can easily access the dashboard and your business data from any smart device, laptop or desktop computer in the world. Furthermore, it provides definitive information for those wondering what does invoice mean.
Try Freshbooks for Free >>>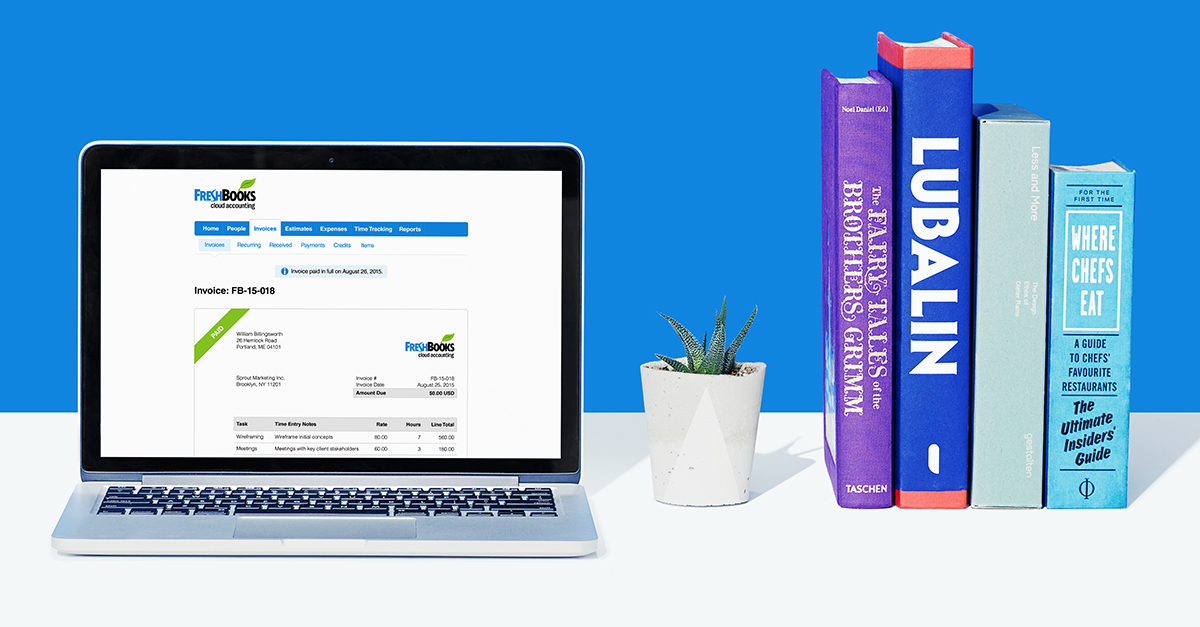 How to Create an Invoice with FreshBooks
Generating an invoice with FreshBooks is quite easy to perform. The software provides you with two main options for this purpose. These are the Dashboard and the Invoice panel.
1. The FreshBooks Dashboard
If you choose to begin creating an invoice from the Dashboard, simply begin by clicking on a button labeled "Create New". Having done so, proceed to tap on the option labeled "Invoice". This will immediately activate a template window that is titled "New Invoice".
2. The "Invoices" Panel
Creating an invoice can also be accomplished from the Invoice Panel. In this section, simply tap on the button that is labeled "New Invoice". It is located at the top right corner of the panel. Once you click upon it, a new template window will emerge, and you can customize it with details about your invoice. The invoice template is divided into 3 main sections. They include:
Accept Credit Cards:

This part of the invoice allows you to determine if the document will accept credit cards.

Customize Invoice Style:

This section of the template allows you to determine the overall appearance of the invoice. You can determine elements such as the color of the headers, the font and also whether the invoice will be recurring or not.

Invoice Transaction Details Sections:

This is the most crucial part of the invoice template. Within it, you can add details about the transaction at hand. For example, you can add the Vendor's name, Client's name, their postal addresses, Goods or Services involved, and the total amount involved.
After customizing your invoice, you can proceed to Save it in your computer for future editing. The software will store it for you in PDF form. On the other hand, you can Send it directly to your client. FreshBooks will deliver it in form of an email.
One of the most respected business softwares today is FreshBooks. It allows you to operate more efficiently. This software is a digital investment that lasts.
Free Download or Buy PDFelement right now!
Free Download or Buy PDFelement right now!
Buy PDFelement right now!
Buy PDFelement right now!
Up to 18% OFF: Choose the right plan for you and your team.
18% OFF
PDFelement for Individuals
Edit, print, convert, eSign, and protect PDFs on Windows PC or Mac.
12% OFF
PDFelement for Team
Give you the flexibility to provision, track and manage licensing across groups and teams.
Contact us to learn more about the custom services we can do for you.