Finally, All About the Tax Invoice Revealed To You!
A tax invoice is an important document that must be generated by businesses which operate under the Goods and Services Tax (GST) system. This type of invoice is issued by businesses to their suppliers and customers as well. With the tax invoice in hand, a business can file an Input Tax Credit claim. The tax invoice acts as primary evidence of GST transactions.
Free Tax Invoice Template
Free Download and customize it according to the sample text below
| | | |
| --- | --- | --- |
| Free Download>>> | Free Download>>> | Free Download>>> |
---
What is a Tax Invoice
A tax invoice is a document indicating the goods or services that were purchased by a customer. It also indicates the items that are supplied to an enterprise by a supplier. The tax invoice is relevant for businesses that operate under the Goods and Services Tax (GST) system. It is issued to customers to claim some GST tax. It is also issued to suppliers for the same reason. After that, the business can file an Input Tax Claim with the government using the tax invoice as evidence.
---
What to Include in a Tax Invoice
There are some specific elements that should be included in a tax invoice. They include:
• The Title "Tax Invoice"
This business document should be identified using the title "Tax Invoice".
• The Invoice Number
This is a unique identifier of the invoice document. It is normally made up of a combination of numbers and letters.
• Date of Issuance
This is the date when the tax invoice was issued to the customer or supplier involved in the transaction.
• Due Date
This is the date by which the tax invoice should be paid.
• Vendor Details
This is the name of the business as well as its address and contact details. In this element, the enterprise registration number and VAT number should be indicated as well. Details concerning the business' GST status should also be indicated.
• The Consignee
This is the customer or supplier involved in the transaction. Their name, company details, address and contacts should be clearly indicated.
• The Full Item Description
This is a description of the products or services that are involved in the transaction. It also includes the specific components of these items. The overall quantity and applicable measurement units are indicated here as well.
• The Currency
The exact type of currency that is being applied in the transaction should be indicated in the tax invoice.
• VAT Amount
If the goods and services that are involved are subject to VAT, this tax amount is indicated as well. It can be in cash value or a percentage.
• The Total Amount Net of VAT
This is the total cost of the goods or services rendered exclusive of VAT tax.
• The Grand Total
This is the overall cost of the goods or services involved in the transaction plus VAT tax.
---
Creating Tax Invoices Easier with FreshBooks
This is a software that is developed for accounting purposes that can assist to run your enterprise more efficiently. FreshBooks can automate various business processes and save you time and effort. This software has an interface that is highly intuitive. It is also very easy to use. You can utilize its features to create professional free tax invoice. This software has a number of helpful features that help to perform various business processes automatically such as task scheduling, organization of expenses, creation of invoices and reporting payments. FreshBooks is based on Cloud technology. As a result, it is possible to access it through your smartphone, tablet or laptop from anywhere at any time.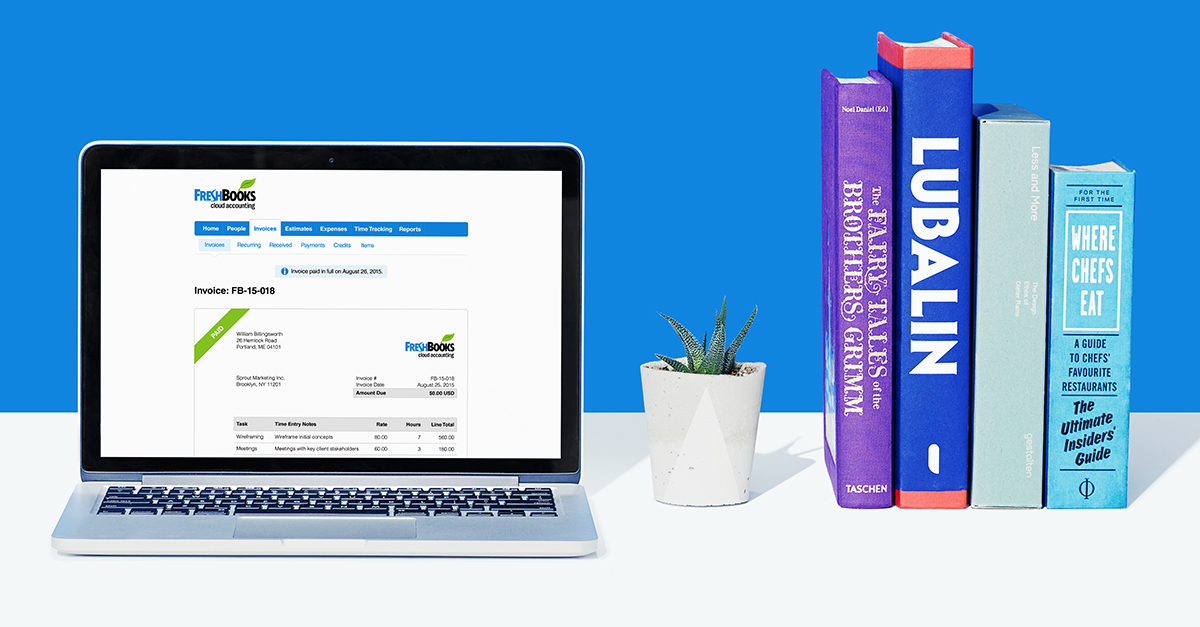 How to Create a Tax Invoice with FreshBooks
The FreshBooks software makes it very easy to for you create a tax invoice. You can do so through the Dashboard or the New Invoice window.
1. Through the FreshBooks Dashboard
From the Dashboard, you can click on a button that is labeled "Create New". Having done so, simply tap on "Invoice" so as to arrive at a "New Invoice" screen.
2. Through the "New Invoice" Section
Through FreshBooks, you can specify if the tax invoice is compatible with credit card payments. You can also apply an overall style for aesthetic purposes. The software also enables you to add specific details about the transaction in a special section of the free tax invoice template. This section accepts information such as the name of your company, the consignee, date of issuance, invoice number amounts involved and the due date.
After customizing the tax invoice template provided by FreshBooks, you can save it for further editing or send it directly to your customer or supplier via email as an online tax invoice.
FreshBooks leverages the power of computer technology to create invoices for your business. It is an acclaimed, versatile and powerful software for enterprises today!
Free Download or Buy PDFelement right now!
Free Download or Buy PDFelement right now!
Buy PDFelement right now!
Buy PDFelement right now!
Up to 18% OFF: Choose the right plan for you and your team.
18% OFF
PDFelement for Individuals
Edit, print, convert, eSign, and protect PDFs on Windows PC or Mac.
12% OFF
PDFelement for Team
Give you the flexibility to provision, track and manage licensing across groups and teams.
Contact us to learn more about the custom services we can do for you.