Ever Wondered What a Sales Invoice Entails? Read This!
A sales invoice is one of the documents that is essential in a business dossier. Sellers provide a sales invoice to their customers before payment for goods or services is completed. It requests for payment and also serves as documentation of the transaction involved. A sales invoice is important to the business because it proves that goods or services were sold to a particular customer. It is also important to a customer because it proves that payment was performed after the goods or services were received.
Free Sales Invoice Template
Free Download and customize it according to the sample text below
| | | |
| --- | --- | --- |
| Free Download>>> | Free Download>>> | Free Download>>> |
---
What is a Sales Invoice
A sales invoice is a document that records and captures the details of a transaction where goods or services are sold by a business to their customer. Due to the details contained within it, a sales invoice is a very important document for a business. Preparing sales invoices in an accurate way is essential for businesses to receive timely payment from their customers. According to the sales invoice definition, this document is involved in all transactions of an enterprise.
---
What to Include in a Sales Invoice
There are a number of elements that are highly necessary in a commercial invoice. They provide more information about the nature of the transaction, the items involved and also communicate financial data. They also depict the contact details of the business and customer who are involved in the transaction. They include:
• The Title "Invoice"
A sales invoice needs to have a title indicating "Invoice" at the top. This marks it as a document that contains details or information about transactions.
• Invoice Number
This is a unique identification number for every sales invoice. It can be made up purely of digits or be a combination of numbers and letters.
• The Vendor
This is your company's name, address and contact information
• The Importer of Record
This is the person, company or organization that will pay for any duty or taxes that are associated with the transaction.
• The Consignee
This is the name, address and contact information of the company that will receive the sales invoice.
• The Full Description of Goods
The sales invoice needs to have details about the goods that are involved in the transaction.
• The Supply Date
This is the supply date when the goods or services were provided.
• The Invoice Issuance Date
This is essentially the date when the invoice was issued.
• The Currency
This is the specific denomination of the money changing hands in the transaction.
• The Amount Involved
This is the total amount of money involved in the transaction.
• VAT Amount
If your company is VAT registered, this is a special amount that denotes this tax on the goods or services involved in the transaction.
• The Grand Total
This is the total amount of money that your customer owes for this particular transaction.
---
Creating Sales Invoices Easier with FreshBooks
FreshBooks is a software that can help you to operate your business more efficiently, securely and experience rapid returns. It can assist you to perform complete automation of the processes in your enterprise. FreshBooks performs the technical business tasks for you so that you can focus on operations.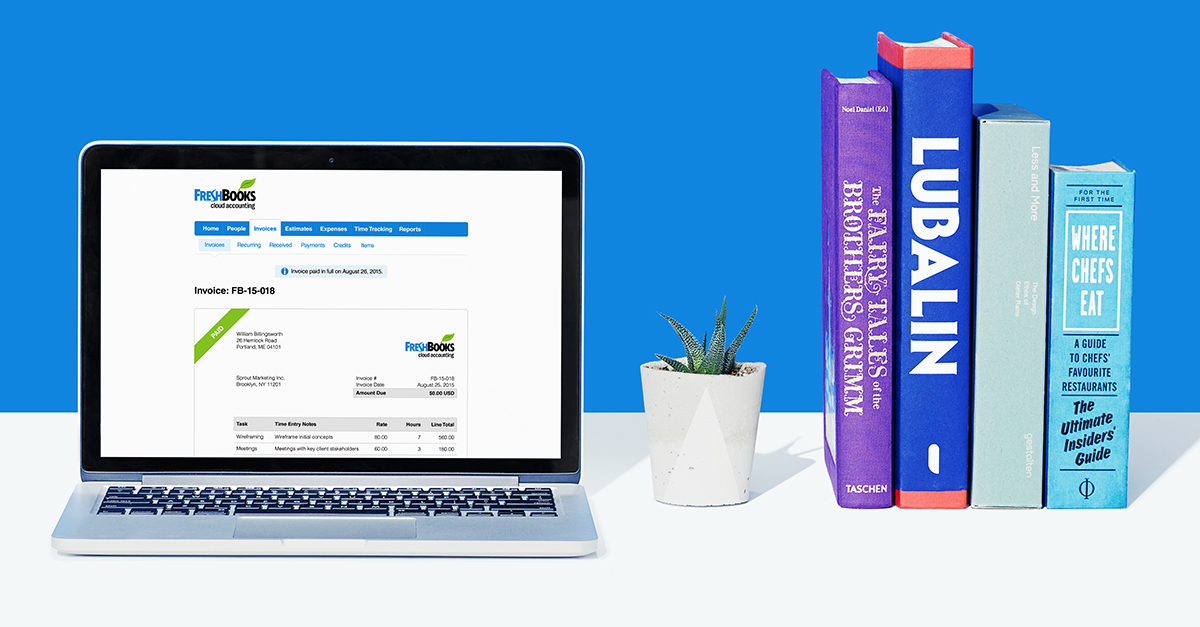 FreshBooks has an intuitive interface that is quite easy to utilize. By manipulating its built-in tools, you can develop presentable, accurate and effective sales invoices. This software has a collection of powerful features. You can use them to automate business activities such as the creation of invoices, organization of expenses, task scheduling, reporting payments and interaction with clients. The software is built upon Cloud infrastructure. Hence, you can access it from your smartphone, tablet or laptop at anytime from anywhere.
How to Create a Sales Invoice with FreshBooks
FreshBooks makes it very easy for you to create a sales invoice. It does so by providing a sales invoice template that you can edit and customize. There are two main paths within the software that you can utilize for this purpose. They include the FreshBooks Dashboard and the New Invoice section.
1. From the FreshBooks Dashboard
You can begin to create a new invoice from the FreshBooks Dashboard. If you choose this option, there are two ways to develop this document. You can:
Click the "Create New" button directly
Pick "Invoice" and arrive at a "New Invoice" screen
2. From the "New Invoice" section
It is also possible to create a new invoice by heading directly to the Invoices section. Having arrived there, you can click on a button labeled "New Invoice" that is located at the top right section of the window. After you click on it, the software will take you to a special screen. Here, you can enter the details of your sales invoice. This data can be entered in special parts of the sales invoice sample provided.
In both methods, the software provides you with 3 main sections in the initial template. These are:
This section assists you to customize the sales invoice such that it can accept and record credit card payments.
In this section, you can edit the appearance of your invoice. By picking from the Modern or Simple styles, you can give a general appearance to your sales invoice.
Invoice transaction details:
This is the most involving section since it captures specific details about your transaction. Examples of these are the invoice number, your company's name, the name of your customer, dates, amounts and transaction descriptions.
After creating an invoice using FreshBooks, you can save it in PDF format for later editing. You can also send it to your customer through email right away.
The FreshBooks software makes it very easy for you to create invoices for your enterprise. It is versatile and helps you to maintain the correct sales invoice format. It is highly acclaimed and tremendously easy to use for enterprises today!
Free Download or Buy PDFelement right now!
Free Download or Buy PDFelement right now!
Buy PDFelement right now!
Buy PDFelement right now!
Up to 18% OFF: Choose the right plan for you and your team.
18% OFF
PDFelement for Individuals
Edit, print, convert, eSign, and protect PDFs on Windows PC or Mac.
12% OFF
PDFelement for Team
Give you the flexibility to provision, track and manage licensing across groups and teams.
Contact us to learn more about the custom services we can do for you.