Got Some Residential or Commercial Real Estate? Discover Efficiency With the Ren
The rent invoice is a document that is issued by a landlord to their tenants so as to request payment. This business document indicates the necessity of compensation. It also acts as a way through which landlords can keep track of their financial records. Tenants receiving the rent invoice can keep the document after they make payments. In this instance, it acts as a receipt.
Free Rent Invoice Template
Free Download and customize it according to the sample text below
---
What is a Rent Invoice
One of the most rewarding investment options today is real estate. The most popular type of this investment is commercial real estate. These are buildings which are constructed to rent out to businesses and enterprises. There is also residential real estate. This is where buildings are constructed and rented out to families, couples or individuals. In both cases, the landlord needs to issue a rent invoice so as to request payment from tenants. This document contains descriptions of the service provided. This can be housing or business premises. As such, it is an indicator of services provided and also a notice that payment is due.
---
What to Include in a Rent Invoice
There are a number of important elements that need to be included in a rental invoice. They are:
• The Company Logo
This is the logo of the landlord's firm or the company that owns the commercial or residential real estate.
• Date of Issuance
This is the date when the rent invoice is issued.
• Invoice Number
This is a unique identifier that is included so as to give the invoice some uniqueness. It may be made up of solely digits or contain letters as well.
• The Landlord
This is the individual, company or organization that owns the commercial or residential real estate involved. The name, postal address, phone number and email address of the Landlord are required. If it is a company, then its registration number is needed. This is the rent invoice issuer.
• The Tenant
This is the individual or company that receives the housing service. Their name, address, phone number, postal address and email address are required. They are the rent invoice recipient.
• The Full Description of Housing Services
The housing services being billed are indicated and described comprehensively. This description can be done per square foot or according to any other unit of measurement agreed upon by the landlord and tenant. The period of time being billed is also indicated in full.
• The Currency
This is the type of legal tender that should be involved in the transaction. Indicating currency is important especially in situations involving parties from different nations or international real estate transactions
• The Subtotal
This is the total amount of money that the landlord charges for housing services rendered.
• Discounts
Should there be a financial relief for the recipient of the invoice, it is indicated here.
• Taxes Rate
There could be some tax involved with the rental payment. Examples of these are a housing tax or residency tax. If applicable, it is indicated as well.
• The Balance Due
This is the total amount of money that the tenant needs to pay the landlord. It is inclusive of tax.
---
How to Create a Rent Invoice Easier with FreshBooks
What is FreshBooks
This is an accounting software that can assist you to operate your business in an easier, more secure and efficient way. FreshBooks was developed so as to enable the automation of enterprise processes. By doing so, it allows your human resources to place their energy and attention on other elements. Examples of these are business operations such as marketing, expansion and market interaction.
Try Freshbooks for Free >>>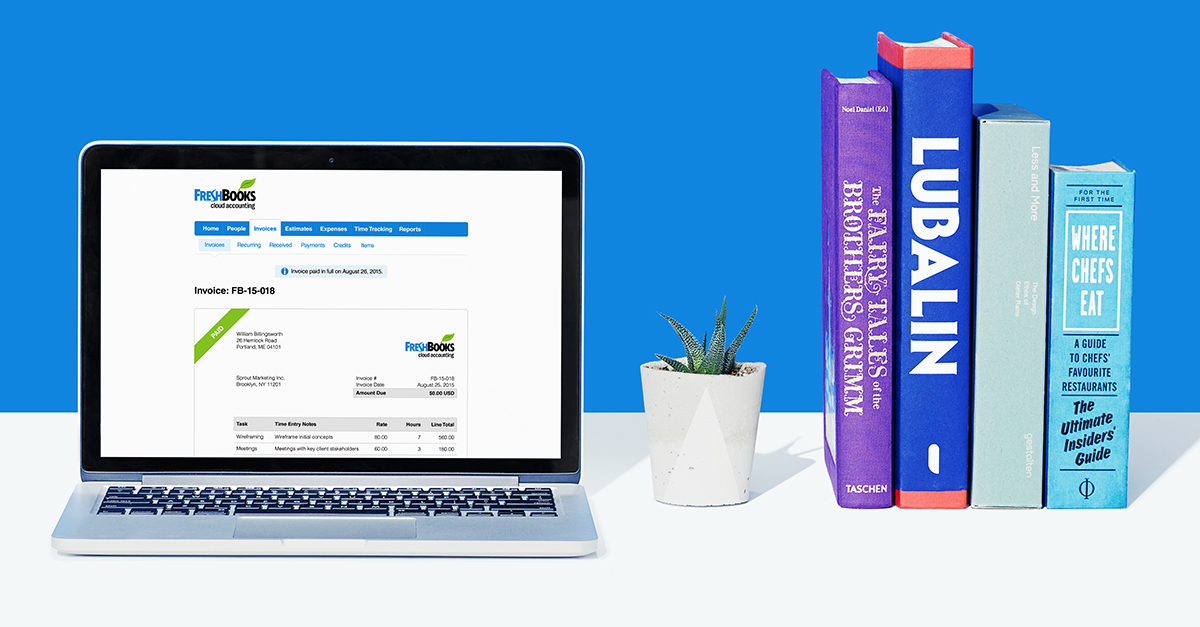 FreshBooks has a user-friendly interface. Through an intuitive dashboard, you can create professional rent invoices. Upon further interaction, you can also automate processes in your business. Some of the business processes which you can automate include task scheduling, creating invoices, organizing expenses, generating accounting reports and booking client interaction sessions. An outstanding characteristic of FreshBooks is that it is built on Cloud infrastructure. Thanks to this setup it can be accessed online through any Internet-capable device.
How to Create a Rent Invoice with FreshBooks
You can create a rental property invoice using FreshBooks quite easily. The software provides you with two main paths for this purpose. The first of these is to use the FreshBooks Dashboard. This strategy facilitates a rent invoice through:
Clicking on a button labeled "Create New"
After that you can select the option labeled "Invoice". This will activate a screen labeled "New Invoice"
The second option is to use the Invoices panel. This provides a much more direct method of creating a rent invoice. You simply have to tap on a button labeled New Invoice. Located at the top right hand section of the window, it provides access to a rent invoice template. This template is divided into 3 sections that contain some customization options. They are:
Accept Credit Cards:

This section allows you to customize your rent invoice such that it will accept payments made through a credit card.

Customize Invoice Style:

This section contains options that enable you to determine the overall look and appearance of the invoice. Through this section, you can customize elements such as the color of the headers, the type of font used as well as whether the invoice is recurring in nature.

Invoice Transaction Details Sections:

This section contains options which allow you to determine the most important characteristics of the rent invoice. Examples of these include the name of the Landlord, the Tenant, Amount of Rent Due, Taxes involved and the Due Date of the invoice.
After you have completed customizing your invoice, you can proceed to Save the document. This provides you with an opportunity to make further adjustments. If you are satisfied with its outcome, you can simple Send it to the recipient. FreshBooks delivers the rent invoice through email.
FreshBooks is one of the most effective accounting software tools for businesses today. It can help you to create a rental agreement invoice quickly and efficiently. The software is easy to learn and a valuable asset for modern businesses!
Free Download or Buy PDFelement right now!
Free Download or Buy PDFelement right now!
Buy PDFelement right now!
Buy PDFelement right now!
Up to 18% OFF: Choose the right plan for you and your team.
18% OFF
PDFelement for Individuals
Edit, print, convert, eSign, and protect PDFs on Windows PC or Mac.
12% OFF
PDFelement for Team
Give you the flexibility to provision, track and manage licensing across groups and teams.
Contact us to learn more about the custom services we can do for you.