How to Generate a PayPal Invoice
PayPal is the most effective online payment method available today. This online platform allows vendors and buyers to complete transactions across borders. If you are a vendor with some overseas clients, you can bill them using a PayPal invoice. Despite being digital in nature, this invoice works just like a regular paper invoice. After receipt, your clients will be able to pay the amounts indicated in the PayPal invoice using cash or funds that are contained in their PayPal wallets.
Free PayPal Invoice Template
Free Download and customize it according to the sample text below
| | | |
| --- | --- | --- |
| Free Download>>> | Free Download>>> | Free Download>>> |
---
What is a PayPal Invoice
A PayPal invoice is a digital business document which requests payment for goods provided or services rendered. It can be sent to a client by a vendor so as to request payment. This document contains all the important elements of a regular invoice. Examples of these are the goods or services that are involved in the transaction. It also contains information about the total cost involved as well as payment terms such as due dates and acceptable methods of payment. While generating a PayPal invoice, elements such as the totals, tax and shipping data are added automatically by the payments platform.
---
How to Create and Send an Invoice on PayPal
The process of creating and sending an invoice to PayPal involves a collection of steps. They are:
Begin by logging into your PayPal account.
After a successful log in, you can proceed to click the option labeled "Send & Request". This will reveal a menu.
Tap on the menu option that is labeled "Create Invoice".
After that, proceed to click on a subsequent option that is labeled "Create New Invoice". Doing so automatically activates a new interface screen which is titled "Create Invoice".
In the "Bill to:" option, enter your client's email address. This will specify the invoice recipient's delivery details.
In the "Customize" section, proceed to configure the specific details of your billable goods or services. As you customize the PayPal invoice, it is important to note that you can add as many items as you wish.
Once you complete adding details in the digital template, press the "Preview" button. It will show you what the resultant PayPal invoice will look like before you send it.
If you intend to generate many other invoices of this exact structure and nature, you can set it as a template.
Once you are satisfied with its appearance and content, you can click on "Send". This will deliver the PayPal invoice to your client.
They will be notified by PayPal through email that the invoice has been sent.
---
How to Create an Invoice Easier with FreshBooks
What is FreshBooks
FreshBooks is a software that you can use to handle the accounting and business operations in your enterprise. You can use this digital tool to generate professional invoices on demand. In addition to that, you can automate business processes as well. Some examples of those that you can automate include invoice creation, interaction with clients, organization of expenses and task scheduling as well. FreshBooks is built upon Cloud infrastructure. As such, you can gain access to it using any electronic device that can log into the Internet. Here is how to generate a PayPal invoice using this dedicated business software.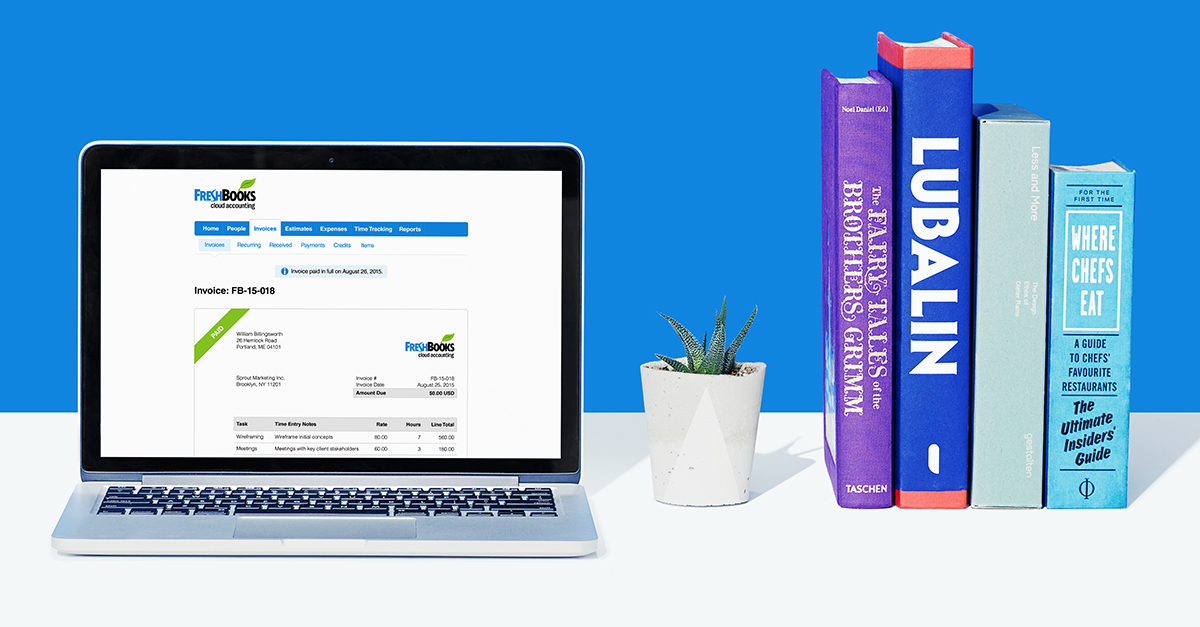 The Process of Creating a PayPal Invoice with FreshBooks
The process of creating a PayPal invoice using FreshBooks is quite easy to perform. There is a pair of paths which you can utilize for this purpose. They include the Dashboard and the Invoice Panel.
1. Using the FreshBooks Dashboard
You can create a new invoice for your enterprise by using the FreshBooks Dashboard. Here, you can begin by clicking on the button labeled "Create New". Having done so, proceed to select the "Invoice" option. After doing so, the software will provide you with a template screen labeled "New Invoice".
2. The Invoice Panel
Creating a new invoice can also be accomplished directly from the invoice panel. Here, simply tap on the button labeled "New Invoice". Once you have done so, the software will bring up a new window containing a sample PayPal invoice.
Within the new sample, you can edit a number of sections. They include:
Here, you can set the document to recognize and accept payments made using credit cards.
Within this section, you can pick a theme for your invoice. Two examples of available ones are Simple and Modern. You can also pick out a color for the headings in your document and specify a font from the Helvetica and Garamond options that are presented to you. Furthermore, you can determine if your invoice will be a recurring document or not.
Invoice Transaction Details Sections:
Once you have completed the process of customizing the appearance of your PayPal invoice, you can enter details that are specific to the transaction at hand. For example, you can indicate the Company Name, the Client's Name, the Products or Services involved, the Total Cost and the Due Date for the document.
After editing the template, you can save your progress for later editing. The software can store your invoice in PDF format for you. If you are satisfied with its appearance, you can simply Send it to the client. FreshBooks delivers the PayPal invoice through email.
FreshBooks is an ideal software solution for modern businesses. Not only can it generate any business document, it also automates processes. You can use this software to improve efficiency in your enterprise and reap the rewards of innovation!
Free Download or Buy PDFelement right now!
Free Download or Buy PDFelement right now!
Buy PDFelement right now!
Buy PDFelement right now!