How to Generate a Microsoft Invoice
The most popular business data management system in the world is known as Microsoft Office. By using this suite of applications, you can create any type of business document. Now you can use it to create invoices too. This can increase revenue for your enterprise while also boosting efficiency. The Microsoft invoicing software is easy to use and can be implemented in any corporate environment.
Free Microsoft Invoice Template
Free Download and customize it according to the sample text below
---
What to Include in a Microsoft Invoice Template
• The Invoice Number
This is a unique identifier for the invoice that is normally made up of numbers. It can also include letters and special characters as well.
• The Date of Issuance
This is the date when the MS invoice was generated and issued to the client
• The Vendor
The name of the specific provider of the goods or services in the transaction is known as the vendor. Their official full name, phone number, postal address, email address and if necessary the registration number are indicated.
• The Client
Also known as the Client, this is the individual who receives the materials involved in the transaction. Their official full name, phone number, postal address and email address are indicated.
• The Goods or Services
All the items that are involved in the transaction are indicated in the invoice. Factors such as their physical descriptions, content, components and capacity are laid out. The units of measurement and guidelines of handling can also be indicated.
• The Currency
The specific type of legal tender that is involved in the transaction is explained fully. This is especially important in in international transactions or cases where the parties involved are from different nationalities.
• Total Cost
This is the total monetary value of the goods or services that are involved in the transaction. It is inclusive of taxes.
• The Due Date
The date by when payment should be made is indicated in the invoice.
• Terms of Payment
Any additional instructions concerning the criteria of payment are indicated.
---
Advantages and Disadvantages of Microsoft Invoice
Advantages
• Easy to use
The Microsoft invoice template is quite easy to use. You can manipulate it with minimal effort. The document's layout is easy to learn, and it organizes your transaction information beautifully.
• Can be integrated with other applications
The Microsoft invoice template can be integrated with many other business applications. Examples of these are word processors and database software. This flexibility allows for efficient data sharing.
• Flexible
This template is flexible and can be shared across platforms. After creating an invoice using the invoice template, you can send it to your client and any other stakeholder with ease.
Disadvantages
• The format is fixed
Seeing as it is a template, this business resource comes with specific guidelines for the content that should be included in it. Hence, you cannot change the overall structure of the template by rearranging the sections. This limits your overall creativity.
---
How to Create Invoice Easier with FreshBooks
What is FreshBooks
You can now create your business invoices in a much easier way by using FreshBooks. This is a powerful business administration software that can generate documents on demand and even automatically. You can use FreshBooks to create invoices and present them to your clients for payment to be processed. This software is Cloud-based. Therefore, you can access its facilities from any location globally so as to generate invoices or gain access to business data. It can increase the efficiency of your enterprise by automating tasks such as expense organization, accounts reporting and invoice generation. Through a user-friendly dashboard, you can create invoices for your enterprise. Here is more about how to accomplish this.
Try Freshbooks for Free >>>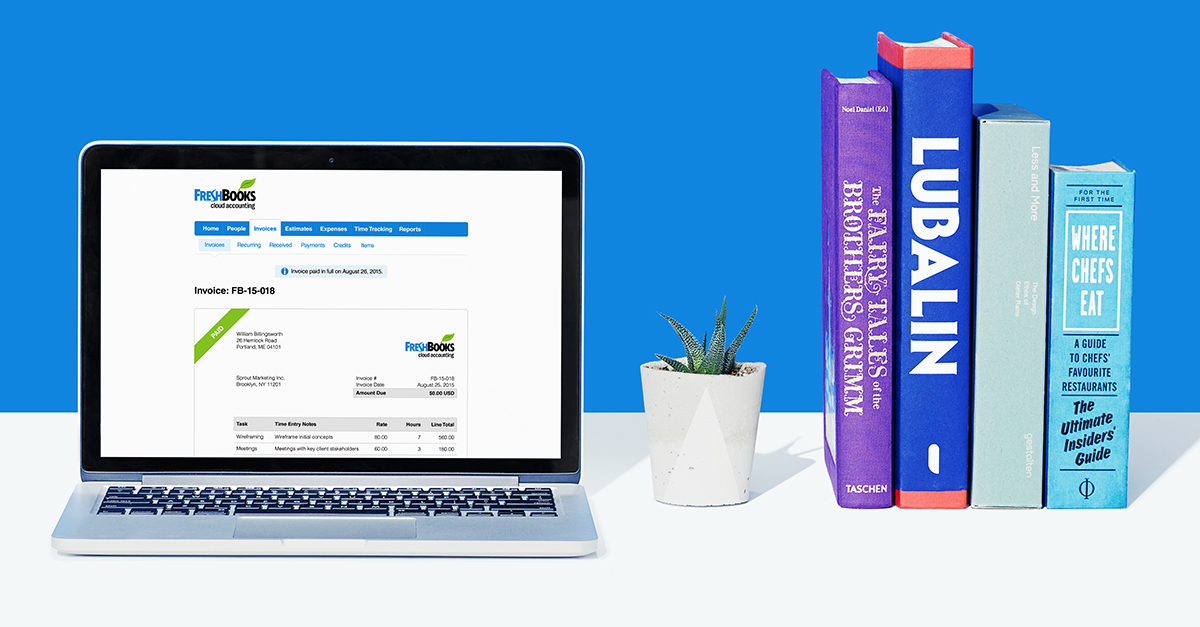 How to Create Microsoft Invoices with FreshBooks
This software enables you to create an invoice through two main paths. They include:
1. The Dashboard
This is the main control panel within FreshBooks. It contains a collection of buttons and tools that are ideal for creating documents such as invoices. To use it, simply tap on the button labeled "Create New". In the ensuing menu, tap on "Invoice". This will immediately bring up a new window titled "New Invoice" that contains a template which you can use to generate this business document.
2. The "Invoices" Panel
Another resource that you can use to create this invoice is the Invoices Panel. In this panel, you can simply tap on a button labeled "New Invoice". Having done so, FreshBooks will provide you with a template which you can edit to generate an invoice for your business.
Within the Microsoft invoice template, you can edit a section titled Accept Credit Cards. Doing so allows you to determine if your invoice will recognize and accept payments made using credit cards. You can also edit another known as Customize Invoice Style. In this one, you can tailor the overall appearance of the document. It allows you to adjust the font, theme, style and also indicate if the invoice is recurrent in nature.
After editing the Microsoft office invoice template, you can Save your progress using a dedicated button. FreshBooks also allows you to Send the invoice directly to your client.
When it comes to generating business documents such as invoices, the best tool to use is FreshBooks. This software makes the process of invoice generation and issuance a breeze. It is the ultimate digital investment for businesses today!
Free Download or Buy PDFelement right now!
Free Download or Buy PDFelement right now!
Buy PDFelement right now!
Buy PDFelement right now!
Up to 18% OFF: Choose the right plan for you and your team.
18% OFF
PDFelement for Individuals
Edit, print, convert, eSign, and protect PDFs on Windows PC or Mac.
12% OFF
PDFelement for Team
Give you the flexibility to provision, track and manage licensing across groups and teams.
Contact us to learn more about the custom services we can do for you.