How the Medical Invoice is the Solution You Are Searching For
The medical invoice is a document that is utilized in the medical field so as to record the products sold or services rendered. It is provided to suppliers, contractors and patients as well. This invoice is used as an official request for payment. Also referred to as a medical bill, it contains important information that assists the recipient to make payment according to the terms indicated therein.
Free Medical Invoice Template
Free Download and customize it according to the sample text below
---
What is a Medical Invoice
Whenever a medical institution needs to request payment, they use a medical invoice. This business document is utilized for the purpose of recording products sold or services rendered by the facility. It can describe these elements in substantial detail so as to guarantee clarity in the document. The medical records invoice letter is important in the processes of procurement, inventory and maintenance throughout the facility.
---
What to Include in a Medical Invoice
• The Title "Medical Invoice"
This business document needs to be officially labeled as a "Medical Invoice"
• The Invoice Number
This is a unique identifier of this business document. Normally made up of numbers, it can also include some letters.
• Date of Issuance
This is the date when the medical invoice was issued.
• The Vendor
This is the hospital issuing the invoice. Its name, postal address, phone number and email address are all indicated in the document.
• The Client
The patient, company or firm which receives the medical invoice is indicated. Their name, postal address, phone number and email address are included. If it is a patient, their age, assigned consultant, admission and discharge dates are specified.
• The Payment Mode
This is an important element within the medical records invoice. It indicates the specific method of payment that the issuer expects to be utilized.
• Particulars
This element contains details about the products or services that were provided to the recipient of the invoice. The quantity of these items is indicated as well.
• Taxes
The medical facility may provide goods or services which attract a particular tax. In such a case, the tax involved is indicated in the medical invoice.
• Subtotal
This is the total amount of money that is charged for the transaction net of tax.
• Grand Total
This is the total amount of money charged for the transaction inclusive of tax.
• Notes
In this element of the medical invoice, some terms of payment or other additional information is added.
---
How to Create a Medical Invoice Easier with FreshBooks
What is FreshBooks
This is a specialized software that has been developed for businesses today. FreshBooks is used to run your business in an easier and more efficient way. The software has built in encryption hence your business data is secure. By using FreshBooks, you can generate medical invoices at the tap of a button. You can also automate your business processes. The software provides you with tools and features that can assist you to activate specific business processes according to a pre-determined schedule. Doing so allows you and your workforce to shift focus to other business activities such as brand promotion and advertising.
Try Freshbooks for Free >>>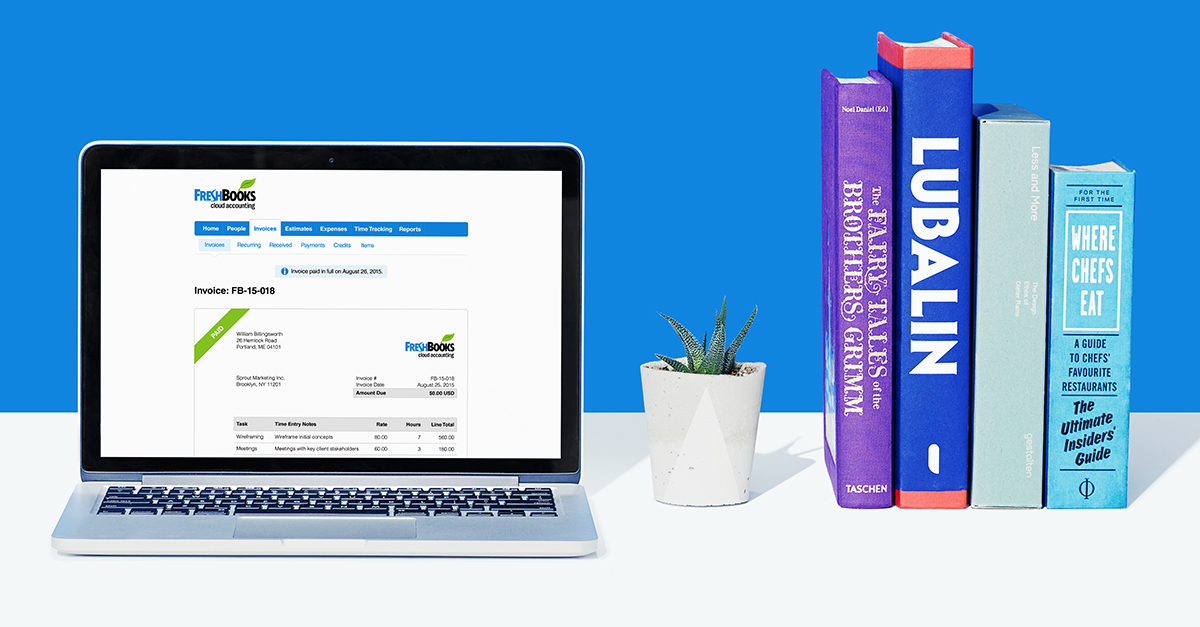 FreshBooks has an interface which is very easy to use. Furthermore, it is highly intuitive. As a result, you can learn how to use its tools and features in a short period of time. By using this software, you can add some efficiency and speed to business processes such as task scheduling, organization of expenses, creating invoices, reporting accounts and interacting with clients. FreshBooks is constructed on Cloud infrastructure. As such, it is possible to access your dashboard and business data from anywhere at any time using an Internet-capable device.
How to Create a Medical Invoice with FreshBooks
You can create a free medical invoice quite easily and effectively by using FreshBooks. This can be accomplished using two main strategies. You can use the Dashboard or the Invoices panel.
1. Using the FreshBooks Dashboard
If you decide to use the Dashboard, simply tap on the button labeled "Create New". After that, select the option labeled "Invoice". This will activate a window labeled "New Invoice". Here, you can proceed to customize the invoice according to your preferences.
2. From the "Invoices" Panel
It is also possible to develop a medical records fee invoice directly through the Invoices panel. While here, simply tap on a "New Invoice" button. This will activate a template window that can accept various types of information regarding your transaction.
In the medical invoice template, you can determine whether the document will accept credit card payments. You can also format the invoice and include header colors, specific font and also set the document to be recurring or not. Last but not least, the medical invoice template captures specific details about the transaction at hand. You can add details such as the name of your facility, the recipient of the invoice, the particular products or services that were provided as well as their cost.
Having tailored the template to your liking, you can Save it so as to store the document for future editing. You can also Send it to the recipient immediately.
FreshBooks is a versatile, capable software that can help you to generate business documents such as medical invoices. It has a user-friendly interface and a short learning curve for medical invoicing. By using this software, you can streamline business activity and increase your profits!
Free Download or Buy PDFelement right now!
Free Download or Buy PDFelement right now!
Buy PDFelement right now!
Buy PDFelement right now!