Benefits Your Business By Using Invoice Template
Invoices are parts and parcel of any business they wish to grow, look professional and create brand awareness. There are several free invoice templates available for download online for free. To achieve your business goals, you have to ensure that the invoice template you are using has the power to wow your customers.
Free Invoice Template
Free Download and customize it according to the sample text below
| | | |
| --- | --- | --- |
| Free Download>>> | Free Download>>> | Free Download>>> |
---
What to Include in a Invoice Template
There are several free invoice template download online. These templates guide you on what an invoice should contain so you don't send an incomplete invoice to your customers. This article will outline all the required information you need to include in your invoice template.
A boldly typed invoice at the top of the template to show customers what the document is for. Depending on the invoice template, it may serve many other purposes such as an invoice with currier details, with a debit note or even with a delivery note. So, choose the invoice template that fit what your business is doing.
Invoice number for quick referencing and proper accounting and bookkeeping.
Space for contact information of both you and your customer is always included in the invoice template. So, ensure to fill it accurately.
Description of the products and services you provided to the customer and the amount for each one.
The total amount for the products and if the tax is applicable, add the tax codes too for legal purposes.
The details of the payment method as well as any other necessary information required.
The sample invoice template has everything to guide you on what to include in your invoice and when followed accordingly, you won't have any problems.
---
How to Choose a Proper Invoice Template
Every business is different and getting the best invoice template will help you portray your business in the correct light. Here are some guides on how to choose a proper invoice template.
Minimal detailed and classy: this type of invoice template is straightforward in design and contain only the vital information.
Sharp, clean and professional: this type of invoice template is designed to make your business look more professional.
Bold: if you think your brand is bold and friendly, choosing a bold invoice template is the way to go.
Regular paper-like invoice with a touch of elegance: why be plain when you can add a little extra? The proper paper-like invoice template can be made to be more elegant and your customers happy.
There so many other types of invoice template from which you can choose the best for your business.
---
How to Create Invoices Easier with FreshBooks
What is FreshBooks
With FreshBooks, you can automatically set up payment reminder to let customers know when their payment is due. You can also add billable hour automatically and get a free 30 days trial. Below is how you can create invoice easier using FreshBooks.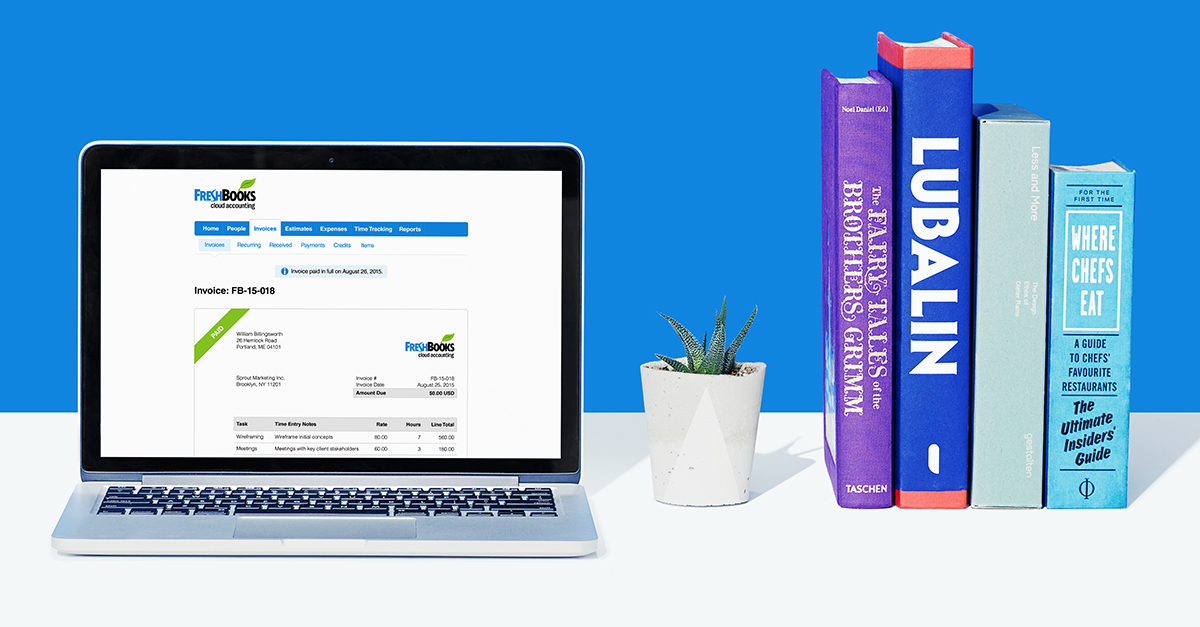 How to Create Invoices with FreshBooks
Ensure that you add yourself to the FreshBooks by creating an account. To do that, enter your company name, email address and click on the create FreshBooks account tab. Now you are successfully part of FreshBooks.
In the one-time setup page, enter your business details, the address that will appear on the invoice as well as the currency in use.
Then enter the client information, their address, email and phone number. If you want this information you input to appear on the invoice, indicate it and save the information.
Then proceed to select create the invoice, and an invoice template will appear. This invoice template has your company information and that of the chosen customer. Enter all the necessary information, and FreshBooks will do the rest for you.
Once the invoice has been created, you can then save it or send to the customer.
Free Download or Buy PDFelement right now!
Free Download or Buy PDFelement right now!
Buy PDFelement right now!
Buy PDFelement right now!
Up to 18% OFF: Choose the right plan for you and your team.
18% OFF
PDFelement for Individuals
Edit, print, convert, eSign, and protect PDFs on Windows PC or Mac.
12% OFF
PDFelement for Team
Give you the flexibility to provision, track and manage licensing across groups and teams.
Contact us to learn more about the custom services we can do for you.
Related Articles
All Topics