How to Access the Microsoft Word Invoice Template
In business, one of the most important documents is the invoice. This document is part of every transaction and it provides intimate details about the activities at hand. It's creation process should always be easy to handle, and Microsoft Word can facilitate this process. Filling in a template for every transaction is a sure way to grow and succeed in business.
Free Word Invoice Template
Free Download and customize it according to the sample text below
---
What to Include in a Word Invoice Template
• The Invoice Number
This is a unique identifier for the invoice. Normally made up of numbers, it can also include letters.
• The Date of Issuance
This is the date when the invoice was generated and issued to the client.
• The Vendor
This is the party that provided the goods or services. Their name, phone number, postal address, email address and if applicable, registration number are included.
• Name of Consignee
This is the party that received the goods or services. Their name, phone number, postal address and email address are indicated.
• Goods or Services
These are the specific items or services rendered. A full, detailed description is included in this section. All dimensions are indicated along with the applicable units of measurement.
• The Currency
The specific type of legal tender that should be used in the transaction is indicated in the word invoice template.
• Total Cost
This is the total monetary value of the goods or services that are provided. This cost is inclusive of taxes.
• The Due Date
The date by when payment needs to have been performed is indicated.
• Terms of Payment
Any terms guiding the compensation process are indicated.
---
Advantages and Disadvantages of Word Invoice Template
Advantages
• Easy to use
An invoice template word is very easy to use. The document is presented in a format that can easily be manipulated. Best of all, you can use various types of devices to manipulate this template successfully.
• Preserves the format
A professional business invoice needs to have a particular format. Using a template in Word format ensures that the required style is achieved and maintained. This presents an organized and beautiful appearance of the document.
• Can be replicated successfully
After filling in a business invoice using a Word template, you can replicate the document as many times as you desire. The invoice format in word is very flexible. As such, it can be manipulated as you require.
Disadvantages
• The style is permanent
A business invoice presented using a Microsoft Word template maintains a specific style throughout. The various headings and content sections have a fixed position in the document. Therefore, they cannot be changed.
• Each template fits a particular type of transaction
There are many types of Microsoft Word invoice template available today. Each type fits a particular transaction. Therefore, you have to find the specific template for your particular business case.
---
How to Create Invoice Easier with FreshBooks
What is FreshBooks
The FreshBooks software is an effective digital resource for businesses today. It can generate documents rapidly and even send them directly to the clients. FreshBooks is also capable of automating enterprise documents. The software can perform processes such as task scheduling, expense organization, accounts reporting and much more. This software is based on Cloud technology. Therefore, you can access its features along with your business data directly from an Internet-capable device. Here is more about how FreshBooks can help you to create professional invoices.
Try Freshbooks for Free >>>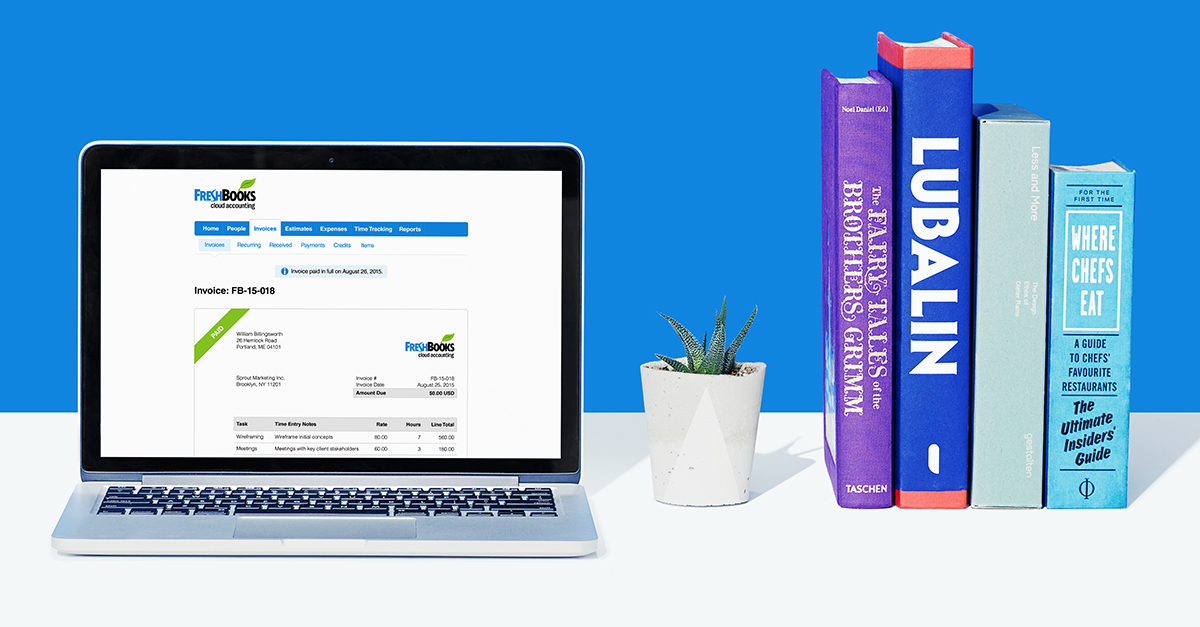 How to Create Invoices with FreshBooks
This accounting software enables you to create professional invoices on demand. You can use two main modules towards this effect. They include:
1. The Dashboard
This is the main control panel in FreshBooks. It contains a variety of tools and facilities for you. In the Dashboard, simply tap on the button labeled "Create New". Having done so, you can proceed to click on the "Invoice" option. This will immediately bring up a new window containing a free invoice template word that you can adjust to create your invoice.
2. The "Invoices" Panel
Another facility that you can use so as to create an invoice within FreshBooks is the Invoices Panel. In this one, simply begin by tapping on the button labeled "New Invoice". This will immediately launch a window containing an invoice template that you can edit to create your document.
The invoice template doc within FreshBooks provides you with a wide range of sections that you can edit. You can determine if the invoice will accept credit card payments. You can also proceed to customize its overall appearance by choosing a theme and a font. Furthermore, you can choose whether it will be a recurring business document or not.
The most important section of the invoice enables you to enter the specific details of your current transaction. Here, you can enter details such as the Company Name, Client, Particulars, Costs Involved and the Due date of payment.
Should you edit the document and only get halfway, FreshBooks allows you to save your progress. On the other hand, you can complete editing the invoice sample word and send it directly from the software to your client.
FreshBooks implements 21st century computing technology in modern business. This software utilizes automation and an intuitive dashboard to help get things done. It is an investment with lasting returns!
Free Download or Buy PDFelement right now!
Free Download or Buy PDFelement right now!
Buy PDFelement right now!
Buy PDFelement right now!
Up to 18% OFF: Choose the right plan for you and your team.
18% OFF
PDFelement for Individuals
Edit, print, convert, eSign, and protect PDFs on Windows PC or Mac.
12% OFF
PDFelement for Team
Give you the flexibility to provision, track and manage licensing across groups and teams.
Contact us to learn more about the custom services we can do for you.
Related Articles
All Topics