How to Generate a Google Invoice
Technology giant Google now has a specialized resource for business enterprises. This is the google invoice. Enterprising individuals can now request payments using this document. This invoice can be generated from google docs, sheets and google drive as well. Its versatility suits the dynamic nature of modern enterprises. Hence, the Google docs invoice is an important enterprise financial management tool.
Free Google Docs Invoice Template
Free Download and customize it according to the sample text below
---
What to Include in Google Docs Invoice
There are various important elements that you need to include within a google docs invoice. They are:
• The Invoice Number
Every business document requires some identification and the invoice is one of them. This identifier is normally made of numbers but can include letters and special characters as well.
• The Date of Issuance
This is the specific date when the invoice was generated.
• The Vendor
This is the provider of the goods or services in a transaction. Their full names, email and postal addresses as well as the registration number are indicated.
• The Consignee
Also known as the Client, this is the recipient of the products or services which are involved in the transaction. Details such as their full name, phone number, email and postal addresses are indicated.
• Descriptions of Goods and Services
The specific content of the transaction is indicated. Detailed descriptions of the physical products are provided including ingredients and components. Furthermore, the length of time and other resources used in services are expressed. Any applicable units of measurement are highlighted too.
• Taxes
Any duties or levies associated with the transaction are indicated. Examples of these are Sales and Value Added Tax (VAT).
• The Currency
The specific type of legal tender that should be used in the transaction is indicated in the invoice.
• Total Cost
This is the total amount of money that the client should pay the vendor. It is inclusive of all taxes and fees.
• The Due Date
This is the official date by when payment should have been done.
---
Advantages and Disadvantages of Google Docs Invoice
Advantages
• It is convenient
 You can easily create this type of invoice. All that is required is to get on the Google platform and generate an invoice. It can be done using any Internet-capable device at any time. Therefore, the process is highly convenient.
• The document is professional in nature
The google sheets invoice template has a professional outline. As such, by entering information according to the sections indicated within it, you can create an invoice that is professional and applicable in all formal transactions.
• It is easy to use
The Google invoice template is user-friendly. Therefore, you can access it online and edit the resource to create an invoice with minimal training. This makes it ideal for freelancers, small businesses and large enterprises as well.
Disadvantages
• You need an Internet connection to generate and send it
The Google invoice template is hosted within the search engine's online infrastructure. Therefore, you need to access the Net so as to interact with this business document resource.
• Its style is not adjustable
The Google invoice is presented to you with a specific style and format. Therefore, you cannot adjust its appearance or flow of sections to suit your corporate branding. Hence, it limits your creativity and enterprise image as well.
---
How to Create Invoice Easier with FreshBooks
What is FreshBooks
FreshBooks is a powerful software that you can use to generate an invoice quite easily. It is a digital business resource which you can utilize to create professional business documents. Examples of these are receipts, purchase orders and financial statements as well. FreshBooks provides you with accurate, professional templates to generate invoices on demand or even automatically. This software is based on Cloud infrastructure. Therefore, you can access its dashboard and business data at any time anywhere in the world. Read on to discover how you can generate an Google invoice effectively using FreshBooks.
Try Freshbooks for Free >>>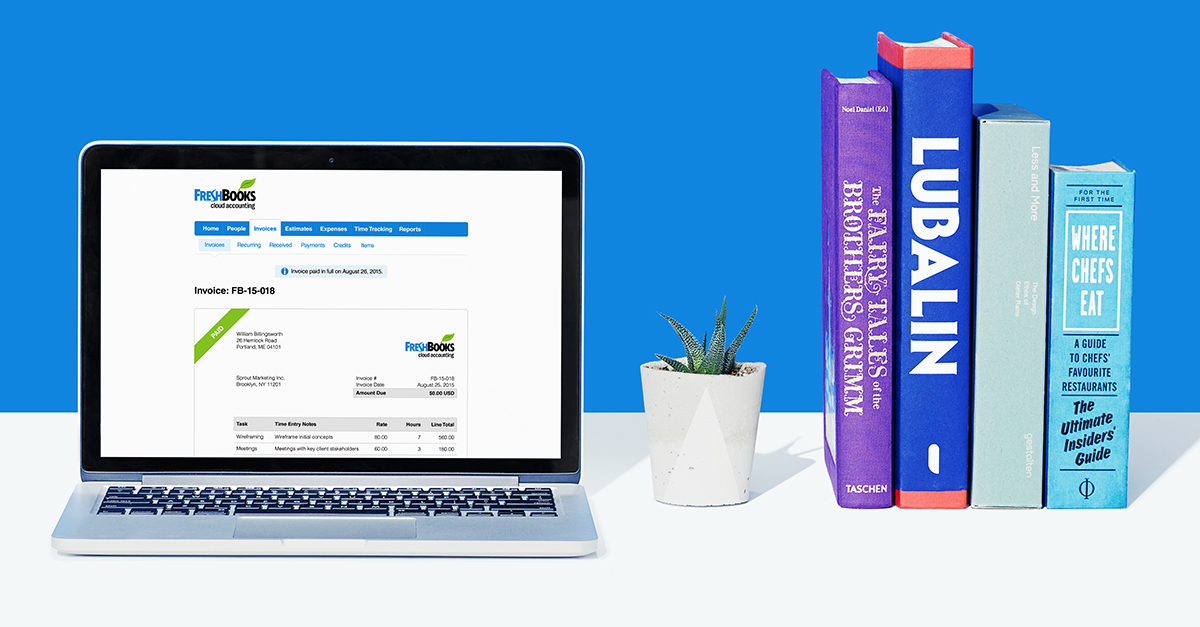 How to Create Google Docs Invoices with FreshBooks
This software provides you with two main resources for generating a Google drive invoice template. They include:
1. The Dashboard
You can create an invoice right through the FreshBooks dashboard. Within this resource, you can tap on the button labeled "Create New". Having done so, proceed to the option titled "Invoice" and click on it. This will reveal a new google invoice template window that you can edit to fit the needs of your transaction.
2. The "Invoices" Panel
This is another option that you can use to create an invoice document. In this panel, simply proceed to the button labeled "New Invoice" and click on it. After you do so, the software will provide you with a new window containing a customizable template.
Within the FreshBooks invoice template, there are various sections that you can edit. One of these is the Accept Credit Cards section. Here, you can adjust the document such that it recognizes and accepts credit card payments. In the Customize Invoice Style section, you can determine the overall appearance of the invoice. Here, you can edit the font, style and theme of the document. Furthermore, you can set it to be recurring or not. The Transaction Details section of the invoice is the most important. Here, you can enter details about the transaction at hand such as the Client, Vendor, Particulars, Total Cost and Due Date.
While editing the FreshBooks invoice template google docs, you can Save your progress and continue later. Upon completing the process, you can Send the document directly to your client. The software will deliver it through email for you.
FreshBooks is the most ideal software for creating modern, professional invoices. It is applicable in small, medium and large enterprises. This software implements the power of advanced Information Technology (IT) in your business today!
Free Download or Buy PDFelement right now!
Free Download or Buy PDFelement right now!
Buy PDFelement right now!
Buy PDFelement right now!
Up to 18% OFF: Choose the right plan for you and your team.
18% OFF
PDFelement for Individuals
Edit, print, convert, eSign, and protect PDFs on Windows PC or Mac.
12% OFF
PDFelement for Team
Give you the flexibility to provision, track and manage licensing across groups and teams.
Contact us to learn more about the custom services we can do for you.
Related Articles
All Topics