How to Create an Invoice Template Excel
Some business transactions have multiple entries that require tabulation. In such cases, an invoice template in Excel comes in handy. Not only are you able to tabulate the various elements in your transactions, you can also calculate them easily. An excel invoice template promotes efficiency in business. It can be shared and even edited by multiple parties.
Free Excel Invoice Template
Free Download and customize it according to the sample text below
---
What to Include in an Excel Invoice Template
• The Invoice Number
This is an identifier for your invoice. Traditionally, it is made up purely of digits. However, you can add some letters into it as well.
• The Date of Issuance
This is the date when the invoice was issued.
• The Vendor
This is the provider of the goods or services that are involved in the transaction. Their name, postal address, phone contacts, email address and if applicable, registration number are expressly indicated.
• Client
The recipient of the goods or services is indicated as well. Their name, postal address, phone number and email address are expressed.
• Goods or Services Rendered
The total monetary value of the goods or extent of services is explained. This includes elements such as the amount of goods or length of services. The appropriate units of measurement are indicated as well.
• The Currency
The type of legal tender that should be used in the transaction is indicated. This element comes in handy for transactions that involve parties from different nationalities. It is also implemented in international transactions.
• Total Cost
This is the total amount of money that the client should pay the Vendor. It is inclusive of all taxes.
• The Due Date
This is the date by when the payment should be made.
• Terms of Payment
Any instructions concerning compensation are indicated.
---
Advantages and Disadvantages of Invoice Format in Excel
Advantages
• Ease of use
It is quite easy to use an invoice excel template. This is because the fundamental application has instructions and facilities which are easy to manipulate. Hence, the invoice format in excel has a short learning curve and is easy to learn and use.
• Can be integrated with other applications
The Microsoft Excel application can be integrated with other data management software. Examples of these are databases. Therefore, an invoice that is created using this software can also be applied in such a related application.
• Automated calculations
By using Excel, you can calculate the totals of the invoice automatically. This enables you to maintain accuracy. This characteristic saves time in invoices that have multiple entries. The free invoice template excel also improves overall enterprise efficiency.
Disadvantages
• The style cannot be edited
The main format that comes with an invoice Excel template cannot be adjusted. This is because it is set to guide the entry of data elements. Therefore, you cannot extend its proportions or facilities. As such, you work with it as it is.
---
How to Create Invoice Easier with FreshBooks
What is FreshBooks
FreshBooks is a powerful, versatile and effective software tool for creating invoices and other business documents. This digital tool can be implemented in an organization to assist with the generation of business documents and sending them to clients. By using FreshBooks, you can increase the efficiency of your enterprise. This software can also automate business processes. Examples of these are task scheduling, accounts reporting and document creation. As such, it can help in saving time and facilitate prudent use of resources. FreshBooks is based on Cloud technology. Therefore, it can be accessed from literally anywhere in the world through an Internet-capable device. Here is more about using this software to create invoices.
Try Freshbooks for Free >>>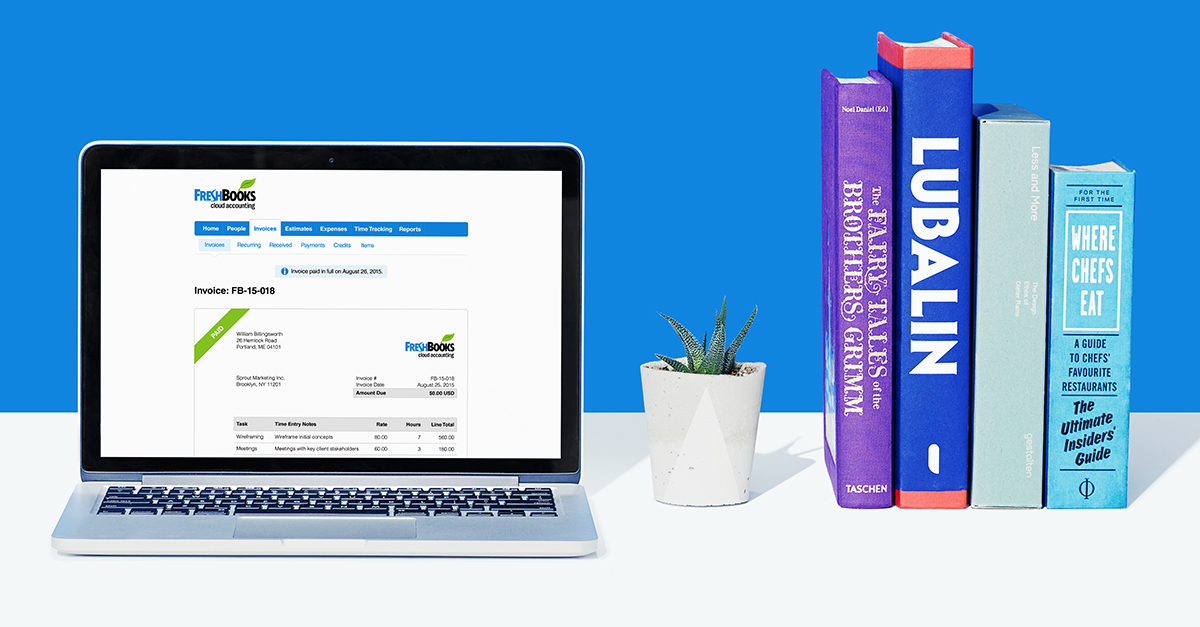 How to Create Invoices with FreshBooks
This software provides you with a pair of options for the purpose of creating invoices.
1. Using the Dashboard
This is the main panel of the FreshBooks software. It contains a collection of features for invoice creation. To use it, simply begin by tapping on the button labeled "Create New". Once you have done so, a new menu will emerge. Proceed to tap on "Invoice". This will activate a customizable invoice sample excel.
2. Using the "Invoices" Panel
This is another resource that you can utilize so as to generate an invoice in FreshBooks. Begin by navigating to this resource. Having done so, tap on the button labeled "New Invoice". This will immediately create a new template window which you can edit and create your invoice.
The FreshBooks excel invoice template provides you with a number of sections that you need to edit so as to develop an invoice. They include:
Accept Credit Cards:

Here, you can edit some options so as to determine if your invoice will recognize and service credit card payments.

Customize Invoice Style:

In this section, you can adjust a number of facilities to create a specific appearance for your invoice. You can determine elements such as the overall theme, font and heading colors. In this section, you can also determine if the invoice will be recurring or not.

Invoice Transaction Details Sections:

This part of the invoice allows you to customize the invoice such that it reflects the specific details of the transaction at hand. You can customize elements such as the Company Name, Client Identity, Particulars of Transaction, Taxes, Total Cost, Payment Terms and Due Date.
After customizing the invoice template excel to reflect your transaction requirements, FreshBooks provides you with an option to send the document or to save it.
FreshBooks makes the process of getting compensation for your products or services easier. It does so by providing dedicated invoicing tools and automating processes. It is a modern business owner's digital assistant!
Free Download or Buy PDFelement right now!
Free Download or Buy PDFelement right now!
Buy PDFelement right now!
Buy PDFelement right now!
Up to 18% OFF: Choose the right plan for you and your team.
18% OFF
PDFelement for Individuals
Edit, print, convert, eSign, and protect PDFs on Windows PC or Mac.
12% OFF
PDFelement for Team
Give you the flexibility to provision, track and manage licensing across groups and teams.
Contact us to learn more about the custom services we can do for you.
Related Articles
All Topics