Best Way to Choose a Suitable Invoice Format
Choosing the right invoice format for your business is quite important since it ensures that you present the invoice format template as it should be. User needs for choosing an invoice format include the nature of the sold goods such as the sizes or quantity, the cash expected including tax information and the need to use stock photos to ensure that your clients are well informed on the goods that require payment.
Free Invoice Format Template
Free Download and customize it according to the sample text below
| | | |
| --- | --- | --- |
| Free Download>>> | Free Download>>> | Free Download>>> |
---
A List of Invoice Format
While, creating an invoice, you can use different invoice format depending on the items you need paid by your clientele. The various types of formats include Word, PDF, Excel and Google Docs, which have advantages including these below:
PDF
Invoice in PDF format is great at keeping data confidential since you can use a password to restrict unauthorized access.
It is easy to use as you input information.
You can authenticate the approved invoices through digital certificates and stamps.
Word
Using Word as your invoice format template is advantageous since it is approachable.
Additionally, it is easy to manage since it is not a complex program.
It entails little knowledge and further requires very little computer experience ton operate.
Excel
Excel has automatic calculation facilities, making it possible to create your invoices that have accurate total amounts.
It works well with complex functions, spreadsheets and algorithms and hence can serve you well just in case your invoice has any complexities.
Google Docs
Using Google Docs as the invoice format is like having an online invoice format that you can easily access very fast since it is simply a click away.
Your clients can access their respective invoices online especially if they have ample internet connection and a link provided by you, thus Google Docs saves you time used to send invoices via mail.
Google Docs is compatible with the majority of the presentation software, and hence you can be sure that your clientele will receive their respective invoices, since the format is reliable.
---
Invoice Format Tips for Beginners
As a beginner, ensuring that you use a standard invoice format may still pose a challenge. However, the following tips may assist in ensuring that you provide a good simple invoice format with all the necessary information. Having a look at a sample invoice format can help ass well. It should have the following things:
Your details- information about your organization such as name and contact details.
Client's details- information like clientele email or physical address.
Invoice date and number.
Goods or service description
The amount of money expected
Customer reference
How to make the payments.
---
How to Create Invoice Easier with FreshBooks
What is FreshBooks
FreshBooks is the best means to create a good invoice that will ensure that you receive the amount of money that you deserve. This invoice software ensures that the process of billing and invoicing for large of small organization is fast and with minimal difficulties. FreshBooks allows you to customize your invoice during the creation process including putting the organization details like logo. This software can be incorporated by agencies, firms and self-employed business people.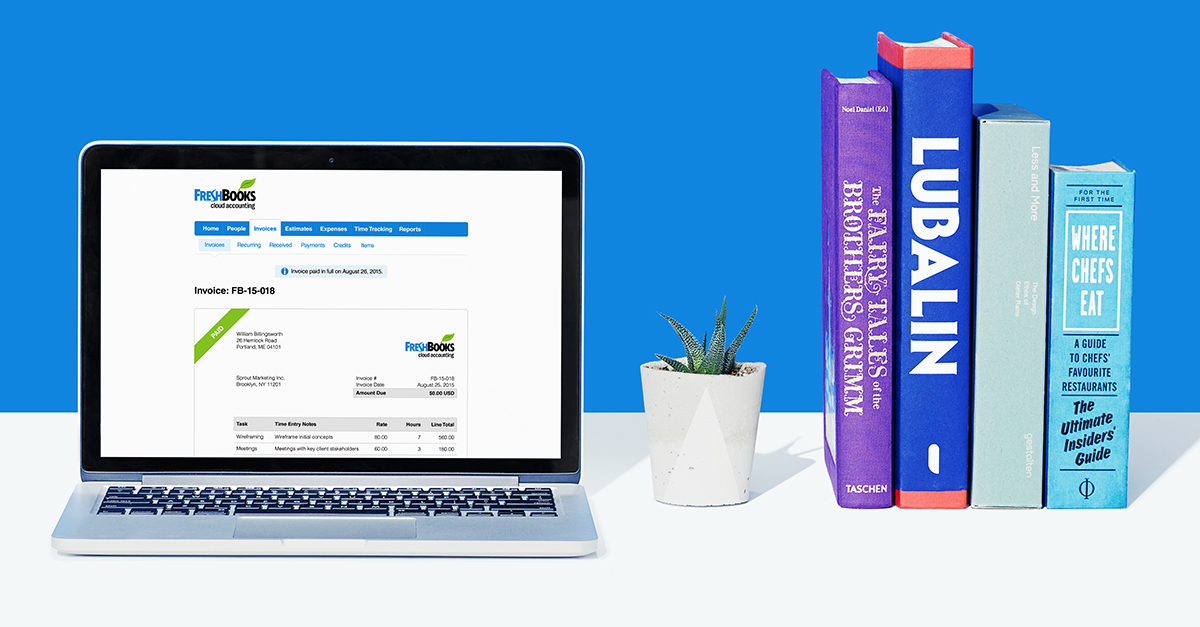 How to Create Invoices with FreshBooks
The following steps should ensure that you create a proper invoice.
1. The Dashboard
This is the main control panel within FreshBooks. It contains a collection of buttons and tools that are ideal for creating documents such as invoices. To use it, simply tap on the button labeled "Create New". In the ensuing menu, tap on "Invoice". This will immediately bring up a new window titled "New Invoice" that contains a template which you can use to generate this business document.
2. The "Invoices" Panel
Another resource that you can use to create this invoice is the Invoices Panel. In this panel, you can simply tap on a button labeled "New Invoice" on your right side, which requires filling of the following information:
Company data like name, address and contact
To be more professional, add your logo
Choose your client
Date of issue
Number of invoice
Notes- like a invoice summary
Reference field which entails about twenty-five characters regarding any additional data.
Terms- you may insert your preferred payment terms.
While customizing, it is possible to use different theme colors and probably classic and modern font.
Free Download or Buy PDFelement right now!
Free Download or Buy PDFelement right now!
Buy PDFelement right now!
Buy PDFelement right now!
Up to 18% OFF: Choose the right plan for you and your team.
18% OFF
PDFelement for Individuals
Edit, print, convert, eSign, and protect PDFs on Windows PC or Mac.
12% OFF
PDFelement for Team
Give you the flexibility to provision, track and manage licensing across groups and teams.
Contact us to learn more about the custom services we can do for you.