Invoice Examples for Every Kind of Business
An example invoice is sent to your customer anytime a transaction is completed that needs to get paid. The invoice model contains the list of everything from the description of the goods, work done and most importantly the price for it. The invoice doesn't only serve as a means for requesting payment, and it also functions as a way to showcase your brand.
Free Example Invoice From Template
Free Download and customize it according to the sample text below
| | | |
| --- | --- | --- |
| Free Download>>> | Free Download>>> | Free Download>>> |
---
What to Include in Example Invoice
An invoice model contains information that clearly states the purpose of the invoice from the issuer to the receiver. The basic invoice example includes the following information.
The Invoice Date: this is crucial as it showed when the transaction was carried out. With an invoice date, both you and the customer can easily recall when the transaction took place.
Invoice number: usually this number is in sequence. That is, it is the number above the one carried by the previous invoice. It is vital for quick referencing in case there was a mix up along the way.
Your VAT number or business ID: if the tax is added in the invoice, you should also indicate the VAT number or your Business ID.
Contact Information: your invoice example should always carry your contact information such as business name, email, phone number and address so that the customer knows where the invoice is coming from. You should also add the customer details and contact information to ensure that it is sent to the right person.
Amount and type of goods or services: this is also important to make it easy for the customer to what they are paying for and why.
Delivery date: the date the goods were delivered or services rendered should also be added.
The unit price of each item excluding VAT.
The VAT amount if applicable.
---
How to Create Invoice Easier with FreshBooks
What is FreshBooks
FreshBooks is an accounting software created mainly for small businesses that provide cloud-based accounting application used in the management of several business functions. If you regularly send an invoice to your clients, FreshBooks is the accounting software for you. It enables you to create invoices easily using their free professional example of invoice templates and even add other relevant information too.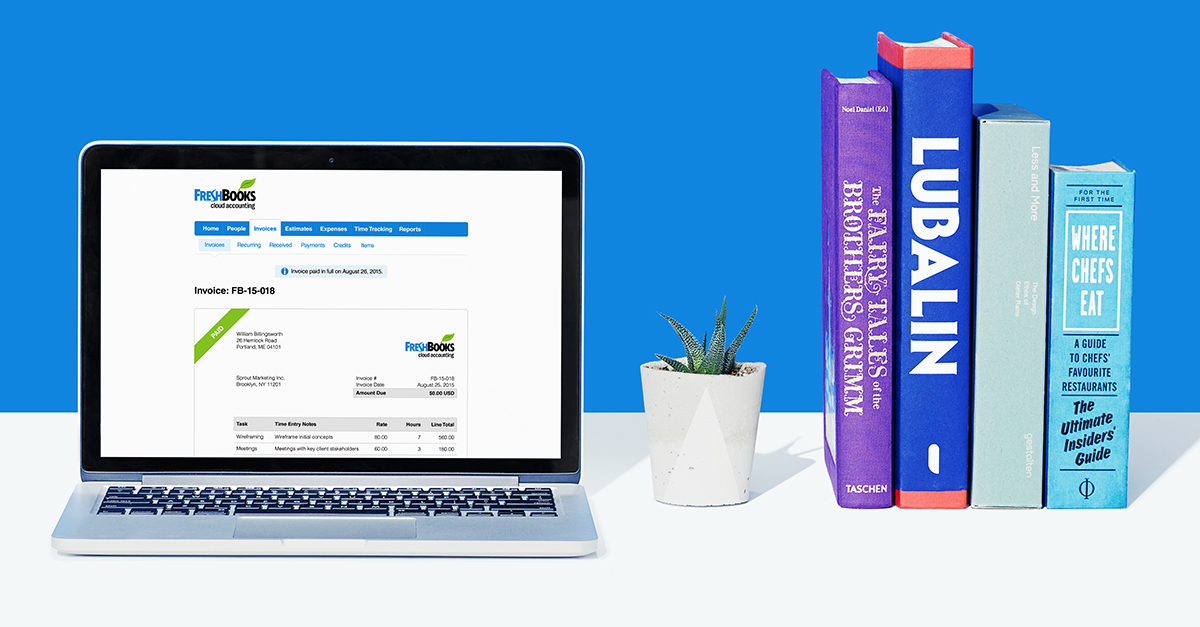 How to Create Examples of Invoices with FreshBooks
FreshBooks gives you access to download and create example of an invoice that are professional looking for your small business. Here is a step by step guide on how you can create an invoice using FreshBooks.
First, you need to subscribe to FreshBooks by adding your business name and details. Once that is done, you proceed to add the client name and details as well. When you do this, it means the next time you want to create an invoice, FreshBooks will do most of the work for you.
Then click on create an invoice at the top of the page, and a new invoice template will open with your business name and details.
Then select the client you want to bill the invoice to and proceed to fill out the other details.
FreshBooks will automatically calculate total amount for you.
With FreshBooks, you can set up automatic billing among others. Invoicing just got easier.
Free Download or Buy PDFelement right now!
Free Download or Buy PDFelement right now!
Buy PDFelement right now!
Buy PDFelement right now!
Up to 18% OFF: Choose the right plan for you and your team.
18% OFF
PDFelement for Individuals
Edit, print, convert, eSign, and protect PDFs on Windows PC or Mac.
12% OFF
PDFelement for Team
Give you the flexibility to provision, track and manage licensing across groups and teams.
Contact us to learn more about the custom services we can do for you.
Related Articles
All Topics