Construct a Shining Reputation Using the Builders Invoice Today
The builders invoice is a method through which individual builders or sole proprietorship construction enterprises can record the activities and components of transactions. This type of invoice contains a collection of details such as the equipment, materials, labor and any additional expenses that were incurred. This invoice is more than proof of work done. It is also a formal request for payment that can be generated using an invoice builder.
Free Builders Invoice Template
Free Download and customize it according to the sample text below
---
What is a Builders Invoice
This is a business document that is used by builders. It allows professionals who operate in this sector to request payment and also record the details of their projects. Through the builders invoice, they are able to communicate to their clients. This document is rich in information and specifies how payment should be done too.
---
What to Include in a Builders Invoice
There is a number of important elements which are required in a builders invoice. They include:
• The Title "Builders Invoice"
This document needs to be officially titled as a "Builders Invoice"
• The Invoice Number
This is a particular number that uniquely identifies the invoice. It is made up of digits but can include some letters as well.
• Date of Issuance
This is the specific date when the invoice was issued.
• The Vendor
This is the company or individual who provides the goods or services that are involved in the transaction. Their name, postal address, phone number and email address are required. If it is a company, their registration number is needed in the invoice.
• The Consignee
This is the recipient of the products or services indicated in the invoice. Their name, postal address, phone number and email address are indicated within.
• The Full Description of Products or Services
The items that were provided or services rendered in the transaction at hand are indicated. The descriptions need to be vivid and exhaustive. In addition to that, any units of measurement that are involved need to be indicated as well.
• Taxes
Any taxes that could be involved in the transaction are indicated here. Examples of these are the Sales or VAT taxes.
• Subtotal
This is the amount charged by the vendor net of taxes.
• Grand Total
This is the total amount charged in the invoice inclusive of taxes.
---
How to Create a Builders Invoice Easier with FreshBooks
What is FreshBooks
This is an accounting enterprise software that can be implemented in businesses today. By using FreshBooks, you can run your business more easily and securely. The software is able to streamline and automate activities. As a result, you are able to shift your attention to business operations such as expansion and client interaction.
Try Freshbooks for Free >>>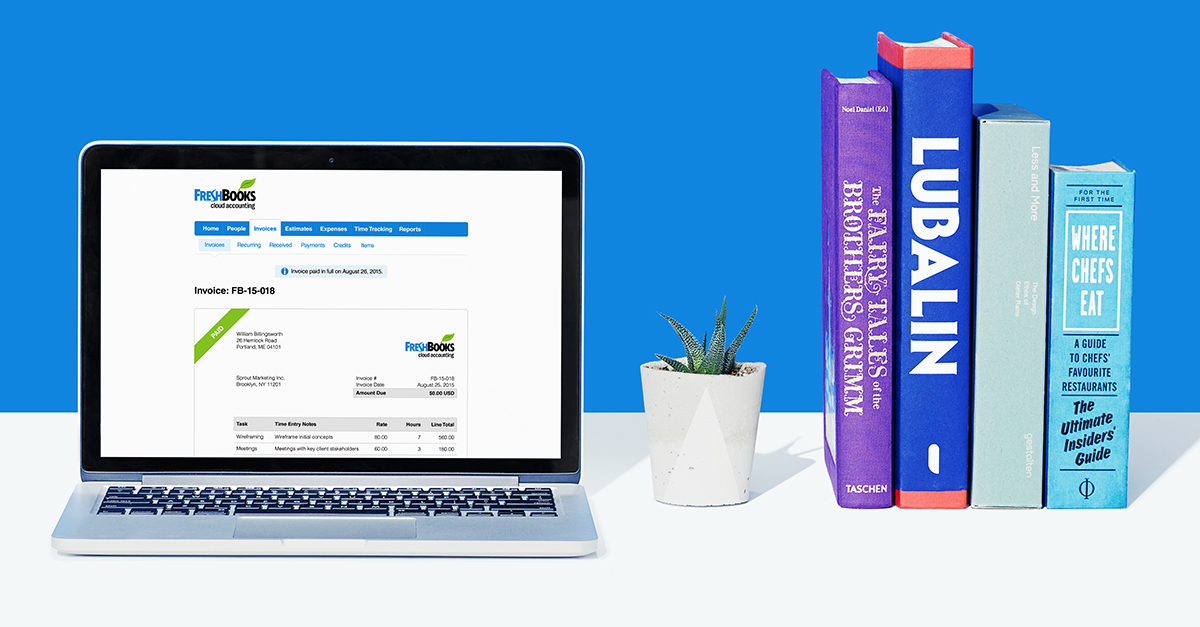 FreshBooks has an intuitive interface that is easy to use. Through the tools and features held within, you can create builders invoices and automate a number of business processes. Examples of these are organizing expenses, creating invoices, job scheduling and reporting accounts. FreshBooks is built on Cloud infrastructure. As such, this free invoice builder is accessible through an online platform.
How to Create a Builders Invoice with FreshBooks
The process of creating a builders invoice using FreshBooks is easy and straightforward. The software provides you with 2 options that you can follow towards this effect.
1. Using the FreshBooks Dashboard
You can create a new builders invoice right through the FreshBooks Dashboard. You can click on a button labeled "Create New". After that, you can select the "Invoice" option and arrive directly to a "New Invoice" template screen.
2. From the "Invoices" Panel
This software also enables you to create a builders invoice directly through the Invoices panel. From this resource, you can simply click on a button that is located in the top right section of the window. After you do so, it will activate a new screen that contains a builders invoice template that you can customize. This template contains a number of sections in which you can insert these details. These sections include:
Accept Credit Cards:

In this section of the template, there are options that you can use to customize the builders invoice such that it will accept payments made using credit cards.

Customize Invoice Style:

This section of the invoice template enables you to customize the appearance of your invoice document. You can make adjustments such as determining the color of the headings and the specific font. You can also set the invoice to be a recurring document or not.

Invoice Transaction Details Sections:

This part of the invoice can be adjusted to include specific details about the transaction at hand. You can indicate items such as the vendor's name, client details, date of issuance, amount involved and any terms of payment.
Having tailored the invoice template for builders to your satisfaction, you can proceed to Save it. This grants you an opportunity to complete it later. You can also Send the invoice directly to your client through email.
FreshBooks is a powerful invoice template builder. It is designed to boost efficiency and effectiveness in your enterprise. By leveraging its capabilities, you can increase the productivity of your business!
Free Download or Buy PDFelement right now!
Free Download or Buy PDFelement right now!
Buy PDFelement right now!
Buy PDFelement right now!