How to Draft an Invoice Much Easier
Drafting an invoice is a necessary activity to perform when running a business. It is a formal way to request for payment upon delivering some goods or providing services. A draft invoice contains a number of important sections that communicate the task or products which you provided. It also contains details about payment and the required terms as well.
Free Draft Invoice Template
Free Download and customize it according to the sample text below
| | | |
| --- | --- | --- |
| Free Download>>> | Free Download>>> | Free Download>>> |
---
The Best Software to Draft an Invoice
When it comes to drafting invoices, FreshBooks is at the top of the list. This software is highly versatile. Therefore, it can draft invoices and also automate business processes. FreshBooks provides you with a collection of features and tools in its Dashboard that you can use for drafting an invoice. In addition to that, you can use the same tools to discover how to do an invoice and automate the process of invoice drafting. Hence, FreshBooks can save you time and money in terms of business operation. This software is built using Cloud infrastructure. Therefore, you can access its dashboard and your business information through a portal by utilizing a laptop, smartphone or tablet. FreshBooks allows you to use its features for free over a 30 day trial period. Once it elapses, you have to pay for the Premium version at a cost of $15 per user.
This is a software tool that you can use to draft invoices. Wave can also draft other business documents such as quotations and receipts. The digital tool provides you with the facilities to perform business accounting and also bill credit card payments. What's more, Wave can inform you when the draft invoices or other business documents are delivered. The tool can inform how to do invoices, calculate taxes and update the payroll automatically. Hence it is an ideal software tool for the accounting and human resource departments in your business. Wave is totally free to use.
3. Billdu
When it comes to drafting invoices, you can rely on this business software to provide you with accurate, dependable services. Billdu can deliver invoices to clients and customers as well. It can help you to make budget estimates and also compile expense reports. Billdu can track your business inventory and also send reminders to clients that have been invoiced. An excellent feature of the software is that it can create invoices automatically. In addition to that, you can draft an invoice and then export it to other formats or storage devices at will. This versatile software allows you to use its features for a short period of time at no cost though a demo. Once it has expired, you have to pay for a plan so as to continue enjoying its features.
---
How to Draft an Invoice with FreshBooks
What is FreshBooks
FreshBooks is a highly capable business software. It can help you to create invoices at the push of a button. This software also provides you with the resources and mechanisms required to learn how to draft an invoice and also automate business processes. By using FreshBooks, you can automate task scheduling, accounts reporting, invoice creation and expense management. Therefore, it is a versatile software that can help you to save time and money in your business. FreshBooks is compatible with Cloud technology. As a result, you can easily access its dashboard and business data directly from any Internet-capable device. Here is more on how to draft an invoice using FreshBooks.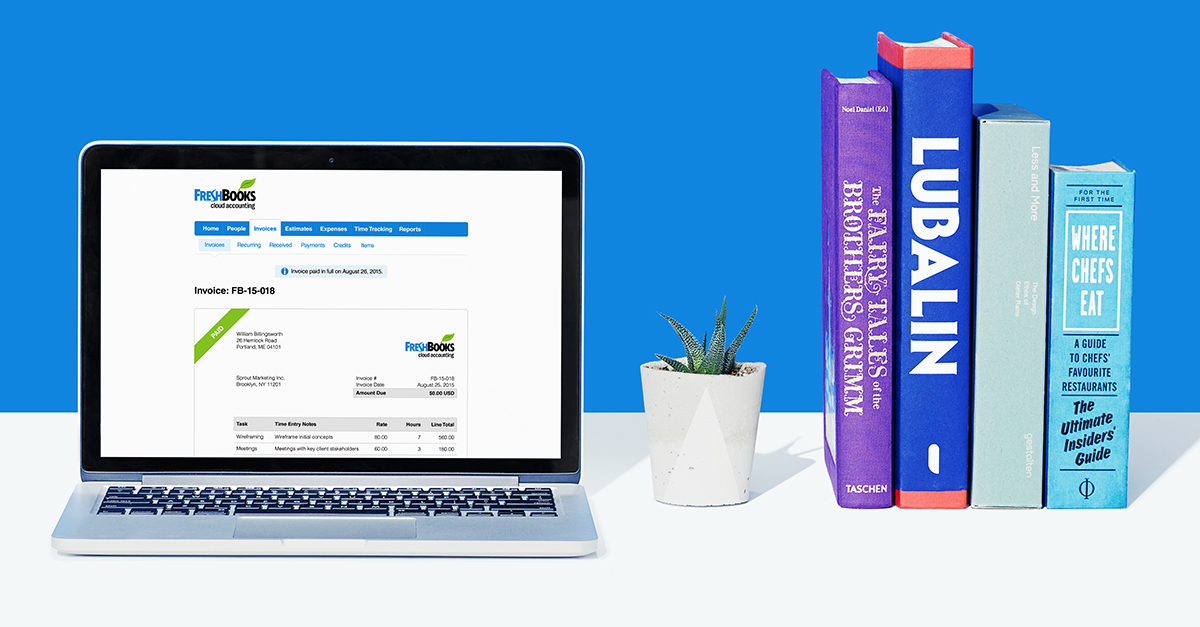 How to Draft an Invoice with FreshBooks
The process of drafting an invoice using FreshBooks is very easy. It can be accomplished using two main paths. They are:
1. The Dashboard
You can draft an invoice directly from the Dashboard. From this section, simply tap on the button that is labeled "Create New". Furthermore, select the "Invoice" option. It will lead you to a customizable draft invoice template that is titled "New Invoice".
2. The Invoice Panel
Drafting an invoice can also be accomplished directly from the Invoices Panel. From this resource, you can simply tap on the button labeled "New Invoice". It will immediately bring up a new template window where you can enter the details of your transaction.
---
Customization Options
FreshBooks provides you with a variety of customization options. They include:
In this section of the template, you can determine if the invoice will accept and recognize payments that are made using credit cards.
In this category of options, you can determine the overall appearance and function of the invoice. Here, you are able to apply a general theme to your invoice. You can choose between the Simple and the Modern themes for your document. Furthermore, you can identify a font for your document as well as whether it will be recurring or not.
Invoice Transaction Details Sections:
After you have completed customizing the overall look of your invoice, you can proceed to add information into it. You can customize sections such as the Company Name, Client Name, Goods or Services Rendered, Total Cost and Terms of Payment. These are the specific details about your transaction.
After designing your invoice and populating it, you can proceed to Save it for future editing. If you are fully satisfied with its content and appearance, you can Send it directly to the client.
FreshBooks enables you to implement technology in your business. The software provides you with tools and features for invoice creation and automation of business processes. An investment in FreshBooks gives long term returns!
Free Download or Buy PDFelement right now!
Free Download or Buy PDFelement right now!
Buy PDFelement right now!
Buy PDFelement right now!
Up to 18% OFF: Choose the right plan for you and your team.
18% OFF
PDFelement for Individuals
Edit, print, convert, eSign, and protect PDFs on Windows PC or Mac.
12% OFF
PDFelement for Team
Give you the flexibility to provision, track and manage licensing across groups and teams.
Contact us to learn more about the custom services we can do for you.
Related Articles
All Topics