How a Credit Invoice Can Be Your Customer's Best Friend
A credit invoice is usually provided to a client when the total amount that is due from them has reduced. This business document is versatile. Hence, it can also be implemented in other situations. If a client returns some products that they had already paid for, the credit invoice can be issued so as to perform and prove compensation. In such a case, the credit invoice is important to the business for calculating accounts receivables and payables. Furthermore, it is important for inventory purposes and purchase tracking. The credit invoice is also utilized for the purpose of promotional discounts. A business may choose to utilize it in this way so as to gain customer loyalty.
Free Credit Invoice Template
Free Download and customize it according to the sample text below
---
What is a Credit Invoice
A credit invoice is a business document that indicates the transaction where a business reduces the amount due from the client. It also documents an instance where a business pays the customer a particular amount of money. The invoice credit memo is a versatile business document which can be implemented in situations involving returned goods, discounts, disputed pricing, prepayments, written off balances and any errors in the original invoice document. The difference between invoice and credit note is that while an invoice contains financial details and handles payment, a credit note simply contains information about a transaction.
---
What to Include in a Credit Invoice
There are many important elements in a credit invoice. They are:
• The Title "Credit Invoice"
This business document needs to be officially titled as a Credit Invoice.
• The Invoice Number
This is a specific number which identifies the invoice at hand. It is normally made up of digits but may include letters as well.
• Date of Issuance
This is the date when the invoice was generated and issued to the client.
• The Vendor
This is the company or individual who sold the goods or services to the client. Their name, address, phone number, email address and website are required. If it is a company, its registration and VAT numbers are indicated as well.
• The Consignee
This is the client involved in the transaction. Their name, postal address, contact details and email address are required in the credit invoice.
• The Full Description of Goods or Services Rendered
This is a detailed description of the items that are involved in the transaction. Every product that was provided to the client is indicated in the invoice debit or credit document. If applicable, some units of measurement are specified as well.
• The Quantity
This is the number of items that are involved in the transaction.
• The Currency
This is the specific type of legal tender that is implemented in the transaction.
• The VAT Tax
If your business or company deals in goods or services which attract some Value Added Tax, this amount is indicated here. It can be a cash amount or a percentage.
• The Grand Total
This is the total amount of money that a client should pay for products delivered or services rendered.
---
How to Create a Credit Invoice Easier with FreshBooks
What is FreshBooks
This is an accounting tool that you can use so as to improve efficiency and productivity while running your business. FreshBooks helps you to achieve security and speedy results. By using this tool, you can automate your enterprise. This allows your staff to focus on other activities such as expansion and brand promotion.
Try Freshbooks for Free >>>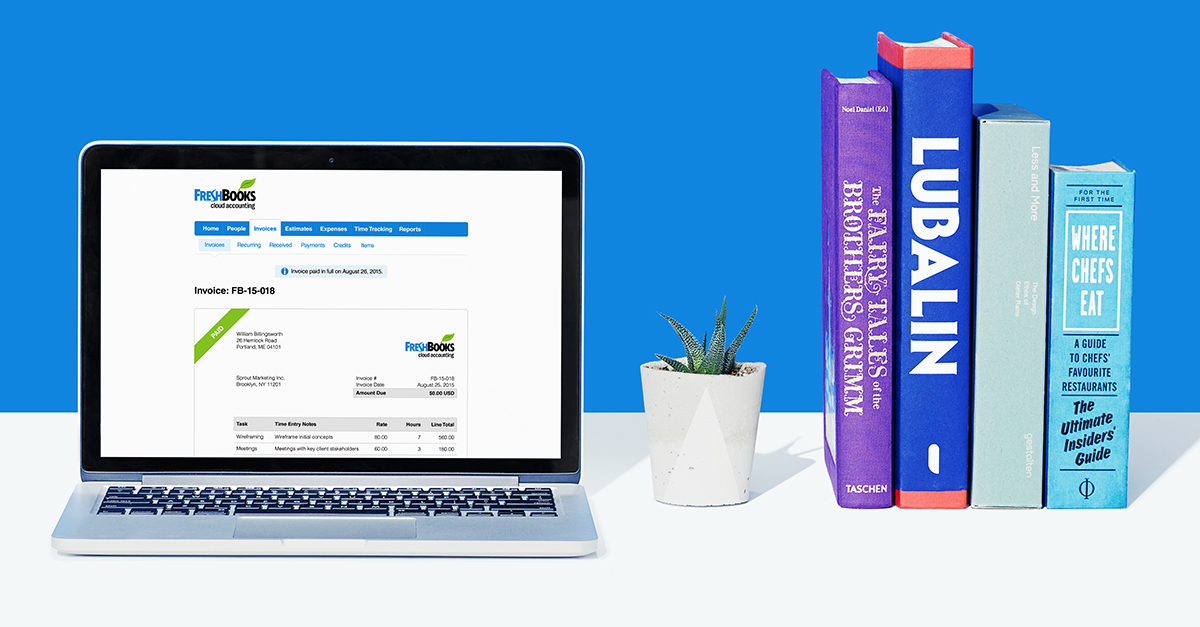 There are a number of elements in FreshBooks which make it ideal for modern businesses. It has an interface which is very easy to use. Therefore, its tools are at hand for the creation of professional credit invoices. Its features are pretty powerful. They can help you to automate business activities such as task scheduling, creating invoices, organizing expenses and creating accounting reports. FreshBooks is constructed to be compatible with Cloud technology. This enables you to access the Dashboard and your business information from anywhere in the world through your tablet, smartphone or desktop.
How to Create a Credit Invoice with FreshBooks
It is very easy to develop a credit invoice using FreshBooks. You can also convert credit note to invoice. The software provides you with not one, but two ways to achieve this objective. These methods are the Dashboard and the Invoices panel.
1. Through the FreshBooks Dashboard
You can create a new invoice in the FreshBooks Dashboard. This can be achieved by tapping upon the button labeled "Create New". This will activate a new menu in which you can pick the "Invoice" option. This will immediately open up a screen labeled "New Invoice".
2. From the "Invoices" Panel
It is also possible to generate a credit invoice by directly using the Invoices panel. Here, you can tap upon a button labeled "New Invoice" that is situated in the top right part of the panel. It immediately opens up a new window in which you can tailor specific sections of the credit invoice and customize the document for the transaction at hand. These sections are organized into 3 categories. They are:
Accept Credit Cards:

In this category, you can customize the credit invoice such that it can accept credit card payments.

Customize Invoice Style:

This category contains options which help you to design the appearance of your credit invoice. You can customize the colors of the headers, the font and even determine if the credit invoice will be a recurring document.

Invoice Transaction Details Sections:

This category has options which assist you to determine details about the specific transaction at hand. Here, you can indicate the name of your company, the client, the goods involved and their total cost.
FreshBooks allows you to customize your invoice so as to cover all the important details of your transaction. After that, you can Save the document. Doing so enables you to store it for future editing. On the other hand, you can Send the document. The software delivers it to your client through email. Interestingly, FreshBooks is able to note the credit note and invoice difference.
FreshBooks is a modern way to handle business processes and documents. It offers digital solutions that assist to improve efficiency in your enterprise. It is an investment with long-term returns!
Free Download or Buy PDFelement right now!
Free Download or Buy PDFelement right now!
Buy PDFelement right now!
Buy PDFelement right now!
Up to 18% OFF: Choose the right plan for you and your team.
18% OFF
PDFelement for Individuals
Edit, print, convert, eSign, and protect PDFs on Windows PC or Mac.
12% OFF
PDFelement for Team
Give you the flexibility to provision, track and manage licensing across groups and teams.
Contact us to learn more about the custom services we can do for you.