Are You in the Consultancy Industry? Discover the Consultant Invoice
In the world of consultancy, you can present the recipient of products or services with a consultant invoice after the task that was agreed upon is complete. This document signifies the completion of a job and also presents details about the overall cost. Hence, it performs two essential activities at the same time.
Free Consultant Invoice Template
Free Download and customize it according to the sample text below
| | | |
| --- | --- | --- |
| Free Download>>> | Free Download>>> | Free Download>>> |
---
What is a Consultant Invoice
This is a document which is sent by a consultant to their client indicating that work is complete and payment is due. This type of invoice contains details about the products that were provided or services that were rendered. In addition to that, it presents the overall cost. This information is provided in list form.
---
What to Include in a Consultant Invoice
• The Invoice Number
Every invoice needs to have a specific identification number. This particular element can be made up of numbers only or be a combination of digits and letters.
• The Date of Issuance
This is the date when the invoice was officially issued to the customer.
• The Vendor
This is the consultant company that provided goods or services to the client. Details such as the company name, registration number, address and phone number are indicated here. If applicable, the VAT number is also indicated.
• The Consignee
The client's details are indicated here. Their name, address and phone number are described in this part of the invoice.
• The Full Description of Goods or Services Rendered
A description of the items provided or services rendered in the transaction are indicated in the invoice. If any goods were provided, their individual components are also described. Furthermore, the overall quantity, quality and applicable units of measurement are indicated as well.
• The Currency
The specific type of legal tender that should be used in the transaction is indicated here.
• Tax Charges
If the products or services which you have provided to the client attract some taxes, these details are also indicated in the consultant invoice. A common type of tax is Value Added Tax (VAT).
• Total Cost Net of Tax
This is the total cost of goods provided or services rendered with the tax deducted.
• Grand Total
This is the total amount of goods provided or services rendered with the tax included. It is the amount which your client should pay.
• The Due Date
This is the date by which the client should have paid the amount indicated in the invoice.
• Terms
Any additional data about the transaction can be included here.
---
How to Create a Consultant Invoice Easier with FreshBooks
What is FreshBooks
You can create a consulting invoice quite easily by using the FreshBooks software. This digital tool assists you to run your business more easily and with dramatic, tangible results. It can also assist you to automate business processes. As a result, it becomes possible for you to focus more on business expansion and client interaction.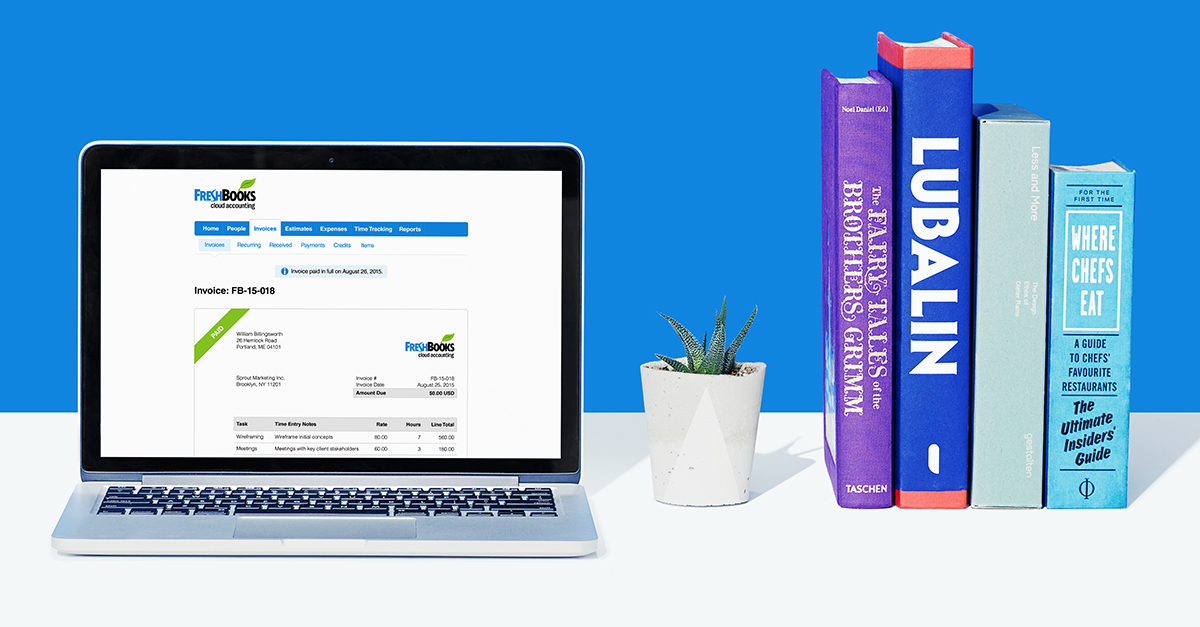 This digital tool has an interface that is intuitive and user friendly. It presents an array of tools and features to you on a well-organized control panel. By using its features, you can create some professional invoice template consulting services. In addition to that, the software assists you to automate business processes such as task scheduling, reporting payments, organizing expenses and interacting with clients. The FreshBooks software is built upon Cloud infrastructure. Hence, it is possible to gain access to it at any time that you desire using a laptop, smartphone or tablet from any location globally.
How to Create a Consultant Invoice with FreshBooks
Creating a consultant invoice using FreshBooks is quite easy to do. There are two major methods of achieving this. They are the Dashboard and the Invoices methods.
1. Through the Dashboard
Creating a new invoice can begin in the Dashboard. This method provides you with a pair of alternatives. Firstly, you can click upon a button labeled "Create New". You can also select an option labeled "Invoice" and arrive at a template screen titled "New Invoice".
2. Through the Invoices Section
You can also begin creating your invoice through the "Invoices" section. This panel provides you with a button labeled "New Invoice". Simple tap on it and you will activate a consultant invoice template that you can customize into your consultant invoice.
Contents of the Consulting Invoice Template
The consultant invoice template contains elements that you can customize so as to create your own, unique business document. These elements are organized into 3 main categories. They include:
Accept Credit Cards: This category provides you with the option to enable credit card payments for your consultant invoice.
Customize Invoice Style: This category provides you with options that assist in creating the most attractive appearance of your consultant invoice.
Invoice Transaction Details Sections: This category provides you with sections where you can enter details about the transaction at hand. Examples of these are the Vendor, Consignee, Invoice Number, Date of Issuance, Cost and Due Date.
Having customized the sample consulting invoice until it fits your requirements, you can Save the resultant document. This will preserve your settings and keep the consulting invoice template word for later editing. You can also Send it directly to your client. This is accomplished through email.
It is very easy to create invoices for your enterprise using FreshBooks. This software is versatile, capable and user friendly!
Free Download or Buy PDFelement right now!
Free Download or Buy PDFelement right now!
Buy PDFelement right now!
Buy PDFelement right now!