It is much easier to protect content on PDF files than it is with Word files, which makes it a secure method for storing and sharing files. When looking for an application to convert DOCX/DOC to PDF, it is always good practice to select one that offers good value for money. How to choose the perfect one among so many tools? This article will look at the best DOCX to PDF converter with PDFelement in the market.
2 Steps for Converting DOCX to PDF
Managing large documents is a serious problem. By combining pages in PDF, you can increase productivity and make your work organized.
Step 1. Upload the DOCX File
When PDFelement launches, you will be able to upload your DOCX file by dragging and dropping the file onto the active application window. PDFelement will detect the native format of the file and automatically begin conversion to PDF. Alternatively, you can upload the file by clicking on the "Create PDF" button and selecting the file to upload. Navigate through your computer to locate the file and click "Open" to upload and convert the file.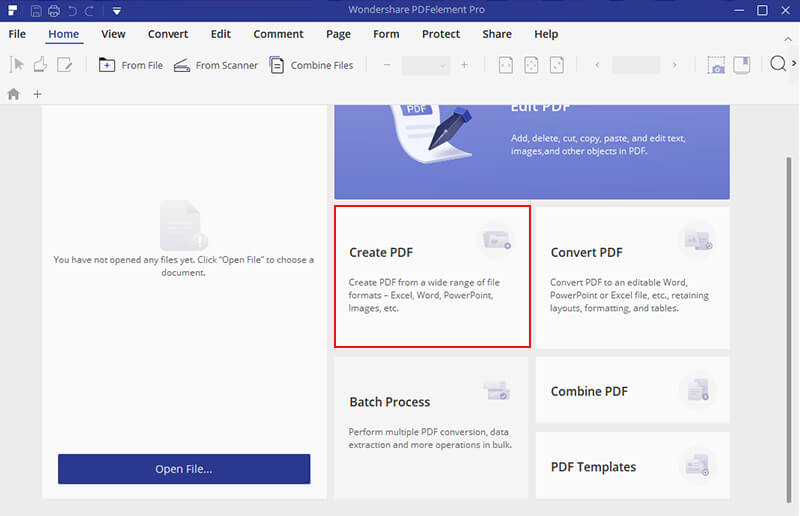 Step 2. Save PDF File
Click "Finish" on the processing window once the process is complete. You DOCX should now be a PDF file that can be shared at will. Feel free to explore the wonderful features of PDFelement to give your PDF file(s) that professional final look. But remember to click "Save As" on the "File" tab to save your modification.
PDFelement is a nifty piece of PDF editor software that combines all the useful PDF modification tasks that are commonly required for documents in the office and classroom. Plus, with a highly intuitive Optical Character Recognition (OCR) feature, PDFelement allows you to perform any PDF editing tasks on scanned documents whose content is automatically detected.
Aside from basic PDF editing, PDFelement enables users to perform simple tasks such as viewing and printing PDF documents. Users can also convert MS Office documents and image files to and from PDF quickly. You can also manipulate PDF pages by inserting, removing, or combining them into a single PDF document. And if you feel that your document has become too bulky, you can shrink its size using the application's preset compression settings.
---
Another DOCX to PDF Converter - PDF Converter Pro
PDF Converter Pro is another best DOCX/DOC to PDF converter that can be used to convert a PDF document to one of the many common formats that are used within the office. You can convert PDF documents to Word, Excel, PowerPoint, HTML, EPUB, or even image files with the click of a button. PDF Converter Pro can also be used to create PDF files from these file types. It has a simple and minimalistic interface that makes it easy for you to get the job done quickly.
Step 1. Import DOCX/DOC File
Once you have installed the application, you can launch it by double-clicking on the icon on you Windows desktop. Upon launch, PDF Converter Pro loads up with a simple interface that allows you to select between two tabs; "Convert PDF" and "Create PDF". For our purposes, click "Create PDF". If your files are conveniently located, simply drag and drop them onto this interface. Otherwise, click "Add PDF Files" and select the DOCX or DOC file(s) you want to convert.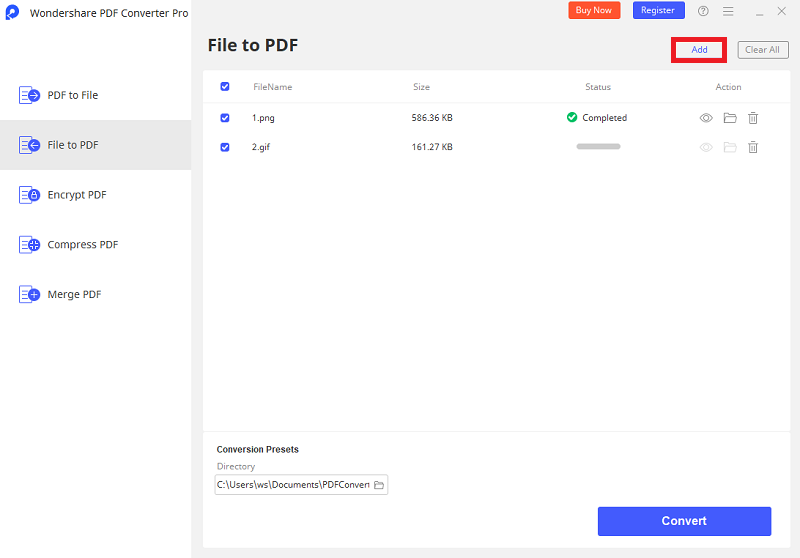 Step 2. Change DOCX File to PDF
After the files have been added, you can rearrange the order in which they appear by dragging them up or downwards. You can also combine the PDF files into a single document by marking the relevant checkbox at the side of the window. Once you are satisfied, click "Create" to convert the documents. The converted documents will be accessible from the selected output folder on your computer.