Running a real estate business without real estate software or any form of tech can be tough. You constantly have to deal with inefficiencies brought about by brokers, agents, clients or even members of your own staff. Such inefficiencies in the workplace can make an already difficult job impossible and eat into your company's productivity.
The best way to ensure business processes run smoothly is by automating them. Real estate programs can help automate processes within real estate firms and help to improve efficiency. When looking to implement one for your real estate business, it's always important to choose the right fit for your business.
8 Best Real Estate Software Solutions
RIO Genesis Office is a real estate software program that brings together the different moving parts of a real estate brokerage firm for easier management. It enables brokerage firms to manage different teams and clients, automate tasks, and increase sales. It also enables users to monitor trends, generate reports, and safeguard against liability – all from remotely located devices.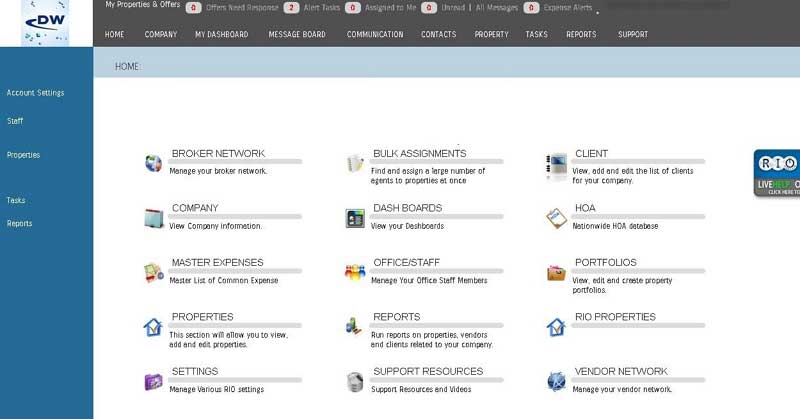 RIO Genesis Office also offers a nice financial dashboard to track transactions and audit agents and staff within the firm. It also includes a robust marketing system that helps brokerage firms when prospecting, which enables your agents to stay productive. RIO Genesis Office further lets you recruit and manage your agents, which reduces the amount of HR-related office work. Apart from the lengthy learning curve involved, RIO Genesis Office is a must-have real estate broker software program for every real estate brokerage firm.
---
Masterdigm Real Estate CRM is a real estate database software that enables real estate agents and brokers to create and manage an intuitive client database. This web-based application collects information from potential customers via web forms and organizes these leads according to preset preferences. Once the leads come in, they are assigned to agents who then act on the leads and possibly convert them to clients. This CRM can also queue the leads in case no available agent is available to work on them.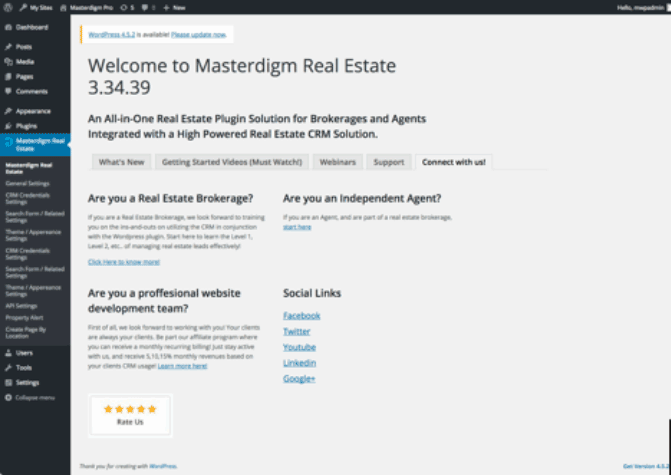 Masterdigm Real Estate CRM also helps users to manage any post-conversion tasks. These include marketing campaigns, client management, and other processes that ensure clients stay satisfied.
This CRM software, however, is quite complicated to grasp, so prepare for a steep learning curve when using it.
---
360Workspace is an all-inclusive, web-based real estate software program that incorporates a useful set of sub-modules for managing different aspects of your real estate business. It can be used for space management, lease and contract administration, project management, facilities management, and other real estate components.
360Workspace finds good use in ensuring tax compliance, tracking inventory, assets, and vendor interactions, scheduling, income and expenditure tracking, and general office administration. Unlike most others, 360Workspace does not put limits on the number of users.
The only downside with 360Workspace is that its design is only suitable for large real estate corporations, so most of the functions in this application will not suit smaller real estate businesses.
---
Dotloop enables real estate agents, clients, and brokers to close deals seamlessly. It is offered as a cloud-based solution with desktop and mobile versions for easy access across different users. Dotloop simplifies the processes within a real estate firm with workflow automation.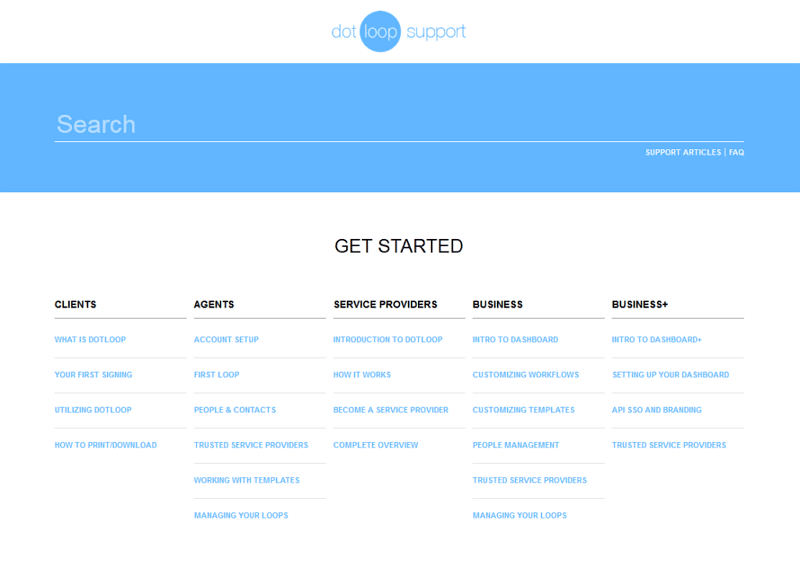 Agents have the ability to see what staff members are up to through task lists and workflow status in real time. This ensures each member of the team is on the same page. Client information is organized and streamlined within the system and is easily accessible by different members of the team.
On the flip side, some of the functions on Dotloop still need some amount of tweaking for them to fit into the real estate space.
---
TRIRIGA is an excellent real estate software for those real estate agents and brokers who often deal with leases and related contractual agreements. This IBM solution comes with an inbuilt module for lease accounting and reconciliation for real estate firms. As such, the application automates various processes within the business, including contract creation and payment scheduling, and notifications such as contract expiration.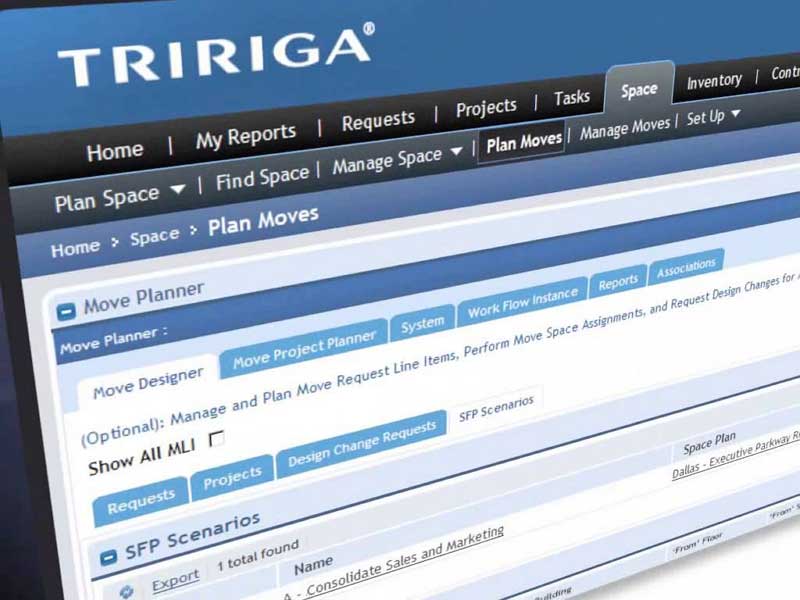 TRIRIGA also goes further to include side-by-side analysis of contractual obligations and clauses against transaction scenarios. This helps managers make informed decisions about whether to keep or terminate contracts.
Most of the functions here are a perfect match for corporations and large real estate business. Smaller business will find it hard to navigate this system - if they can get through the hefty price tag that typically runs above $13,500.
---
Like most real estate software currently in the market, Buildium incorporates multiple real estate functions and automates them for efficient processes. Users can integrate and monitor online payment systems, business expenses, and fulfill tax obligations. It is also useful as a tenant management system where it helps agents receive tenant applications and screen them on the web-based interface.

Agents and brokers can also share and store documents in the cloud and even get access to tools for creating websites for managing their own rental listings.
Buildium can be a bit difficult and lengthy to set up initially, and users often need to learn how to use the application before it goes live.
---
Back Office Guru is a cloud-based transactional management solution for real estate agents and brokers of varying sizes. It is especially popular among real estate brokers with interests in residential properties. Like other management solutions, Back Office Guru helps in the automation of office processes with the aim of reducing redundancies and increasing productivity and efficiency within real estate brokerage firms.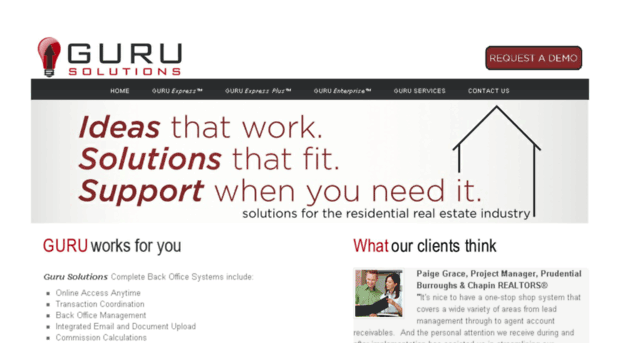 Guru's cloud-based platform gives clients easy access to information on-the-go and includes useful modules such as reminders, email marketing, website management, and email marketing to help manage both office and offsite processes.
Back Office Guru comes with a few cons compared with other solutions in its class, including a rather complicated layout and report generation system.
---